Excellence in Electronics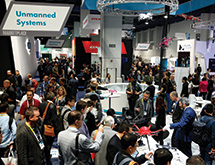 After a record-setting event in 2015, CES 2016 is ready to serve as the world's gathering place for all who thrive on the business of consumer technologies. Taking place January 6-9, 2016 in Las Vegas, CES 2016 isn't concerned about growing off of its record 176,676 industry professionals that attended in 2015. Instead, stricter registration credentials have been implemented to keep attendance at or below 176,000 in order to maintain a quality CES experience for all those who participate.
CES has served as the proving ground for innovators and breakthrough technologies for more than 40 years. It is the global stage where next-generation innovations are introduced to the marketplace.
As the largest hands-on event of its kind, CES features all aspects of the industry. Owned and produced by the Consumer Electronics Association (CEA), the technology trade association representing the $286 billion U.S. consumer electronics industry, CES attracts the world's business leaders and pioneering thinkers to a forum where the industry's most relevant issues are addressed. CES 2016 will feature more than 3,600 exhibiting companies showcasing the latest innovation across more than two million net square feet.
CES 2016 will feature many notable speakers. In October, CEA announced the first in an all-star series of keynotes at CES 2016. Intel CEO Brian Krzanich will deliver a preshow keynote address on Tuesday, January 5. At the 2015 CES, Krzanich shared his vision for the next 20 years of computing and how it will evolve. At CES 2016, Krzanich will focus on dramatic new ways the consumer world is being reshaped by the expanding boundaries of technology, and the experiences enabled by this transformation.
"We couldn't be more excited to welcome Brian Krzanich to the CES keynote stage once again. Intel's innovations, which power tablets, wearables, PCs, smart cars, homes, appliances, cloud computing and so much more are serving as the foundation for the burgeoning Internet of Things (IoT)," said Gary Shapiro, president and CEO, CEA.
CEA followed that up by announcing that Dr. WP Hong, president and CMO of Samsung Electronics, will deliver a keynote address at CES 2016. Hong plans to provide a look into Samsung's progress in turning the vision of the IoT into reality, focusing on tangible solutions and products in areas most closely related to our everyday lives, with specific emphases on Samsung's IoT data security and customer-centric mobile payment solutions.
"We are thrilled to welcome Dr. WP Hong, an established IT and mobile industry leader, to the keynote stage at CES 2016," said Shapiro. "With an array of products including televisions, mobile phones, tablets and much more, Samsung amazes at each CES with its innovative products spanning the entire tech ecosystem."
It is difficult to focus in on the can't-miss events of CES 2016, but here are a few of the planned highlights. Reflecting the evolution in robotics, the Robotics Marketplace, presented by Robotics Trends at CES 2016, will see a 71 percent growth in exhibit space over its footprint at the 2015 CES.
More than 20 exhibitors will showcase the full range of robotic technologies that are transforming the way consumers learn, do business, monitor their health and maintain their households. Major robotic companies include: Nidec Corporation, iRobot, ECOVACS Robotics, Robocare Co., Ninebot Inc., and Future Robot Co.
"Robots can increasingly move, see, hear, sense and react to the environment," said Shapiro. "Robots will change how we approach our daily lives. We expect to see this category expand on the CES show floor, improve lives and help transform the consumer technology industry."
New for CES 2016 will be the eCommerce Marketplace, presented by MasterCard. It will be the one-stop showcase for the most innovative solutions disrupting the traditional consumer shopping experience. Mobile payment apps, shopping platforms, mobile concierge services and cloud solutions showcase what's next from startups to today's classic brands advancing this industry in the all-new eCommerce Marketplace. Companies like Holonis and MasterCard will debut the latest revolutions in digital finance.
"The eCommerce industry is transforming the way companies do business and interact with consumers," said Shapiro. "The innovations in this industry are next-level and the possibilities are endless. We are so excited to experience the future of eCommerce at CES 2016."
In addition to the new marketplace, CES and Living in Digital Times will debut the Digital Money Forum, presented by MasterCard. From e-wallets to mobile payment systems, from virtual currency to cryptographic solutions, the forum will look at the array of financial tools and solutions that are shaping the digitization of money.
CEA is also committed to the greening of CES through sustainability programs, partnerships and eco-friendly initiatives. "As owner of the largest, hands-on event for emerging innovation, we want to set an example for the industry by instituting environmentally-friendly programs to make CES as green as possible," said Shapiro.
For more information on CES 2016, visit CESweb.org.