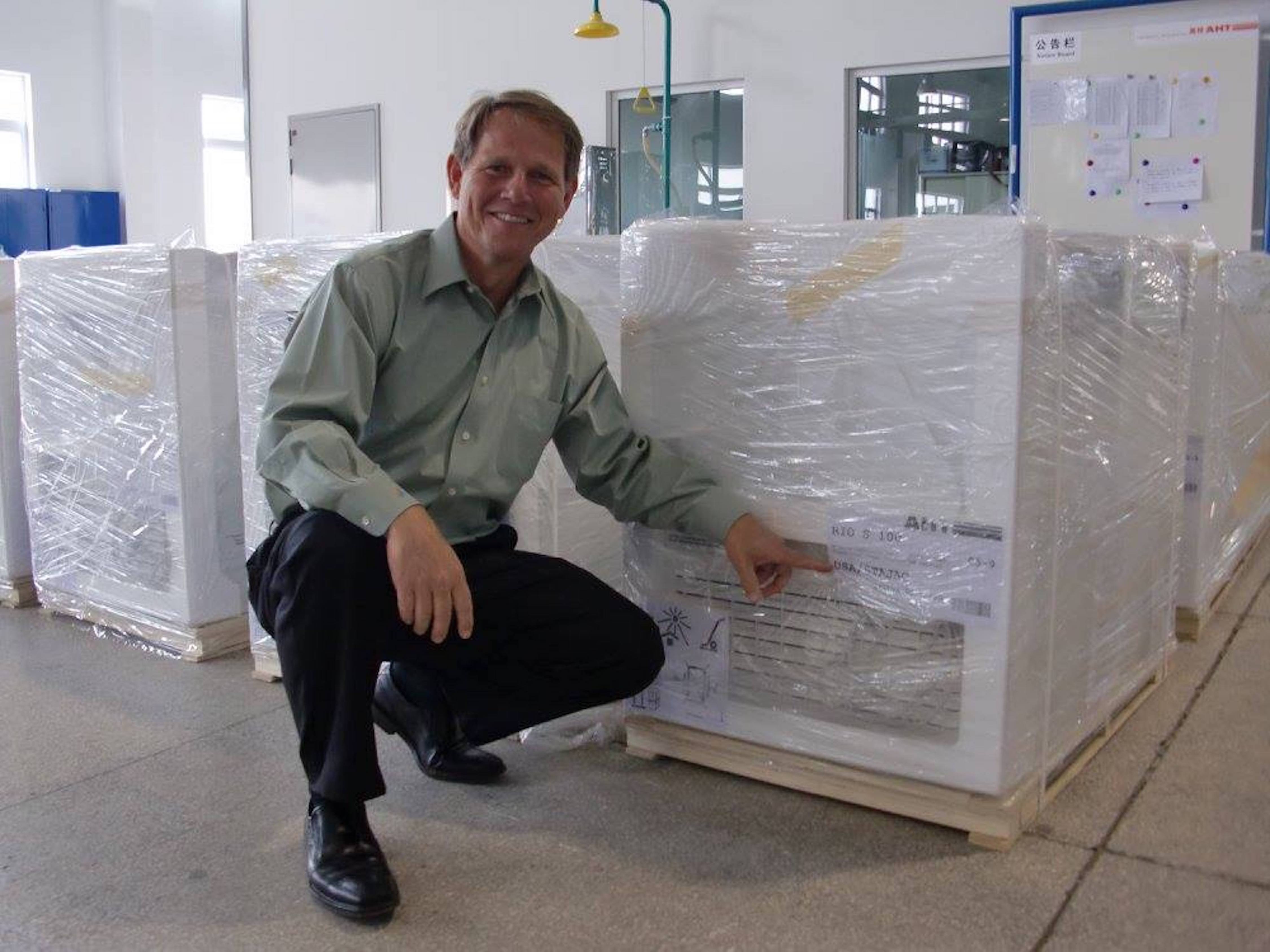 Excellence Industries strengthens its position in the food industry
by reengineering its commercial refrigeration products to meet new regulations.
By Janice Hoppe-Spiers
Excellence Industries has been a national leader in commercial refrigeration for the food and foodservice industries over the past 27 years because of its expertise and excellence in handling the full lifecycle of its products. "That 'Cycle of Excellence' is what differentiates us, offering complete solutions throughout a product lifecycle," President Dell Dahl says. "We can compete with a number of market suppliers because of our Cycle of Excellence."
Howard Noskowicz founded the Tampa, Fla.-based company in 1991. Dahl and Noskowicz, longtime friends and business associates, merged their two existing companies to become Excellence Industries and provide a wide range of commercial refrigeration solutions from leasing to transport, service and recycling.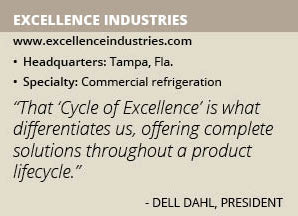 Excellence Industries' headquarters in Tampa encompasses 90,000 square feet with 40,000 square feet of overflow to house its offices, parts and inventory. In Reno, Nev., the company operates a 48,000-square-foot facility and is about to add another 42,000 square feet of space to keep up with customer demand.
"We source equipment internationally and have relationships with more than 40 factories throughout the world," Dahl says. "Right now we are buying from 12 factories in eight countries. We attend international trade shows to see what's available and domesticate it. From there we perform the service for it nationally, stock parts and handle the end-of-life decommissioning, which competes with environmental companies."
Face-to-Face Relationships
Excellence Industries prides itself on its relationships with its suppliers and customers. "We differentiate ourselves because we are an in-the-face kind of company and live on airplanes, utilize video conferencing and all the latest communication technology," Dahl notes. "We like to visit our customers on a regular basis and we visit our vendors regularly. It's critical those relationships are as tight as our customer relationships."
Excellence Industries' customers are fleet owners and food companies, including Dean Foods, Dollar Tree, Coca-Cola, Pepsi, Unilever, Nestle and Wells Blue Bunny, to name a few. The company's mission is to help its partners grow their business. "All the major food brands maintain fleets of refrigerated equipment and we take care of the fleet by sourcing the right product they need, renting it to them, putting together graphics through to the decommissioning of the product," Dahl adds. "Most of our equipment comes standard with some twists to make it unique and work for the customer."
In the commercial refrigeration business, nothing is just-in-time, so Excellence Industries ships huge volumes of products directly from its factories to its customers. The remaining half of its orders goes through the warehouses and Vice President of Operations Joe Parrino is responsible for overseeing the company's vast inventory.
"They will call and order 100 or 200 units at a time and we have to be ready," he says. "We monitor historical data over the past two years to develop inventory and maintain stock of our most popular size, which is the four-foot flattop bunker. We have 300 in each warehouse at any given time."
Meeting Regulations
Over the past two years, the United States Department of Energy (DOE) has tightened regulations on energy usage for all refrigeration products and Dahl says there is a push by the United States Environmental Protection Agency (EPA) to switch refrigerants to ones that are more ecologically friendly. "Over the last year, we converted 90 percent of our equipment to hydrocarbon refrigerants," Dahl says. "Unilever, Coca-Cola and Pepsi are demanding use of that type."
Excellence Industries reengineered almost all of its equipment to hydrocarbon gas and recertified them with the DOE and EPA. "It's a major undertaking to reengineer a unit much less an entire line," Dahl admits. "This is on everyone's radar and it's a regulation that's not going away. We are changing and getting everything reengineered to the new hydrocarbon gas."
As the company's product line changes to hydrocarbon units, Excellence Industries is undergoing a brand refresh to update its marketing materials and visual aesthetics to ensure the change is reflected. The company will also be updating its website and including product videos to reflect the updated look and feel of the company, Marketing Director Melissa Meredith says. "We want to make sure our company is staying on top of the times and recognizing how to communicate through multiple channels," she adds.
Excellence Industries will also launch new supermarket-style cases later this year that are designed for smaller format stores, such as Trader Joe's. "We launched some units later last year because as the DOE tightens regulations, certain manufacturers who can't meet the new regulations are discontinuing their commercial refrigeration cases," Dahl notes. "We are using newer technology, looking at European- and Asian-style equipment and tweaking it to get our equipment to match the basic design of what these other companies used to sell."
The company also takes care of its products at the end of life, including decommissioning fleets throughout the country. "When you throw a cooler or freezer away it becomes a controlled substance that needs to be decommissioned properly," Dahl explains. "We go above and beyond EPA standards, and have created custom equipment to accommodate doing that quickly."
Moving forward, Excellence Industries plans to continue expanding its reach in the marketplace by focusing on the bottle cooling and ice cream segments. "We can help with equipment needs and we are finding the big supermarkets and pharmacies are a perfect fit for us," Dahl says. "Customer service is what we are built on and why we retain the relationships we have."