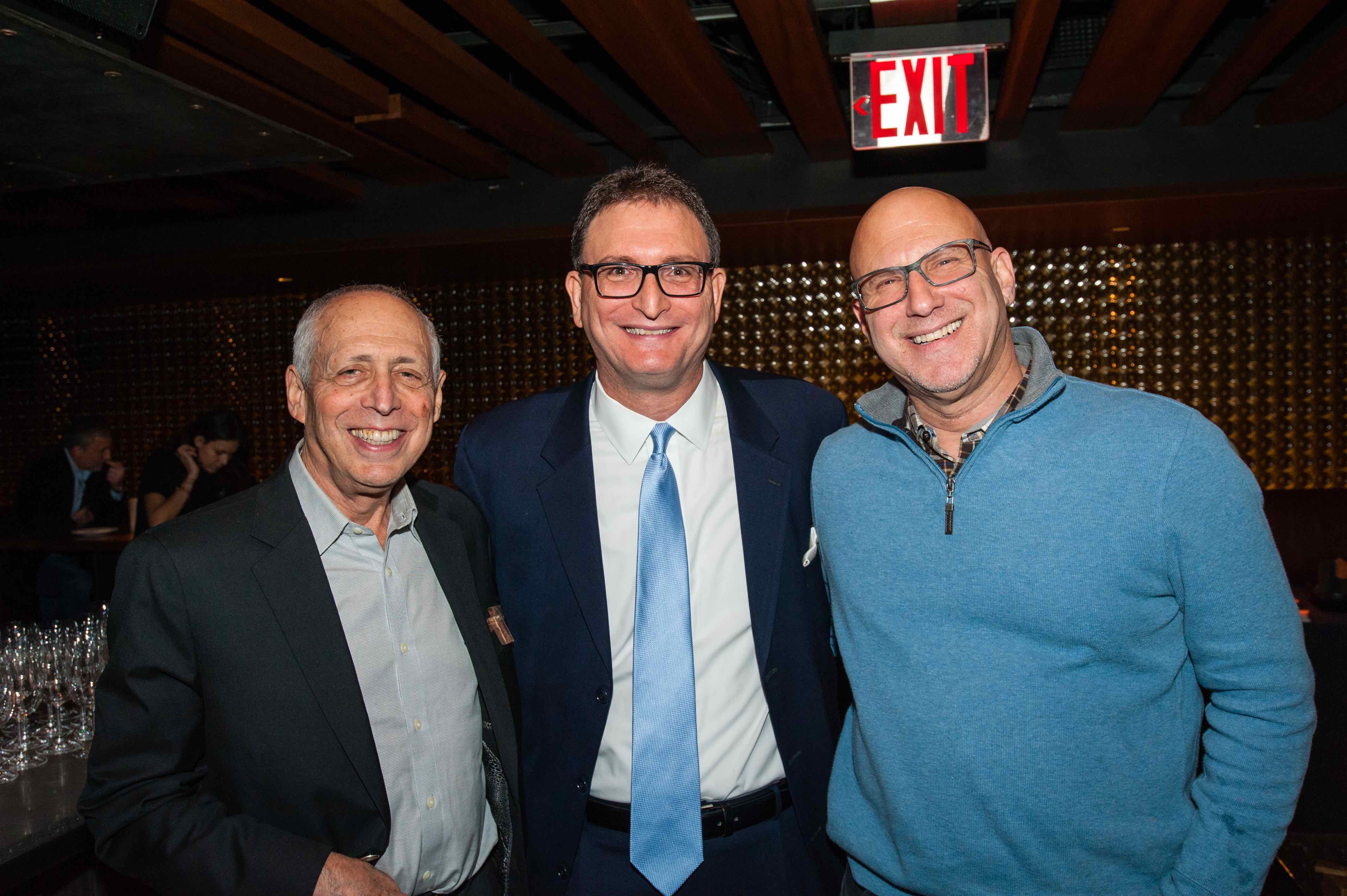 Express Trade Capital prides itself on adapting to market changes and providing its customers with tailored solutions for more than 20 years. By Bianca Herron
In 1993, Peter Stern founded Express Trade Capital Inc. as a shipping and logistics company. Ten years ago, he saw an opportunity to expand Express Trade Capital's services to include financial solutions such as letters of credit, factoring and purchase order financing.
The New York City-based company has since earned a reputation for helping its clients build and operate successful businesses. Managing Director Mark Bienstock attributes Express Trade Capital's success to not only providing a one-stop shop for its more than 250 clients, but also tailoring solutions to their unique needs.
"The beauty of the operation is that a customer may come to us for a specific service, but then utilize another," he says. "For instance, they may come in for letters of credit and then they'll gravitate to purchase order funding, or shipping."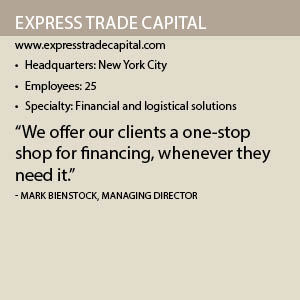 No matter the service a client may need, consumer demand has never been greater, which is why Express Trade Capital prides itself on offering 24/7 customer service. "We're able to offer our clients whatever they need, whenever they want," Bienstock explains. "Turnaround time is everything, so speed to market is something we live by."
Reacting to Needs
Express Trade Capital historically has applied its expertise to clients in the apparel, textile, home furnishings, shoes, housewares and toy industries. But today it is expanding into food and the natural, organic and sustainable products industries.
According to Senior Vice President David Estrakh, the company is continuing to respond and adapt to market changes, which also has been key to its success. "We're unique because of our adaptability," he says. "We see what the market is demanding and we aim to meet whatever it is."
Estrakh cites Express Trade Capital's newest venture, Stern Corporate Services Group, as an example. "There are many foreign companies who would love to do business in the United States," he says. "With the rise of online retailers, including Amazon, we felt there was a need for someone to be the middleman between these retailers and foreign companies."
Express Trade Capital is filling that need by helping foreign wholesalers and manufacturers set up U.S. accounts through Stern Corporate Services. "We're basically giving them access to the U.S. market without them having to set up an operation," Estrakh explains.
As another example of its adaptability, with the significant increase in online sales in recent years, Express Trade Capital is helping its clients by financing a portion of their inventory without a purchase order.
Additionally, Express Trade Capital may consider making an equity investment in a client's business, which is uncommon among financiers, according to Bienstock. "We may be able to provide additional financing to get a company over the hump and to the next level," he says.
It all goes back to meeting and exceeding its customers' expectations, Bienstock notes. "The more services we can offer from the beginning to the end of the cycle, and everywhere in between, that's what will continually differentiate us," he says.
Estrakh agrees. "We're looking to become our client's go-to financier," he says. "We expect the relationships we offer to go on for years. We think of everyone as a long-term client, not as a one-off transaction. Our company is truly relationship-based, and it's the long-term relationship we're looking for."
Valuing Employees
Express Trade Capital's 25 employees are the backbone of its business. The company has not only cultivated a team environment, Bienstock says, but also operates as a family. "You're only as good as your people, and not enough companies realize that," he notes.
An advantage of the company's small team is that it allows Express Trade Capital to be nimble and pivot when necessary. Additionally, the company's strategic partnerships allow Express Trade Capital to provide clients access to an even bigger network, Estrakh says.
"Even though we have an in-house team of only 25 people, we are connected to hundreds of people through the partnerships in our network," he explains, noting that many of its partnership relationships were developed more than 20 years ago.
"Whether it's on the finance side or shipping and logistics, we have many banks, warehouses and steam ship lines in our network," Estrakh says. "Over the years we've developed a personal relationship with them all."
Bienstock credits Express Trade Capital's reputation as the key to maintaining these close, longstanding relationships. "For us to have such a vast network, if you don't have a reputation you don't have that kind of ability or trust," he says. "So our reputation is what we pride ourselves on."
People Passionate
Express Trade Capital is always looking to adopt the latest technology to help its clients. "That includes providing them with an online log-in system that is user-friendly," Estrakh says. "We haven't developed an app yet, but those are the type of things we're always entertaining."
While the company aims to keep its operations efficient, Express Trade Capital is also careful to preserve what it feels is the best part of traditional communication: face-to-face interaction.
"We try to find a balance between not reinventing the wheel and adapting whatever the latest technology is, keeping the best of the old school methods while incorporating only the most useful new tools," Estrakh explains. "Unlike many online lenders, we prefer to provide a personal touch, which is relationship-based, as opposed to some computer algorithm you'll never see."