Families of Sandy Hook Shooting Victims to Benefit from Sale of N. A. Noel's 'Be Still' Limited Edition Prints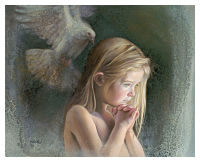 March 15, 2013 – Artist Nancy Noel has joined with the My Sandy Hook Family Fund to offer limited edition prints of a new memorial painting, "Be Still." Proceeds will aid families of the victims of the December shooting at Sandy Hook Elementary School in Newtown, Conn. The tragedy not only left the victims' families dealing with indescribable grief but also with financial strains. To help alleviate the burden, families of the children who survived created the My Sandy Hook Family Fund.
Noel's iconic paintings of angelic children grace the homes of such notables as Oprah Winfrey, Maya Angelou, Jane Seymour, and Robert Redford. Even those who can't afford Noel's originals, which can be priced in the hundreds of thousands, have enjoyed her paintings on the pages of eight books that have sold over 250,000 copies.
Soon after the tragedy, Noel was drawn to her Zionsville, Ind., studio where she began painting a pensive child with hands clasped in prayer and a white dove hovering behind her. Over the years, the artist's work has prompted hundreds of letters, phone calls, and emails from parents suffering loss who have found comfort in her paintings. Therefore, it was no surprise to Noel when she began receiving emails and calls from the Newtown community asking that she create a work to commemorate the children lost in the Sandy Hook school shooting.
"I feel honored that I was thought of at this time by the people affected by the shooting," Noel says, "but I originally started the painting for myself as a way of healing. Although the Newtown tragedy inspired the painting, the child depicted represents all children who have passed, not any one child in particular."
In "Be Still," the dove represents the Divine, according to Noel. The child's expression is quiet and meditative and her face is bathed in promising light. "My hope is that this image will bring some light into the darkness for all those who have lost children," explains Noel.
The limited edition, signed and numbered prints are available at BeStillNewtown.org, with proceeds supporting the needs of victims' families through the My Sandy Hook Family Fund. Depending on the size and medium, the cost of the prints ranges from $50 to $650. The sale of the original painting, which is displayed in Noel's gallery, also will benefit the Fund. For more information, visit BeStillNewtown.org.
Noel's much-loved images of children have prompted many grieving parents to contact her over the years. Eventually, she published a special collection of paintings, "I Am Wherever You Are," which was created for families grieving the loss of a child.
"I am humbled that my images are able to be a source of healing for so many," Noel shares, "especially when the unthinkable and seemingly unbearable loss of a child becomes a reality."