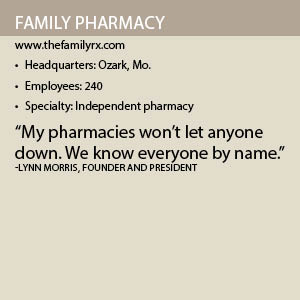 Morris admits operating an independent, family owned pharmacy chain has its challenges. The National Community Pharmacists Association estimates there are about 22,160 small business community pharmacies in the United States today, significantly down from 2000. "Independent pharmacies are becoming a dinosaur," he adds. "For us to sustain for 40 years is certainly a source of pride for us."
Staying Relevant
Family Pharmacy differentiates itself from the big-box store competitors with its approach to technology as a hybrid system. The company pushes forward with new technology while being careful not to alienate its personal customer service touch.
"We use technology in addition to, and not in the place of personal service," Director of Business Development Brian Bingham says. "The core of our I.T. is really what drives our business and staff's ability to deliver great customer service to build our business."
The company recently invested in a robotic multi-dose packaging system that puts medication into pillow packs, allowing people with complicated prescription dosing regimens to take the right prescriptions on the right day and time. "We named it, 'My RX Packs.' The medication is packaged at the pharmacy so it removes the issue of the patient accidently putting the wrong pill in the wrong day," Bingham explains. "The patient gets a 30-day pre-packaged supply which helps them with compliance and refills as the medication is synchronized so they do not have to make multiple trips to the pharmacy. More importantly, it assures the patient's safety."
Family Pharmacy offers other unit dose packaging as well. The company is exploring launching a travel vaccine center as part of the specialty pharmacy so customers traveling out of the country can stop into the center to get the necessary vaccinations. Lynn Morris states, "Our staff pharmacists are immunization certified to administer several types of vaccinations, including influenza, pneumonia, shingles, tetanus, etc."
Family Pharmacy has grown over the past four decades to not only serve prescription needs, but to offer the best in wellness and holistic care products, home medical equipment, a full selection of over-the-counter items, as well as a card and gift section.
Family Pharmacy's intranet allows each location to communicate and view stock levels at each pharmacy location and in the company warehouse for better inventory management and customer support. The company has its own courier and delivery staff to operate between stores, as well as to deliver to customer's homes or business locations.
Family Pharmacy strictly uses its own personnel for delivery services. The company also has its own relief staff, including pharmacists, working only for Family Pharmacy. "Customer's appreciate seeing the familiar faces and trust us to assist in managing their healthcare needs," Morris explains.
He adds that, "Many of our stores fill expensive medications for certain disease states. If the patient moves or the physician changes the person's medication, we are able to move that drug to another store location through our intranet drug management system – our stores are utilizing any overstock and this inventory management assures faster turnaround."
The combined database ensures patient information can be shared among all Family Pharmacy store locations for easy patient fills and transfers, if needed. "We are about the only independent chain in our area that has such vast connectivity," Morris notes.
Family Pharmacy has a loyalty program that sends emails and special offers to people including discounts based on loyalty points, but the core of its customer relationship management approach is based on its people, culture and customer service. "We find some people really like the loyalty point program," Bingham explains. "However, dealing with different demographics and a diverse customer base, we know a lot of people are not so much interested in points; they just enjoy the great face-to-face relationships we develop".
Updated locations
Family Pharmacy plans to continue remodeling and upgrading existing locations. "We want to ensure our older, original store locations have a fresh modern look," Morris states. "We are taking up carpet in most of our locations and replacing it with laminate wood flooring. We have five stores in retiree and tourist areas and they are getting new flooring, paint, etc." Family Pharmacy has been contacted by a couple of small towns that are interested in having a location in their areas. "We always keep our options open," Morris says. "However, I really want to have all of our existing stores up-to-date before we expand".
When upgrades and remodels are complete, Family Pharmacy is looking to expand in southwest Missouri and considering opportunities in northern Arkansas. "We purchased a 5,000-square-foot building in Strafford, Mo., to move from a Main Street location to an area we could have a new building and more space for front-end department, home medical line, drive-through window and a much more spacious pharmacy," Morris notes.
"We are also looking for a new location in Republic, Mo., so we can accomplish the same result," he adds. "Many times we find an old bank, or fast food location with a drive through and good parking and our building development staff can work wonders in turning it into a great, new pharmacy."
Family Pharmacy in Clever, Mo., hopes to soon house a family practice physician's office to fulfill a community need. "This community has no doctor and this is our first model at putting a medical practice inside one of our pharmacies," Morris notes. "Clever is a larger store and unique because we place surplus items from other store locations here and the customer's can enjoy mark-downs year around."
Moving forward, Family Pharmacy has a goal to get better in everything it does. "The Springfield News-Leader has a contest every year for the "best of the best" and we won best pharmacy again!" Morris proudly notes. "We have won four out of the last six years. This is such a tribute to our great staff. Out of approximately 100 pharmacies in the southwest Missouri area, we won first place with over 130,000 votes cast. We have only two locations in the Springfield metro area so our customer base is primarily in small surrounding towns. To win first place for 'Best Pharmacy' and runner-up for 'Best Customer Service' is quite an accomplishment and we are very proud!"