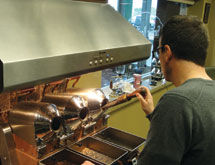 Few companies thrive for 100 years as Farmers Brothers has, notes CEO Michael Keown, and he attributes this success to concentrating on the company's core product – coffee – while continuing to diversify into complementary markets. "As we look to the next 100 years, I think you'll see us move to re-embrace several core values that have made the Farmer Brothers innovation so successful over time," Keown says.
The company is returning to some of its basic business values. "We're spending time now on reinvigorating values that seemingly are a bit old-fashioned, but we believe they are very relevant," Keown insists. "It may sound clichéd, but serving customers with great products and investing in the future – be it technology, product development or new types of products – is part of our past. We have a legacy of being very innovative in the coffee space, and we plan to maintain that and also invest in our people.
"We have plans to ensure that our core capabilities are on the cutting-edge," he explains. "If you look back, those were many of the principles and values that Mr. Farmer embraced 100 years ago, and we think they're very relevant. They're easy to say but hard to do."
Farmer Brothers was founded in 1912 by Roy E. Farmer. The family's third generation, Jeanne Farmer Grossman, serves on the company's board of directors. Family members own 39 percent of the stock, and the rest is owned by employees and the public.
The company provides coffee for restaurants, convenience stores, foodservice, healthcare, education, gaming/casino and other commercial establishments. It also manufactures custom private-label coffee products and sells coffee in grocery stores under its own name, as well as the names Cain's and McGarvey.
Coffee Bean International in Portland, Ore., one of the first specialty coffee roaster/retailers in the United States, was acquired by Farmer Brothers in 2007. Farmer Brothers also has an R&D laboratory certified by the Specialty Coffee Association at its headquarters in Torrance, Calif.
"The Artisan Collection by Farmer Brothers are truly gold-standard coffees in how they are sourced, manufactured and packaged," Keown declares. "The taste profile is fantastic and a collaborative effort of the team in Portland and also the research and development team in Torrance."
Custom Coffee Plan, a division of Farmer Brothers, provides coffees, coffeemakers, coffee supplies and repairs for office coffee services in Oakland, Los Angeles and San Diego, Calif.; Houston; Dallas; and Denver. Most Farmers Brothers products are distributed in the continental 48 states, but it has some business in Mexico and a growing business in Canada.
Of Farmer Brothers three manufacturing plants, the one in Portland specializes in higher-end and specialty coffee. Another facility at the headquarters in Torrance produces mainstream and some specialty coffee. Finally, a plant in Houston manufactures an array of products that are more on the mainstream side along with tea. The Portland plant is a LEED-certified, energy-efficient building.
Understanding Consumption
Farmer Brothers has significant business in convenience stores and retail private label, with the largest portions of its business with independent foodservice and restaurants. "We can help with almost any area that a customer who sells coffee directly would be interested in to grow their sales," Keown maintains. "Our direct store distribution network is roughly 500 drivers who can deliver wonderful coffee, tea and other products.
"We can service your coffee equipment quickly, if necessary," Keown stresses. "If you need it, we can help with your coffee execution on shelf or behind the counter, your menu, your pricing – whatever capabilities it takes to grow your coffee business, we feel we can out-deliver anyone in the coffee industry. Understanding what are the key focus areas to help a retail or food service operator to grow their coffee business – at its core, that's what we do."
Quality and Sustainability
Among trends Keown sees are the continuing demand for higher-quality coffees by various demographic groups. "The millennials – the 18- to 25-year-old group – their consumption is up significantly over the last 10 years, and we don't see that slowing," he continues. "Hispanics are yet another group we see continuing to drink more types of coffee and more coffee."
Keown also thinks fair trade coffee and environmental and sustainability issues will continue to grow in importance, "ensuring that the coffee doesn't just taste good but has been produced and sourced sustainably," he says.
"The last trend I believe we are going to see is continued growth in private label," Keown predicts. "Private-label retail has been a big engine of growth. Working with Farmer Brothers, retail operators can give their brand a boost by delivering their customer true specialty coffees, with freshness and variety to outpace the national brands, at a great value."