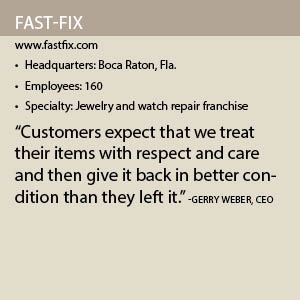 Steady Market
Fast-Fix continues to grow at a steady rate. Weber says he'd be happy if the company could open 10 to 20 locations per year. The company's existing stores are focused on the West Coast, along the southern tier and the East Coast, which leaves plenty of opportunity to continue to develop throughout the United States, as well as opening locations in Canada and the United Kingdom. In addition, the company opened three locations in Super Walmart stores, allowing its customers to have an item fixed while they shop.
"If we open more than 20 a year, that's great, but growing the right way and ensuring we have the right people to grow with is most important," Weber notes. "We have franchisees opening additional stores, which is wonderful organic growth."
That organic growth continues to be there thanks to Fast-Fix's service-oriented business. In slower or harder economic times, people tend to get things fixed rather than buying something new, which is good news for Fast-Fix. "This business has great margins," Weber explains. "It's a service business that virtually everyone at some point needs. We are there to fix customers' things in the good and bad times. This business has staying power."
Fast-Fix does, however, pay close attention to the market. Now that people have smart watches, the company has adapted to fixing those if necessary. When engraving became popular, Fast-Fix added that to its services, too. Its business also picks up directly after retailers experience high volume. For example, after holiday shopping season is over, Fast-Fix will see an influx of people getting their gifts adjusted or sized in January. Same with holidays such as Valentine's Day or Mother's Day – customers will come in after those holidays to get items fixed to better suit them. "Our core business is always there; some are handed to us like smart watches," Weber adds. "We didn't invent them but we can fix them."
Always Supportive
Fast-Fix operates under the acronym "F.I.T.T." that lays out its culture:
* F stands for "fun": "What's the point of working if you're not having fun?" Weber asks. The company wants to ensure it creates a fun environment for the franchisees and their employees, as well as the customers. "I would rather do business with a company that exudes this attitude," he adds.
* I stands for "integrity," which is how Fast-Fix deals with customers, franchisees and vendors.
* T stands for "teamwork," which is crucial for the company. "We work as a team with the franchisees, and the Franchise Support Center staff is dedicated to our franchisees' success," Weber notes.
* T stands for "trust." Fast-Fix trusts that its franchisees are going to represent the brand to the customers in the best possible way, the franchisees trust that at the Franchise Support Center level, the company will provide them with support and franchisees trust that the Franchise Support Center is committed to their success.
Fast-Fix offers support ranging from real estate and construction to marketing and sales. "We have franchise business coaches who work with franchisees with store visits, determining how to enhance their stores and build profitable revenue," Weber explains. "Our goal is to work with them to build profitable revenue. On an ongoing basis, I spend a lot of my time visiting stores and meeting owners, figuring out how we can help and how they can become involved in their communities to create awareness of the Fast-Fix brand. We provide great value for our franchises."
Fast-Fix recently rolled out a new franchise intranet system, which is a communications vehicle for all information, including vendor information, brand standards and message boards. Plus, a new point-of-sale (POS) system is up and running in every store, which allows Fast-Fix to capture customer information more effectively to use in future marketing campaigns via mobile and online.
"With our new POS system, gathering the analytics and customer information in the kind of detail we've never had before will allow us to enhance our business," Weber says. "I'm really proud of the dedicated team of professionals delivering the Fast-Fix brand's promise of great service in the communities we serve."