Fergie CenterStage Collection By wet n wild Hits Stores Nationwide In 2013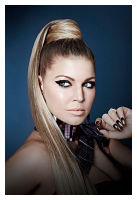 Feb. 5, 2013 – wet n wild took 2012 by storm, riding the waves of their 2-year double-digit growth and further elevating the brand by signing Eight-time Grammy Award Winning Artist, Fergie, as its first ever global beauty ambassador. A wet n wild devotee since her days growing up in Hacienda Heights, California, Fergie is the perfect inspiration for the brand's ambitious, style-forward new line: Introducing the Fergie CenterStage Collection by wet n wild.
The Fergie CenterStage Collection by wet n wild is a landmark collaboration between America's fastest-growing beauty brand and the pop culture icon. It recently launched with a tailored nail color line, with each product influenced by Fergie's love of nail color. wet n wild continues to pulse out new innovations in the collection with the launch of a 21-product line, ranging from delectable lip colors, extreme volume mascara, indulgent creme liners, vibrant eyeshadow quintets, stay-proof eyeshadow primer, and glistening shimmer face palettes. The edgy, on-trend shades embody Fergie's fashion sense, and Fergie's unique shade names, chosen by the star to share her special memories, give the line a personal touch.
The Fergie CenterStage Collection by wet n wild was carefully-crafted to cater to women with a diversity of skin tones and preferences to experiment with color. Fergie, the creative force behind the collection's signature fashion-forward yet accessible style, spearheaded the line's inception to deliver luxurious, yet affordable products to her fans. Every item is personally-inspired, hand-selected, tested for performance, and named by Fergie and her creative vision.
"Makeup is a personal passion of mine so I made sure that I touched and curated every single product in this collection to ensure we are offering the highest quality formulas, textures, and shades available," said Fergie.