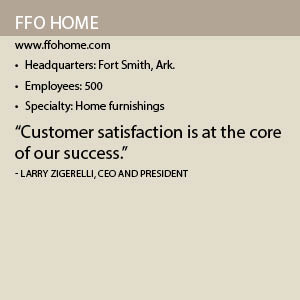 "Our focus is providing superior value to all demographics and income levels," Zigerelli says. "In addition to having the lowest prices, we provide financing for those with high credit scores, as well as financing options for those without credit to help them build their credit. Our range of financing options is what we deem as a big part of our success."
In 2015, FFO Home's corporate offices moved from Muldrow, Okla., to Fort Smith, Ark. During this transition, an affiliate of Sun Capital Partners acquired the then 36-store company.
According to Zigerelli, the acquisition laid the foundation for FFO's strategic growth plans. He notes the company retained its founder's philosophy of providing superior value, and expanded its product selection to include a wide array of upholstery, bedroom, dining, mattresses, home accents, rugs and lamps.
"We also offer great savings based on our ability to make special buys on unique products," Zigerelli says proudly, "which helps set us apart from our competition."
Zigerelli adds that FFO's everyday prices are as much as 50 percent below its competition. "We also offer the convenience of being able to take our furniture home the same day of purchase, so our customers can begin enjoying their new items right away," he says.
Delivering Quality
FFO Home believes that quality is more than a word, but a lifestyle. The company is proud to provide its customers with dozens of quality name brands –including Serta, Broyhill, Simmons and Flexsteel, as well as its exclusive brands Comfort Home upholstery and Natural Elements mattresses.
"Our upholstery lines have everything from top-quality microfiber to 100 percent leather, and we offer all natural wood bedroom and dining room furniture," Zigerelli says. "Our own manufactured line of Natural Elements mattresses have the same cutting-edge sleep technology and great quality as the name brands with prices up to 70 percent lower. FFO Home is focused on maximum customer satisfaction.
"We continuously receive high marks on our customer surveys for price, selection, customer service and delivery, amongst other things," he continues. "We are well above the industry average and among the best in all of retail, which really helps drive our business."
Keys To Success
FFO attributes a number of things to its success, most importantly its 500 dedicated employees. Zigerelli notes that FFO recruits tops talent, has a premier training program, and develops employees to their full potential.
"We maintain a very family-like culture," he says. "We hire both young and experienced people, and provide them with the necessary skills and knowledge to have successful long-term careers with us."
Zigerelli notes that with FFO's "state-of-the-art" training program, employees can be promoted to a store manager within six to twelve months. "We also have great benefits and pay well," he says. "Our compensation is among the best in the industry."
FFO is also very dedicated to community involvement. "We strategically focus on small- to mid-sized cities, where we team up with local organizations such as the chamber of commerce and charities like St. Jude Hospital," Zigerelli says. "We also partner with universities and hire interns."
The furniture retailer's vendors also play a critical role in its success. FFO values its partnerships and maintains close-knit relationships with its vendors such as United Home Furnishings, Home Stretch, Synchrony Financial and Fortegra, according to Zigerelli.
"We have just-in-time inventory," he notes. "We deliver some products from our headquarters, such as our bedding and home accents products, but the majority of our business is delivered directly to the stores from our vendors."
Additionally, FFO has integrated state-of-the-art systems and technology into its operations to not only keep its business efficient, but also streamline its processes.
"It also allows us to be nimble and pivot when necessary," Zigerelli notes. "We pride ourselves on being able to provide excellent customer service. It all circles back to becoming the leading furniture retailer in small- to mid-sized areas and ensuring we're meeting the needs of every customer."
Seeing Growth
FFO Home is one of the fastest-growing top-100 furniture retailers in the country. The company has 46 stores in Arkansas, Missouri, Kansas, Texas, Tennessee and Mississippi.
FFO aims to be the leading furniture retailer in small- to mid-sized populations ranging from 30,000 to 200,000 people. "We've had several years of consistent same-store sales growth," Zigerelli says. "In addition to expanding our stores in three new states, we're opening eight to 10 stores per year."
In the past 12 months, the company has opened 11 new stores, he adds. "When opening new stores, we either build a store or remodel an existing store of a retailer that closed," Zigerelli says. "We believe we can keep up this kind of consistent growth – opening one store per month – for the foreseeable future with the infrastructure we have in addition to the strength of our vendors."