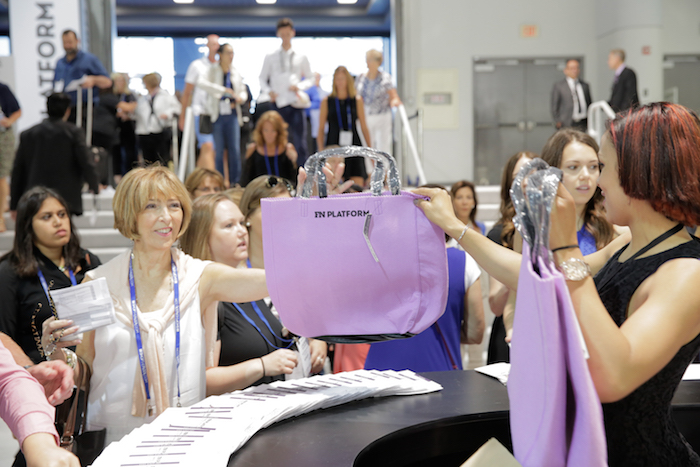 FN PLATFORM is promising big names and even bigger surprises at the February 2017 show.
By Leslie Gallin, President Footwear, UBM
With more than 1,600 men's, women's, juniors' and children's footwear brands from 20-plus countries expected on the FN PLATFORM show floor, February 2017 is anticipated to be their best market yet.
Known as the global showcase for branded footwear, FN PLATFORM's international presence has grown to represent 250 exhibitors from more than 20 countries, including top brands from Italy, France, Britain, Spain, Brazil, Portugal and more.
This February, FN PLATFORM is especially focused on meeting consumer demand to find inspiring products on store shelves. The show will provide retailers new and amazing brands to discover at the show. One example is Lacoste's FN PLATFORM debut with an enticing custom booth experience and, for the first time ever, France will have a dedicated area to showcase ADC, an elite group of French footwear brands.
With an incredible turnout of new brands, FN PLATFORM is aiming to expand upon this important trend by showcasing new exhibitors in pre-show, as well as highlighting them on the show floor.
Social media and experiential takeaways are being doubled down as an added value for attendees and exhibitors. Footwear News will be doing live Facebook posts, giving retailers and brands the opportunity to repurpose high-quality content on their own social feeds and websites.
Network building and inspiring learning sessions are also on tap. FN PLATFORM's networking events continue to be a draw with this season's always-popularFN PLATFORM Opening Night Concert featuring a performance from Berlin of Top Gun soundtrack fame.
Other show floor experiences include foot massages courtesy of Foot Petals, hair and makeup touchups by on-demand app GLAMSQUAD and a Build-A-Bear pop-up workshop sponsored by a key children's footwear brand.
The show is also known for its clear navigation format with expertly curated Lifestyle Neighborhoods. FN PLATFORM is divided into six conveniently merchandised lifestyle environments showcasing the best luxury (BLACK DIAMOND), WOMEN'S FASHION (COSMO), Children's and Juniors (IN PLAY), Casual Lifestyle (CAMP), Men's (BOND) and casual comfort (ZEN). Each environment has a uniquely designed lounge area that's representative of its fashion category, where all can indulge in food and drink.
Buyers should also make a point to visit WSA, home to the hottest trend selection of buy-now wear-now fast fashion footwear, conveniently located up the escalator from FN PLATFORM.
FN PLATFORM'S next edition is Feb. 21 to 23, 2017, at the Las Vegas Convention Center. For more information on the upcoming show, visit www.ubmfashion.com/shows/fn-platform.