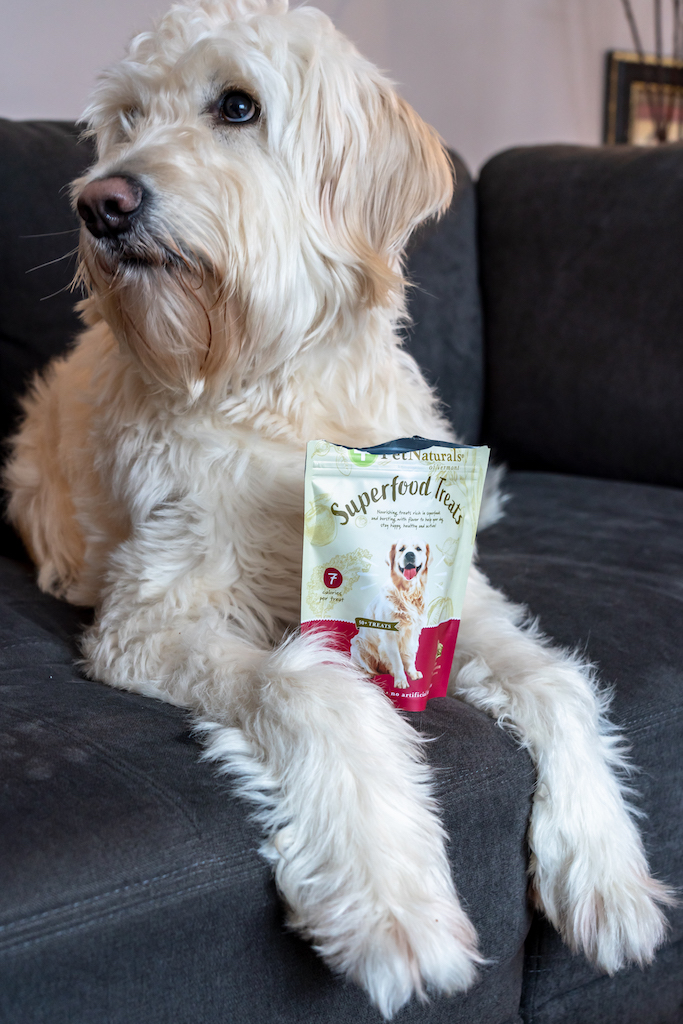 FoodScience wants to educate dog owners about adding vegetable-based treats to their diets.
By Mark Lawton
There is a widespread misconception that dogs need only meat. But in reality, "Dogs are omnivores," FoodScience CEO Sharon Rossi says. "Both humans and dogs have the ability to gain energy and nutrients from plants. If we only give our dogs meat, meat and more meat, it's not optimal for what they need. The truth is that dogs need both meat and roughage [fruits and vegetables]."
With that in mind, FoodScience has developed the PetNaturals Superfood Treats for dogs. The treats are made of organic kale, blueberry, apple, pumpkin, spinach, oatmeal, sweet potato, flaxseed and plums. To make them more palatable to dogs, the treats come with peanut butter, bacon or chicken flavoring.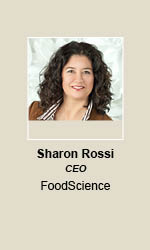 Individual treats are seven calories each, making them a low-calorie product compared to many other types of dog treats, Rossi says. "More and more veterinarians are getting concerned about dog obesity," Rossi says. "We want to bond with the dogs and play with the dogs and it's treat, treat, treat. That's a problem."
Part of the challenge in selling Superfood Treats is to get past the misconception that dogs only need meat. To enlighten dog owners, FoodScience has developed a social media campaign about carnivores versus omnivores. Combined with dietary information on its product packaging and the rest of its marketing plan, the company hopes to educate people on the actual dietary needs of their dogs.
Overlapping Science
Guido Orlandi founded FoodScience in 1972 to create dietary supplements for people. The family-owned company is in its third generation, with Guido's grandson Dom as president while Orlandi's daughter-in-law, Claudia manages the family trust that owns FoodScience.
The company started by developing and patenting a supplement for humans named DMG, also known as Vitamin B15. By 1981, FoodScience decided to expand into animal products. "A lot of the science was overlapping," Rossi says. "They were a family that was particularly interested in pets."
FoodScience has a sizeable R&D staff. The first pet product it developed was GlycoFlex, recommended by vets to improve mobility in aging dogs and cats.
Today, the company has four product lines:
* DaVinci Laboratories of Vermont offers dietary supplements for humans and is sold through doctors and healthcare providers.
* FoodScience of Vermont offers herbal supplements, essential fatty acids, digestive enzymes and joint health supplements for humans. Its products are mostly sold online.
* The VetriScience Laboratories product line which includes pet supplements for joints, gastrointestinal and other types of dog health. The line is sold through veterinarians' offices and distributors.
* PetNaturals is the newest line and includes both dog treats as well as pet supplements for common pet health concerns. It's sold at retail and its newest product is Superfood Treats for dogs.
The company's sales are split evenly between human and pet products, Rossi says.
Retail Expansion
Although FoodScience products are widely known to veterinarians, they are still rather new to retail. "It is a turning point for FoodScience. We have all this pet nutrition research. If we enter into treats in addition to pet supplements, we can help more dogs live healthier lives."
Moving into retail will have its challenges. "It's about inventory and the logistics of having products at the right place and right time," Rossi says.
It's also about reaching out to retailers. "Before, we mostly attended trade shows for veterinarians," Rossi says. "Over the years we have increasingly attended shows that retailers attend."
On the consumer side, FoodScience sees a trend it can hop on. "More and more pet owners are bonding with their pets and a low-calorie treat helps pet parents have a healthy option to treat and train," Rossi says. "We have seen pet parents make choices more aligned around the health choices they are making for themselves such as the desire to eat more fruit and vegetables."
As pet owners continue to be interested in organic, low-calories foods without artificial ingredients for their own diets, they seek the same for their pets, Rossi says. FoodScience aims to follow this trend and increase the number of retailers it sells Superfood Treats through.
Helping People, Too
The unemployment rate in Vermont is 2.8 percent, which is even lower than the national average. To recruit and retain employees is "really challenging," Rossi reports.
To find and keep employees, FoodScience works with a group that tends to have somewhat higher unemployment rate: recovering opioid addicts. FoodScience partnered with a nonprofit called Working Fields a mission-based staffing agency working to improve lives by focusing on second-chance hires, predominately individuals in recovery from substance use addiction. Working Fields places individuals who are in stable recovery as temporary workers, and provides ongoing support. Stable employment is one of many important elements to support long-term recovery.
FoodScience also has partnered with the Working Bridges Employer Collaborative, which is run by the United Way of Northwest Vermont. Working Bridges visits FoodScience once a week and helps employees with non-work challenges.
"There are things that happen in life," Rossi explains. "Aging parents, new babies, the car broke down, etc. All that stuff in real life that stresses our employees. Working Bridges meets with our employees to help them with non-work-related stressors."
She adds, "One of our values is 'bring it every day,'" Rossi says. "It can be hard to bring it if all these things are going on at home."
Perhaps because of its altruistic efforts, FoodScience gets more than 75 applications each time it posts a job opening, Rossi says.
Another draw might simply be the opportunity to make a healthy product for pets – a majority of FoodScience's employees have their own pets at home.