Foot Locker Foundation Unites Athletic Industry for 'On Our Feet' Gala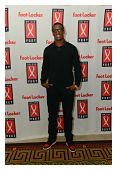 Oct. 24, 2013 – Foot Locker Foundation, Inc. joined together members of the athletic industry, as well as its business partners, on Tuesday, October 22, at New York City's Gotham Hall to celebrate the 13th annual "On Our Feet" fundraising gala. The event will benefit educational and other initiatives supported by Foot Locker Foundation, Inc.
"Our mission is to create a better world for today's youth through innovative education and sports programs that empower them to achieve their goals and be successful in life," said Ken C. Hicks, Chairman of the Board, President and Chief Executive Officer, Foot Locker, Inc. "We are proud that this year, monies raised from this event will benefit the Foundation's educational initiatives, including The Foot Locker Scholar Athletes Program and our long-standing scholarship program with UNCF, as well as other programs that help deserving young people reach their fullest potential."
Executives from the sports industry, professional athletes, and celebrities joined footwear companies, including Nike, adidas, Reebok, and Converse, to name a few, to lend their support to this important cause. Celebrity guests, including Geno Smith (NY Jets), CC Sabathia (NY Yankees), John Starks (NBA Legend), Brooke Shields (Actress), and Mark Consuelos (Actor), were among those who attended the evening's festivities. All guests wore traditional black-tie attire while sporting their favorite pair of athletic shoes.
The Foot Locker Foundation, Inc. is the charitable arm of Foot Locker, Inc., a specialty athletic retailer that operates approximately 3,500 stores in 23 countries in North America, Europe, Australia and New Zealand. Over the years, Foot Locker, Inc. has developed significant partnerships and programs to improve and enrich the educational, health and sports opportunities for children across the country, and has awarded over 700 scholarships to outstanding students through all of its programs.