Fox Consumer Products Celebrating 25 years of The Simpsons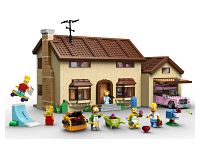 Feb. 13, 2014 – As part of a year-long global celebration of The Simpsons' 25th anniversary on FOX, Twentieth Century Fox Consumer Products will commemorate America's favorite family with unique lines of collectibles and toys featuring limited-edition, commemorative products and exciting branded collaborations.
Set for early 2014, NECA will release a limited-edition boutique collection of products featuring "25 of the Greatest Celebrity Guest Stars" of The Simpsons. The celebration also continues with the first Homer Simpson Mr. Potato Head from Promotional Partners Worldwide, two Hot Wheels "The Homer" vehicles, The Simpsons Micro Grand Prix set from Hornby Scalextric and seasonal toys and inflatables from Gemmy.
The celebratory milestone program kicked off in January headlined by Lego's announcement of The Simpsons products including a construction set with The Simpsons Springfield home available exclusively online now. In May 2014, Lego will release a mini-figures product line with 16 of the show's most iconic and memorable characters. In addition, FOX is scheduled to air a special Lego episode of The Simpsons in May 2014 featuring Springfield and its cast of characters in Lego form.
"The indelible imprint on American pop culture by The Simpsons over the past 25 years can be witnessed worldwide with fans of all ages spanning the globe, and in 2014 we are celebrating in a big way, in partnership with iconic toy companies rolling out exclusive Simpsons products," said Jeffrey Godsick, president of Twentieth Century Fox Consumer Products.
Prominent partners participating in the show's global anniversary campaign include:
Cardinal Games – The Simpsons 25th Anniversary Trivia Game features 300 trivia questions written by fans. Relive moments from the show's 25-year run, available now exclusively at Target.
Commonwealth – A new line of The Simpsons limited-edition plush dolls are available now.
Gemmy – Available in October 2014, a new line of air blown inflatables and seasonal items featuring Homer and Bart will hit stores just in time for the holidays.
Hornby Scalextric: The Simpsons Grand Prix Micro Scalextric racing set will be available worldwide in June 2014.
Lego – Available in February 2014, a limited-edition construction set and licensed Lego minifigures inspired by The Simpsons. In addition, FOX is scheduled to air a special Lego episode of The Simpsons in May 2014 featuring Springfield and its cast of characters in Lego form.
Mattel – Hot Wheels will release two die-cast celebratory "The Homer" vehicles— one in the brand's basic assortment and another special collector's edition which sports premium features and styling. Both replicas capture the fun, quirkiness and signature design of Homer Simpson's infamous vehicle creation as seen in The Simpsons second season "Oh Brother, Where Art Thou?" episode. Hot Wheels' basic "The Homer" will appear this spring with the collector version debuting fall 2014.
NECA – The limited-edition boutique collection celebrates the 25th anniversary of The Simpsons and includes a diverse array of products including figures, collectibles, apparel and novelty items featuring the animated likenesses of 25 of the most celebrated guest stars as they appeared on the show. This is the first time in the show's 25 year history that merchandise has been designed around celebrity guest stars. The first wave of five figures and merchandise is available in March 2014, with subsequent groups of five releasing each quarter of 2014.
Promotional Partners Worldwide –The first Homer Simpson Mr. Potato Head. America's greatest TV dad comes in his classic white shirt, blue pants, black shoes and his donut. Homer stands about 6-inches tall and comes in a window display box along with the classic couch background as a diorama setting.