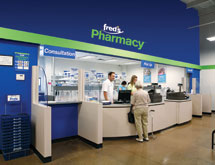 Competition is fierce in the discount retail market," says 40-year retail veteran Dave Mueller. The senior vice president of sales and marketing for fred's Super Dollar stores knows that pricing is not the only important factor to succeed in this sector.
To retain the competitive edge it has gained over its 65-year history, fred's started a transformation in 2009 to change the way its 700 stores and pharmacies looked, how they were organized and displayed merchandise. The first new concept store opened in October of that year, close to the company's headquarters in Memphis. The new concept performed well and fred's has now more than 60 stores open with the new layout.
The new store concept was thoroughly researched and a variety of new approaches were implemented inside and out.
"We enhanced and updated our logo and our color scheme," Mueller explains. "We also changed the signage on the exterior to make it more prominent, so it would stand out and create awareness."
The interiors of fred's Super Dollar stores were reorganized, starting with the entrance, to establish a welcoming open area for customers.
"We used to have two entrances and we changed that to one central, automated entrance, which enhances our convenient layout," Mueller notes.
In with the New
The traffic pattern was shifted to the right, with the pharmacy relocated to the front right area of the store, and the over-the-counter medication, health and beauty products located directly across from it. High-demand products were redistributed throughout the store. "We anchored the store with heavy traffic categories such as paper, chemical and food so people would get around the entire store," he explains.
Fred's private-label products also received a makeover. "Over the last year-and-a-half, everything in our private-label [line] has been updated with new packaging and graphics," Mueller says. He is proud to note that the company's private label is comparable with national brands. "We test and measure against national brands. We reinforce our effort with our seal of quality," he says.
The stores also re-allocated products, increasing departments square footage to improve the overall sales. "We doubled our space for food, increased a key category: pet supplies, while expanding hardware, auto and home decor areas," Mueller explains.
Rewarding Loyalty
Customer care is a priority for fred's and the company was the first in the discount store segment to introduce a loyalty card. "We launched it in May of 2012 and now we have over a million cards in circulation," Mueller says. Customers earn points when they purchase private-label and other qualifying products.
Once a quarter, the points are tallied and those with 1,250 points receive 2 percent of the money they spent at the store in the form of "smart bucks" back on their card, for future in-store purchases.
Fred's operates full-service pharmacies in more than 300 stores. The company introduced a smartphone app in November that can be used to request refills or receive prescription reminders. "It also has the capability of capturing the barcode on a prescription and sending it to the pharmacy, so it's ready when the customer visits the store," Mueller says.
Lower Prices
With aggressive competition in the discount sector, fred's knows it has to keep pushing to differentiate itself, with price being one of the key factors. "We have been known as very price competitive for years," Mueller says. "We compete quite nicely with Walmart and our marketbasket index shows us similar to Walmart, Family Dollar and Dollar General."
Fred's aims to be the best company in its sector, with great products, prices and customer service.