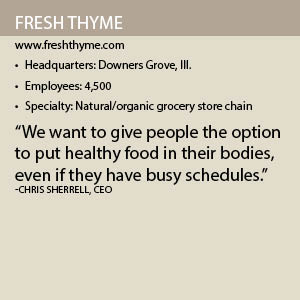 "We're bringing natural and organic food to the masses at a great value," he says. "That's been one of our mottos since we started. In addition, we have a 315,000-square-foot distribution center that opened in October. We also have our corporate office, which we call our support office, in Downers Grove. Its 30,000 square feet and houses 100 team members."
Standing Alone
Fresh Thyme caters to the natural and organic palate, which Sherrell says sets it apart from competitors.
"When compared to stores like Trader Joe's, Fresh Thyme offers more fresh products while still offering unique and tasty grocery options. In terms of competitor Whole Foods, Fresh Thyme's store (in terms of square footage) is smaller, but offers an open layout for customers with almost half of the store dedicated to produce and perishable items. Fresh Thyme offers a uniquely curated mix of products to appeal to shoppers wherever they may be on the spectrum of healthy eating," explains Colein Whicher, director of marketing and strategy for Fresh Thyme.
"We also have a low profile look and feel within our stores," Sherrell says. "When customers walk in they feel warmth and comfort due to the fact that tall aisles are not boxing them in. We feel like we've built some of the best-looking grocery stores in the country over the last couple of years."
Sherrell notes that there are "so many other things" that people look for in grocery stores. "The world is getting so much more educated on special dietary needs," he explains. "Whether it's about the benefits of organic and natural foods or concerns about GMOs, people look for more in a grocery store than a product on the shelf. They care about where it's made, how it's made and then if you are a supporter of your local community. So the farmer's market concept is a big part of that community and we want to be your special dietary and healthy grocery destination, no matter what it is you need."
Fresh Thyme grocery stores are equipped with everything fresh, local and organic. The company is known for its fresh produce, cut-to-order meats, handmade sausages, freshly marinated dinner solutions and prepared meals for on-the-go customers.
"We have really enhanced the foodservice offerings," Sherrell says. "We have an extensive sandwich program where all of our sandwiches are made in-house, [with] pizza ovens in every store for custom flatbread pizzas, freshly squeezed juice onsite and salad bars. We really emphasize fresh products."
Fresh Thyme also wants to make grocery shopping easier for customers, which is why it focuses on convenience. "It's all about the ability to get your full-service shopping done in a timely fashion," he explains. "You don't have to spend an hour walking through the aisles like the massive stores that are 200,000 square feet or more, while ours are 30,000 square feet."
Fresh Thyme is also working on a click-and-collect program. "We are working with Amazon on their PrimeNow grocery delivery program, but we will roll out an internal click-and-collect program in the near future," Sherrell says. "It'll give customers the ability to go online, or on their mobile phone, and order whatever they want in the store. So you click the item, put it in your shopping basket and check out.
"We'll package your order and bring it out to your car when you arrive, or you can come inside and grab it," Sherrell continues. "For example, if you're a soccer mom, you can order your groceries at the game on your phone. Then pick them up on the way home. So you can go home and cook dinner, and you didn't even have to take the kids out of the car."
The goal is to take convenience to a new level in the grocery industry. "We are busy in this country, [and] too many people think that being busy means eating unhealthy and eating fast food," Sherrell says. "So we want to give people the option to put healthy food in their bodies, even if they have busy schedules."
Working Together
Fresh Thyme loves to partner with vendors that have a commitment to health, the environment or culture. "That is something we strive for," Sherrell says. "There are some people we work with today who deal with both the natural and conventional side of the business; however, we do pick partners that certainly have high moral ethics and want to maintain a consistent drive pushing forward positive management of the business. That includes a reduced carbon footprint, supporting growth of all organic items, a cage free program, and grass fed/free range and antibiotic free meat."
Maintaining these standards is a lot of hard work, according to Sherrell. "We have 100 people at our support office that help manage those relationships. A lot of our bigger vendor partners actually have employees inside of our support office to help manage those relationships as well," he explains. "Our distribution center gives us the ability to manage that in-house."
Fresh Thyme also self-distributes nearly 99 percent of its own produce. "Produce is the backbone of our business," Sherrell says. "We have the best produce at the best price in town. We try to cut out the middleman so we can offer the best prices and best values to our customers. We did that because want to be nimble, take advantage of opportunistic buys like buying local and emphasize organic."
A 'Smiling' Effort
When looking to acquire talent, Fresh Thyme looks specifically for people who smile. "You have to smile. And unfortunately, it's so underrated," Sherrell says. "If you go to an interview and you don't smile, smirk or have smiling eyes, then you probably aren't cut out for this business. It's all about people and if you don't like people, then this isn't the place for you. It sounds so simple, but you have to smile and want to engage authentically with people. It helps to drive home the cause of what we're doing here. We're trying to bring health and awareness into our customers' lives."
Sherrell maintains that Fresh Thyme has some of the best employees in the country. "We're working endless hours training them to get them up to speed on what we expect from them," he says. "We hold culture at a very high level. We want to work hard, set and meet expectations, but we also want to have fun doing it. This is the lifestyle at Fresh Thyme and we want people to embrace it. That doesn't mean everyone has to, but they at least need to learn about and understand it.
"Our message is that we want people to live longer, healthier and live a more active lifestyle with the food they put in their bodies," he continues. "It starts at the top as well. I shop 99 percent of the time at Fresh Thyme. My family eats natural and organic. I've been in the business for 22 years. It's very important to believe in what you're selling. Just like the old saying goes, 'It's easier to tell a story when it's the truth and you believe in it.' So if you believe in what you're saying it's going to come across very genuine. If you try to make it up it's not always that genuine."
In addition, Sherrell notes that he is most proud of his employees. "We have done something no one has ever done before. We have opened 53 grocery stores, soon to be 70, in fewer than three-and-a-half years in 10 states," he says. "We have some amazing, passionate folks on board. I have to give credit to my employees because they are outstanding, have an amazing mindset and are relentless about making this work. It's all a pretty big milestone, but when you look at how we have achieved that, our team is certainly the key."