Frito-Lay, Activision Team Up For Skylanders Promotion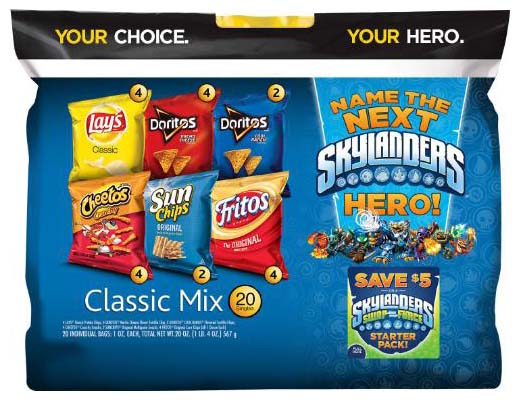 Feb. 25, 2014 – PepsiCo's Frito-Lay North America division and Activision Publishing, Inc. today announced a promotion that brings fans the ultimate way to get involved in the award-winning Skylanders franchise. For the first time ever, Frito-Lay and Activision are providing fans with the unique opportunity to choose and name a new hero that will appear in the next Skylanders game slated for release in 2014. In addition to naming honors, the winner will receive a $100,000 scholarship.
"This is the third consecutive year Frito-Lay has partnered with Activision to bring fans a whole new way to experience Skylanders, while bringing added fun to the snack aisle," said Ram Krishnan, vice president of marketing, Frito-Lay. "This time around, we're taking our collaboration to a new level. We can't wait to see all the creative names families come up with."
Between now and March 21, 2014, fans 18 years and older can visit www.fritolay.com/skylanders to select one of three potential heroes they want to see come to life in the next Skylanders game. Once their Skylanders selection is made, contestants then submit a suggested name and a 200-character or less inspiration for the name they chose.
In May, one fan-created name for each of the three potential heroes will be selected by a panel of judges from Activision and Frito-Lay, and announced as finalists. Fans 13 years and older will be invited to vote online for the hero they want to see debuted in the next Skylanders game. Later this year, the winning hero will be revealed and the fan behind the creation of the hero's name will be awarded a $100,000 scholarship. The winning name submission will also become the official name for that Skylanders hero and will appear in a variety of places such as on Skylanders packaging and even in the Skylanders game.
To celebrate the promotion, specially marked Frito-Lay variety packs, available for purchase while supplies last at participating retail stores nationwide, will include coupons for select Skylanders products and details on the entry and voting phases of the promotion.