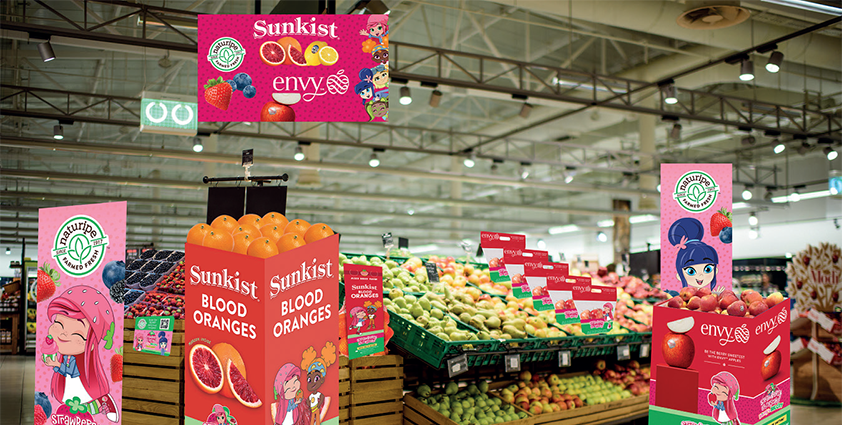 According to a recent study, shoppers increased their basket spend by over 50 percent when strawberries and blood oranges were purchased on the same trip compared to the average strawberry trip. Total basket spend increases were also seen with apples and blood oranges trips.
This spring, Naturipe (strawberries and blueberries) is representing WildBrain's new Strawberry Shortcake character in the berry category, Sunkist is promoting Blood oranges with Strawberry Shortcake's friend Orange Blossom, and Envy (apples) is celebrating Strawberry Shortcake's move to Big Apple City in the new series. A complete 'Fruitastic' produce takeover featuring adorable images of Strawberry Shortcake and her friends kicked off in May at select retailers, with merchandisers provided by the participating produce suppliers.
To celebrate this partnership and to prominently feature their delicious strawberries and blueberries, Naturipe has launched an interactive webpage featuring Strawberry Shortcake and Blueberry Muffin that includes new custom recipe videos that inspire users to 'bake the world a better place'. This page also includes downloadable activities for kids and grown-ups alike.
Sunkist rolled out limited-edition packaging for Blood oranges, featuring Strawberry Shortcake and Orange Blossom, available in 2 lb. and 3 lb. bags at select retailers. Naturipe has POS display signage to support this promotion available for retailers. Envy apples has also created promotional 2 lb. bags and bins. All three brands have also developed delicious and nutritious recipes for citrus, berries, and apple fans of all ages.