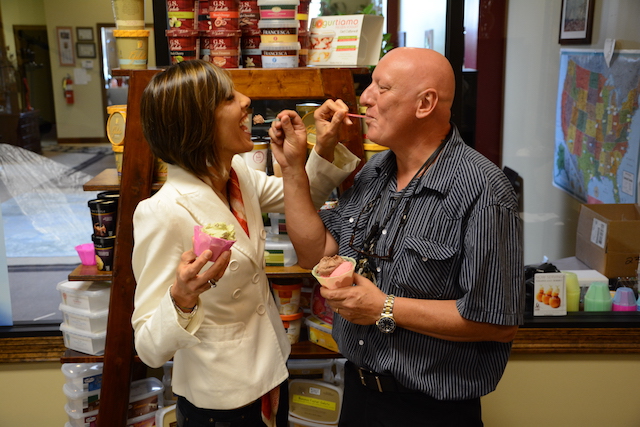 G.S. Gelato continues to expand as demand increases for its authentic Italian gelato.
By Janice Hoppe-Spiers
When Guido Tremolini and Simona Faroni visited the Florida panhandle in 1995, they not only fell in love with the place they call "paradise," but also returned home to Italy with an unforgettable business idea. Astonished that "there was no gelato in America," they quickly moved to the United States to embark on their American dream of introducing the country to authentic Italian gelato and sorbet.
"Guido is a visionary; he is a person who has thousands of ideas a day and thank God most of them die overnight, but this one didn't," Faroni remembers. "He kept going on and on about this great vision to make gelato in America, and he's very good at making you see things through his eyes. Finally, in October 1995 I said 'OK, let's go see this paradise.'"
Unfortunately, they returned to Florida right after Hurricane Opal hit the Gulf Coast, so Faroni did not get to see the area in all its glory.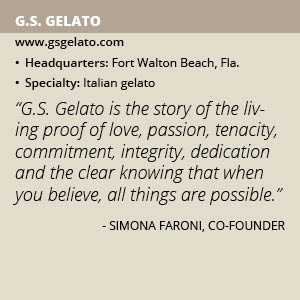 However, she remembers, "I said, 'I love you and will follow you anywhere,' so we made the decision to move to Florida in February 1996 to start our authentic Italian gelato business."
The husband-and-wife team imported the Italian equipment needed to produce their authentic gelato, but once they got to the United States they found out the equipment had never been imported to the country, therefore it was not approved by the USDA. "In order to make authentic gelato, it all starts with the right equipment," Faroni explains. "That was not something we were willing to give up, so we spent day-after-day with frayed nerves and exhaustion, not knowing a word of English, trying to get our equipment up to code. We took language classes by night and met with engineers by day who were willing to help. A year and two months later our machines were approved. It was the first and only equipment of its kind to be authorized for production of wholesale gelato by any American federal authority."
G.S. Gelato (G for Guido, S for Simona) was born and was now the first manufacturer of authentic, artisanal gelato and sorbet in the United States. However, Tremolini and Faroni still had to educate a country that did not know what gelato was. "There was no market for gelato. We opened our first retail store in April 1997 and people absolutely loved it. The stores were a success from day one, but breaking through in wholesale was a different story," Faroni recalls.
Achieving Their American Dream
While profits were soaring at the retail shops, the wholesale side of the business was struggling to a point where the company accountant told Faroni and Tremolini that they weren't going to make it. "But for us, this was our American dream, our vision," Faroni says. "We knew it was going to work; we just had to keep pushing and pushing."
Opportunity came knocking in 2005 when G.S. Gelato got a call from Darden Restaurants. "That was the breakthrough that turned the page," Faroni says. "They gave us the chance to service the entire chain. They trusted us because of our dedication and never-give-up attitude, which I believe was only possible by divine intervention," Faroni continues.
By April 2007, G.S. Gelato ran out of space and acquired a new facility, going from 1,000 square feet to a 26,000-square-foot, state-of-the-art manufacturing facility. After the much needed upgrade, G.S. Gelato began offering tailored services and products to its customers, such as US Foods, Macaroni Grill and Olive Garden, finding themselves fitting seamlessly into the private label category.
"We found our niche, and when gelato became more mainstream we began servicing smaller retailers, then larger and larger, growing consecutively each year," Faroni says. "I am very proud to say that today we are the leading manufacturer of gelato and sorbet in the United States for foodservice and retail private label."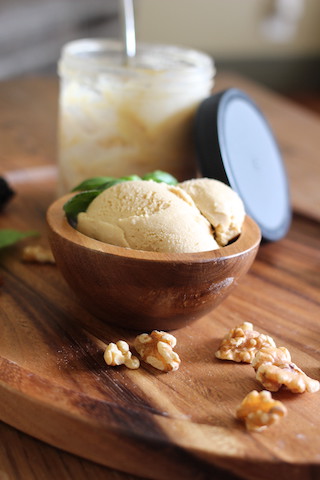 Given the continued demand for its products with gelato being the evolution of the ice cream industry, G.S. Gelato recently acquired five acres next to their facility where they plan to further expand. "I strongly believe that the energy you put out there is what you get back," Faroni adds. "When you believe, all things are possible."
Authentically Made
G.S. Gelato prides itself on maintaining authenticity by continuously using Italian equipment, principles and recipes. "My husband works closely with flavorists in Italy who make products especially for us," Faroni says. "Since certain ingredients aren't grown in Italy, such as cocoa, mangoes and coffee, we source only the best ingredients from around the world in order to craft premium products."
In the manufacturing process, there are significant differences between ice cream and gelato. "Our gelato is made from scratch with unique ingredients incorporated directly into the base of the product," Faroni explains.
The ingredients are heated in pasteurizers to eliminate any possible pathogens. After the pasteurization process, the mix is transferred into holding tanks, where, just like wine, it ages for seven to 72 hours depending on each specific product. "That process of aging allows for all the components to amalgamate together to acquire an exquisite, silky texture before the mix is batched and becomes velvety, rich gelato" she adds. "Gelato is creamy, richer in taste and flavor because each recipe is built independently and every flavor is defined. It's a much more artisan process compared to ice cream."
G.S. Gelato caters its approach to working with each of its clients to develop unique flavors and formulations, whether that be organic, clean label, dairy-free, etc. "It's a very precise and tailor-made project for each client," Faroni notes. "Our research and development team is always on the cutting-edge of innovation with respect to ingredients, regulations and new ways of making unique, premium products. We maintain an SQF Level 3 certification with excellent ratings, ensuring meticulous quality control and maximum traceability for all our products."
Moving forward, G.S. Gelato plans to continue growing to meet the needs of the ever-evolving market. "In today's food industry things change at a very rapid pace, but one of the characteristics of our company is to keep evolving with the market and consumers' demands," Faroni says. "It is in our nature to remain proactive to provide our customers with the best gelato and sorbet on the market."