Gap Launches Second Limited-Edition Collection With GQ Best New Menswear Designers In America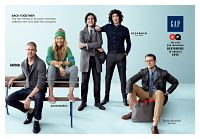 Sept. 24, 2013 – Today, Gap introduces the brand's second exclusive menswear collection designed by GQ's four Best New Menswear Designers in America for 2013. Following last year's successful collaboration, this year's line, which ranges from accessories to outerwear, showcases each rising designer's signature spin on iconic menswear pieces.
"We were very excited to collaborate with such a bright group of emerging designers," said Tony Kretten, Gap VP of Global Menswear Design. "Their unique points of view really complement Gap's casual American style, and we look forward to sharing this collection with our customers across the globe."
"GQ is thrilled to partner once again with Gap to expose this year's impressive talents to a global audience through an expanded collection of new menswear that celebrates each designer's individual spirit," said GQ creative director Jim Moore.
With price points starting at $30 for essential items such as a knit beanie and ranging up to $348 for more indulgent pieces like a suede baseball jacket, the collection is available at select Gap stores worldwide and online at Gap.com. The collection will include hats, belts, tweed ties, backpacks, and scarves; graphic tees, oxfords, and chambray shirts; utility pants, fleece sweatpants, and denim; and blazers, vests, parkas, and waxed field jackets.
The four designers below, along with the pieces from their limited-edition Gap capsule collections, will be featured in a special ten-page advertising insert in the October 2013 issue of GQ.
Aviator Nation founder Paige Mycoskie, inspired by a cool '70s California vibe, develops her own fabric washes and graphics, giving her collection an authentic, lived-in vintage feel.
Kansas City–based Matt Baldwin's Baldwin brings timeless functionality with a clean architectural aesthetic for designs that are minimal, modern, and decidedly masculine.
Brothers Liam and Sammy Fayed of Bespoken fuse Savile Row traditions with a youthful rock 'n' roll attitude to create sharp, modern menswear.
Specializing in handcrafted heritage materials and authentic finishes, Ernest Alexander takes the rugged yet refined man from workday to weekend in style.
GQ's Best New Menswear Designers in America project, which was established in 2007, works to advance and bring attention to up-and-coming American menswear designers. The recognized designers who were selected by GQ editor-in-chief Jim Nelson and creative director Jim Moore, along with the fashion editors of the magazine, took part in a mentoring program led by GQ and Gap.