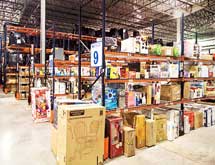 This wholesale liquidator caters to both buyers and sellers of distressed inventory by evolving its business platform and enhancing its e-commerce platform. Genco Marketplace (GMP) is in the margin recovery business. But unlike companies such as Overstock, GMP differentiates itself with a multi-channel approach that helps retailers and manufacturers maximize recovery value for distressed inventory. And with $5.2 million worth of product being sold every business day, the company is clearly doing something right.
"We offer a one-stop liquidation solution," said Robert Auray, Jr., president and CEO. GMP can store product within its national network of processing centers, refurbish it, market it, and then sell it and handle all financial settlement. Products include electronics, apparel, house wares, appliances, tools, video games, and furniture.
"Genco Marketplace has a three-part sales model with a direct sales force that sells in truckload volumes, an online B2B platform that primarily offers goods by the pallet, and a growing online B2C platform that offers individual items to bargain hunters," said Auray.
GMP has a varied network of B2C venues, including its Web site NoBetterDeal.com, which it launched this March, and partner sites such as eBay and Amazon. The combination of the above capabilities, the efficient and flexible handling of the goods, and an extensive network of buyers, including wholesale buyers and off-price retail buyers, gives the company the ability to sell products quickly in the secondary market—a boon for sellers of distressed inventory.
On the flipside, GMP's buyers rely on a steady and strong pipeline of goods they can trust, whether they are consumers, off-price retailers, exporters, or resellers. "We're a true
marketplace," said Auray. "Our sources of supply need a reliable liquidation partner that can meet their margin recovery goals, and our buyers need a steady source of product. Our business doesn't work unless both seller and buyer are happy."
High-end recoveries
Recently, GMP evolved its business model to push itself into the direct-to-consumer segment with more force by launching NoBetterDeal.com. GMP has marketed to consumers through eBay, but with its own branded site, Auray hopes to deliver higher recoveries with high-end goods such as consumer electronics and appliances.
"We see this site as being an integral part of our multi-channel advantage," said Auray. "While most of our goods sell in truckload and pallet quantities to other liquidators, small off-price retailers, or flea marketers, single-unit sales to consumers offer the opportunity to get the highest margin possible."
Auray said some goods simply sell better when sold directly to consumers, and NoBetterDeal.com takes advantage of this opportunity. But unlike other liquidators, GMP will not open brick and mortar outlet stores to complement the Web site. "Think of NoBetterDeal.com as our clicks-only outlet where, for that product, it makes the most sense to market to consumers," he said. "The site will be our only branded venue for direct-to-consumer sales."
The hope for NoBetterDeal.com is that it will become valuable to suppliers of distressed inventory by providing a means to increase recovery value and to buyers by offering secondary market products to individuals or businesses that can't buy in bulk.
Development pipeline
GMP is a subsidiary of Genco Supply Chain Solutions, a global logistics management company. As such, GMP's strong logistics DNA enables it to leverage systems that efficiently capture data in a low-cost way, which is also a boon to buyers looking for an accurate listing of what GMP has to offer.
The vast majority of GMP product is individually scanned at company processing centers. These logistics capabilities enhance GMP's e-commerce capabilities. As product is offered for sale online, buyers see exactly what they're getting before they purchase. "Our manifests are accurate and descriptive," said Auray. "Buyers don't have to be in our warehouses to know what's on the pallet."
In growing the business, Auray looks first to existing buyers. "We actively try to mine our existing pallet buyers and multi-pallet buyers to look for opportunities to sell to them in larger, more economical quantities to help grow their businesses."
GMP considers its e-commerce capabilities essential to reaching the largest number of qualified buyers in the fastest way. The company has an inhouse sales force, but the site assists those salespeople because all goods are posted on the site for buyers to browse at their convenience. "We see e-commerce as a legitimate sales channel but also as a pipeline builder for buyer development over time," said Auray.
Continued growth
One of the challenges GMP faces in managing its business is ensuring its customers honor the financial and legal obligations of reclaiming and remarketing goods at a lower cost. With 60,000-plus wholesale buyers and off-price retail buyers to manage, it's a daunting challenge.
"We don't ship goods without payment, so this protects GMP from a financial standpoint," said Auray. "But we also have to protect our sources of supply by ensuring that secondary market sales do not undermine sellers' own retail sales, essentially enabling consumers to buy the same product offered on store shelves for a whole lot less."
To oversee these restrictions, GMP has a compliance group that mines the Web to ensure no one is breaking the rules. The group also does spot checks at various off-price retail venues to ensure none of the products sold by GMP are in the local market if the seller has restricted such sales.
In looking at the company's growth pattern since 2006, which is up at a compounded rate of better than 20% each year, it is clear GMP is doing something right in every aspect of its business, including behind the scenes. The company has taken a regional approach to handling goods, and it moved its business model from a predominantly consignment model to more of a purchase model where it buys the distressed inventory up front from the retailer or manufacturer and assumes the risk of reselling.
GMP also put in a commission system for its sales force that gets them more focused on selling goods for the highest recovery possible as quickly as possible, aligning the needs of customers with the needs of GMP and its teammates. As a result of these changes, Auray sees the present and future of GMP in a positive light.
"In this difficult economy, consumers are looking for value, the kind of value offered by off-price retailers and others selling secondary market goods," he said. "As one of the largest suppliers of product to the secondary market, GMP is in a great position to grow."