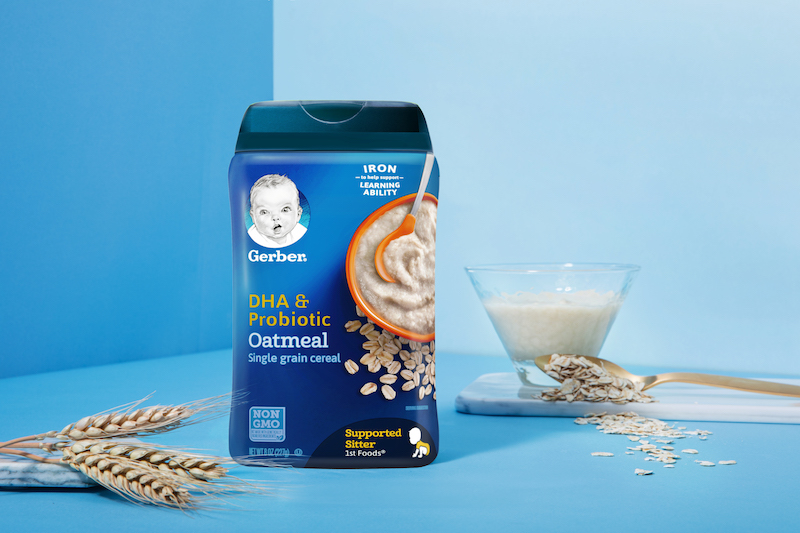 Gerber is using its relationships with farmers and its supply chain to move its products from the center of the store to areas with fresh, ready-to-eat goods.
By Staci Davidson, Knighthouse Media
As a 91-year-old business, Gerber is a well-known brand, beloved by multiple generations. With so many years of experience in the industry, Gerber knows what babies and children like and the nutrition they require, as well as what parents appreciate. These values not only help the brand endure, they keep it fresh for the next generation of babies and parents. The values start with the relationships Gerber has with farmers.
"We are literally rooted in the history of the American farmer," President and CEO Bill Partyka explains. "It is a very important relationship we have with local, American farmers. Roughly 100 family farmers supply the majority of the raw material we use in our baby food, and not only do we know these farmers, we know their families and kids and we nurture those relationships."
Many of these farmers only grow for Gerber, and happily display "I Proudly Grow for Gerber" signs at their farms, so the local community knows what the farm supports. Gerber is the only scale baby food business that can control its value chain "from farm to high chair," Partyka says, and notes Gerber strives to exceed government standards.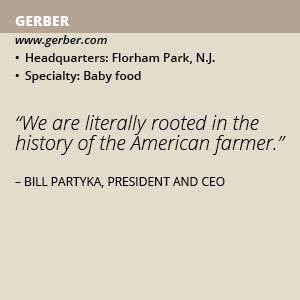 "We have biannual grower meetings where we bring a couple hundred farmers to a central location and meet with them to review quality scorecards and talk about trends they need to be aware of," he says. "As we elevate our standards over time, they work hard to meet or exceed our standards.
"We also invest in our next generation of farmers," Partyka continues. "Gerber has a scholarship program for students who are entering university and plan to get involved in professional agriculture. We help develop curriculums around sustainable farming and make resources available for new research in this area."
Fresh is Best
Gerber's dedication to working closely with its farmers keeps its product relevant to families. Thefact that the company is getting ready to launch a natural line of purees in glass jars is a prime example of this. Gerber starts with its relationships with farmers because having the highest-quality ingredients is important for all of its other goals. The company also has made major investments in its factory, such as with hydraulic cereal processing. Partyka stresses every step in Gerber's supply chain must reflect the high standards it has for its farmers.
In addition, Gerber continues to invest in its Feeding Infants & Toddlers Study (FITS) to better understand young children's diets and related behaviors. In the past 17 years, FITS has surveyed nearly 10,000 parents and caregivers in the United States, with more than 50 peer-reviewed publications. FITS research is now underway in eight countries.
"There is a lot of excitement around how we can really transform our portfolio to deliver even more nutritional benefits," explains Mohini Joshi, General Manager of baby products. "FITS has shown us that some children have gaps in their diets, so we are working to ensure that we can help close some of those gaps while continuing to taste good. We are doing a lot with vegetables, grains and alternatives to sugary options, with launches planned over the next two years."
"We believe this generation of parents is forming purchasing patterns that are a window into the future for other consumer products," Partyka says. "When making purchasing decisions for their babies, parents want the products to be the cleanest on the market, so we are ensuring all of our products are clean, green and the supply chain is transparent. Parents' desire for fresher solutions for children also is pushing us into a different category. Traditionally, we have been a center-store solution and shelf-stable, but now we are offering the same clean, green solutions in fresher, ready-to-eat formats."
Additionally, parents are more engaged these days with digital activity, so Gerber is reaching them there, while also maintaining its focus on high quality. "In Fremont, Mich., we have a resource center that is a one-stop shop to get your questions answered," Joshi says. "Our Dotti service model is a text-based, 24/7 access we offer via phone, but now we are more engaging with the conversation perspective. The service is not a chat bot – there is a person on the other end who is there to continue to the conversation. Parents can follow up with the same person, and we are thinking about how we can build upon the service model to expand it even further."
E-commerce also is helping Gerber expand globally. "We are known for supplying the highest-quality American products, and that is allowing us to do business in China, Latin American and other international locations," Partyka says. "Largely, the accessibility to high-quality American products has an international appeal in areas where there is a concern for food safety."
By maintaining its high-end standards, working with farmers and investing in natural innovations, Gerber addresses consumers' desires for fresher solutions and brings additional value to the retail market.