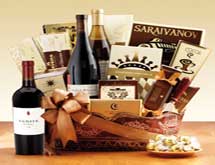 By paying attention to what customers want and making adjustments to its processes, this high-end gift company differentiates itself in the market. Craig Bowen and his wife Esther Diez founded GiftTree.com in 1997 with the idea of providing a simple gift service. Using Bowen's marketing and software background, they set out to remind people about holidays, birthdays, or other special events using software that also sent suggestions to direct shoppers toward certain products.
The idea worked for a while, until quality and service issues began popping up. Shipment dates were missed, the wrong products were sent, and the quality of many of the gifts were far below par.
In 2001, GiftTree.com began shipping some small items from its office. When the concept took off, the company began making gift baskets. Today, GiftTree.com has established itself as a high-end gift retailer with a unique product mix that is both designed and often produced inhouse.
"We sell gourmet foods, flowers, and fruit," said Bowen, president and CEO. "We sell to a market that wants something different from what they see everyday. In the world of gifts, there is a lot of competition, so we set ourselves apart with presentation, quality, and service."
Delegating design
To differentiate itself in the world of gifting, GiftTree.com focuses a lot of its resources on the design and presentation of its products. The company sources its containers from China, with the majority of the containers based on designs that were created inhouse and manufactured according to prototype specifications.
The company outsources some of its food packaging designs but also has an inhouse creative department that develops distinctive designs that are as color coordinated as a floral display. The company recently built a separate department to hold its designers, but its creative process is still collaborative.
"Our designers spend a lot of time going to shows and looking at unique ideas," said Bowen. "They work very closely with our graphic artists and pay special attention to color coordination and how our products will display when we decide to launch them on the Web site."
To ensure the level of quality and service the company adheres to doesn't start to slip, Bowen and his team developed a software program that enables them to track products through the production process to ensure each piece of a basket is done precisely the way the order was placed. In addition, GiftTree.com has its own shipping software that tracks the package through the process and creates the shipping label.
"It is impressive to see how it works and how quickly we can get things done," said Bowen. "We can customize and ship things out in the same day up until an hour before shipping time."
Taking control
When GiftTree.com began manufacturing and shipping its own products, Bowen saw the company's customer retention rate increase dramatically. In part, the retention came from the company going through its list of pet peeves from the days when it relied on others to shop products and eliminated them one by one.
"We wanted to provide our customers with tracking, and we wanted a no-nonsense guarantee," said Bowen. "We've achieved both of those goals and more."
During those initial years, the team at GiftTree.com saw between 50% and 80% growth per year. This past year, however, Bowen has no growth expectations and is conservatively handling all areas of the business by focusing on areas that are guaranteed to be profitable rather than pursuing areas that have marginal sales.
"We're focused more on large corporate sales as competitors have become more aggressive because they're afraid to see their numbers drop," Bowen said. "They're spending a lot of money to generate sales, so it drives us out of the competitive holiday markets a bit."
Product providers are also increasing their marketing costs as they're trying to maintain the same level of sales they've seen in previous years despite the obvious downturn in the economy. Rather than trying to compete, the team at GiftTree.com is analyzing its product strengths and looking at where to downsize.
"We've always been a conservative, healthy company," said Bowen. "Taking this approach wasn't as scary for us as some other people."
Paying attention
In the past few years, major brands have moved into the gift basket space. In addition, major competitors have consolidated to better cover the market. In Bowen's words, "The 800-pound gorillas have arrived."
The difference between those larger companies' approaches and that of GiftTree.com is that Bowen's company aims for the upper end of the market rather than the broader marketplace. "Our customers want something differentiated and attractive," said Bowen. "We carry nicer wines, gourmet items, and higher quality keepsake containers because we know what they want."
From the way the gift card is printed to the little extras included in baskets, such as a pair of scissors to open the gourmet food items, GiftTree.com differentiates itself by understanding and acting on trends in the gift giving industry determined by consumer demand, not competitive marketing suggestions from other companies.
Earlier this year, GiftTree.com began experimenting with shipping fresh fruit in a gift pack and has already expanded into shipping cheeses. The team learned about storage, refrigeration, and manufacturing and made adjustments to its warehouse to ensure it could handle the new division's potential growth. The division was so successful that the company is including fresh fruit and cheeses in its newest catalogue.
As with most of GiftTree.com's changes, the move into fresh fruit and cheeses was inspired by clients. "People want to send their business clients healthier food, they want personalized products, and they typically order last minute," said Bowen. "We evolve to meet customer needs, and that's why we will continue to be successful."