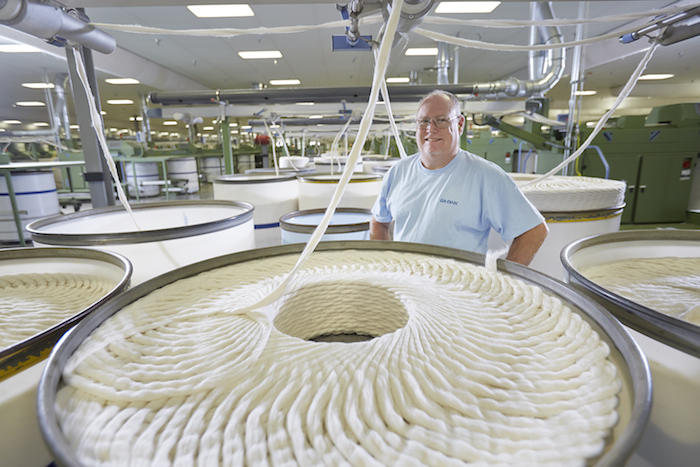 By owning every step of the manufacturing process, Gildan ensures the consistency retailers and customers want.
By Tim O'Connor
Office culture has become much more relaxed over the last decade, at least when it comes to dress codes. T-shirts and jeans are now regularly sighted among cubicles and every day may as well be casual Friday for many companies. Some may lament the loss of formality, but the cultural shift is good business for clothing maker Gildan. The company's high-quality T-shirts are now a part of many people's daily lives as consumer amass a collection of Gildan-made clothing from retailers, concerts and 5K runs. "Everybody now understands that Gildan is a T-shirt leader," Vice President of Marketing for Gildan's Branded Apparel division, Rob Packard says.
Gildan's path to becoming one of the largest clothing apparel companies in the world began in 1984. The Chamandy family operated a children's clothing business in Montreal when they decided to start producing their own textiles to lower cost. By the early 1990s, the company entered the screen-print market by manufacturing plain T-shirts that could be printed on. Today, Gildan is a publically owned company with CEO Glenn Chamandy, one of the founders and still CEO of the company.
Growing Market
Although it has branched out into other clothing items, T-shirts remain Gildan's primary product. "We still execute and make a better-value T-shirt," Packard says. "We have higher quality at a great price for a better value equation than the competition." In addition to its shirts, Gildan is now one of the leading men's underwear companies. When including all the brands under the Gildan umbrella, the company is also a leading sock manufacturer and it continues to grow its activewear business.
Gildan has an internal merchandising and product develop group that watches shifts in the clothing industry and helps steer the direction of new products. The company also relies on its business partners to help it innovate. Gildan manufactures items for several global brands and is keyed into developing trends in the market. "We are evolving with the market and growing with the market," Packard explains.
Much of the company's sales are in the printwear market, which covers clothing made by screen printers for races, family reunions, concerts or other kinds of events that demand a specialty T-shirt. Packard says Gildan's quality and diverse product lineup have made it the go-to supplier for screen-printers. The company offers more than 90 colors in its printwear portfolio. "No one comes close to the breadth of offering or the breadth of color that Gildan has," he explains.
In the retail industry, Gildan supplies big-box stores such as Target, Walmart, Kmart, J.C. Penny Co. and Kohl's and also dollar stores such as Family Dollar and Dollar General. The company is mainly in the North American market with smaller but growing presences in Europe, Asia and Latin America.
In recent years, the company has expanded its T-shirt offerings to hobbyists who want to make their own designer apparel. Gildan's goal is to match the great quality and value it offers retailers and screen-printers with its hobbyist products.
In 2011, the company converted its first big craft retailer from a competing T-shirt brand to Gildan. Now Gildan clothes are in all the major craft retailers, including Hobby Lobby, Jo-Ann Fabric and Michaels. To promote its entry into the hobbyist space, Gildan has worked with those retailers and complementary craft companies to create joint displays where a Gildan T-shirt appears alongside a craft kit. "I believe we have done a really good job of showing the craft hobbyist the value and quality of Gildan," Packard says.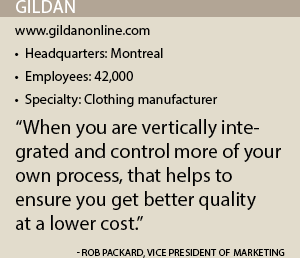 Being Vertically Integrated
Gildan's consistent quality is one of the company's biggest contributors to its success, Packard says, and the company has been able to accomplish that consistency because it controls the entire manufacturing cycle in-house. "When you control more of your own process that helps to ensure you get better quality," Packard says. The company owns nearly every step in garment production, from spinning its own yarn to textile manufacturing and garment finishing.
The Gildan Quality System measures and monitors every step of production. "A big part of our success is that we are probably the most vertically integrated apparel company in the Western Hemisphere," Packard explains. Pretty much the only thing Gildan doesn't own is the cotton farms – although it is one of the largest cotton buyers in the United States – and some of the yarn suppliers that supplement the company's internal yarn production. Even the completed clothes are primarily shipped to Gildan's own warehouses. "Almost 100 percent of the value, excluding raw material, comes from a Gildan-owned facility," Packard says.
Having conquered its manufacturing process, Gildan is working to bring its hands on approach to retailers. The company is transitioning to become an omni-supplier, a process Packard says is becoming more essential as retailers see more sales occur online. Working closely with retailers is allowing Gildan to have an increased presence on retailers' websites.
The company is maximizing its business with those retail customers by offering a mix of products, some that are normally not found in stores. Packard says Gildan's manufacturing hubs in Honduras, Dominican Republic and Nicaragua mean that it can produce and ship basic clothing more quickly and at less cost than competitors whose facilities are concentrated in Asia. "We're a good Western Hemisphere supplier," he boasts.
The company has ecommerce capabilities on its own website, but Packard says Gildan's main focus is to support its retail and screen-printer customers. Although some competing apparel companies have opened their own physical locations in recent years – particularly in the athleticwear market – Gildan brand has no immediate plans to follow suit. "Do you need to have your own brick-and-mortar [store]?" Packard says, explaining that the company is carefully considering its strategy in the digital world. "Where do you need to be?"
For now, Gildan plans to grow by increasing its product lineup and providing the quality clothing products that customers have come to expect from the brand. "We are going to continue to expand in basic apparel categories," Packard says.