Giuliana Rancic Partners with Gyft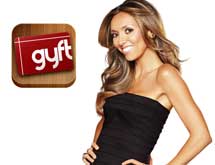 April 10, 2013 – Gyft, Inc, the newly launched service that allows customers to buy, send, manage and redeem gift cards via mobile and social media, today announced that it has partnered with Giuliana Rancic. The popular entertainment journalist, fashion and beauty expert and mom will be working with the Gyft team to introduce the gift card management platform to millions of new consumers.
"I have received so many gift cards throughout the years and Gyft makes it so easy for me to organize them so that no gift card goes unused" said Mrs. Rancic. "I also love that I can purchase and send gift cards to my friends at a moment's notice for any occasion. It is the best app for anyone on-the-go."
Giuliana Rancic is the host of E! News and co-host of E's Fashion Police. Mrs. Rancic makes Hollywood accessible to viewers and fans across the Country, sharing fashion and travel tips, diet and fitness advice, and all things pop culture. She is also known for her extensive charitable work with organizations such as the Breast Cancer Research Foundation, Bright Pink, Operation Smile, Dress For Success, and Mercy Home for Boys and Girls in Chicago.
From now through Mother's Day, Gyft will donate a percentage of all gift card sales purchased using Gyft to Bright Pink, the charity with which Giuliana's Fab-U-Wish program is associated. With Fab-U-Wish, Giuliana wants to grant young women fighting breast or ovarian cancer with an opportunity to have special wishes granted.
"Giuliana is a savvy shopper, a trend-setter, a busy mom, and an accomplished professional," said Gyft co-founder, CJ MacDonald. "We were initially connected to Giuliana through Startup Agency, and when we learned that she was excited about what we were doing, we whole-heartedly pursued a relationship. Giuliana helps us extend our reach and enable more consumers to take advantage of a new way to buy, manage, and redeem their gift cards. We are excited to support Fab-U-Wish, a great cause!"
Mrs. Rancic's partnership with the company is the latest in a string of impressive developments for Gyft. Within six months since launching, over $5,000,000 dollars in gift cards have been uploaded onto the platform and hundreds of retail partners have come on board. Gyft was also the only gift card service to fully integrate with Passbook for the launch of iOS 6 and it recently introduced its Android version of the app in response to overwhelming customer demand. Gyft announced last week that they have opened up their API's to developers to leverage gift cards as a payment platform. To get you started, Gyft is giving away $10 in FREE cards to users that download the app.
To experience Gyft, which was also recently featured on the Ellen DeGeneres Show, please visit www.gyft.com or download the app from Google Play or the App Store.