By Janice Hoppe-Spiers
Good food made from real ingredients has been the mission of Good Foods Group since its inception 10 years ago. "Exceptional quality, mindful nutrition, convenience and food safety are what differentiates us and we won't take shortcuts," says Kurt Penn, founder and CEO. "We are committed to making the highest-quality products that resonate with consumers."
Penn got his start in the food industry after college and found himself invested in the better-for-you category before it became a major industry focus. "When I first got into better-for-you foods it was a small market," he recalls, "and it had a core group of consumers driving it who were far outnumbered by those that were not as well informed on food products and ingredients."
Penn owned an organic deli meat manufacturing company until 2003 when he sold the business. At that time, Penn felt like there was a hole in his life and realized he needed to get back to what he loved doing: making high-quality food products that people really enjoy.
In 2008, Penn founded his Pleasant Prairie, Wis.-based company that specializes in creating better-for-you dips, juices, salads, salad dressings and guacamoles. One of the cornerstones of the young Good Foods Group was its ability to use high-pressure processing (HPP), which at the time was a newer technology in the industry, to produce chemical-free foods that didn't lack for flavor or quality. "The concept behind Good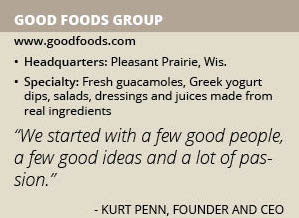 Foods was to produce high-quality products that are nutritious and delicious while utilizing HPP in food safety and shelf life," he says. "We started with a few good people, a few good ideas and a lot of passion."
Today, Good Foods is celebrating its 10th anniversary and is proud to say it has never had to reinvent itself to meet consumer demands. "I've been fortunate enough to be along for the entire better-for-you journey to get where we are today, which is this convergence both on retail and on the food processing side," Penn says. "Everyone is seeing that consumer demand for clean ingredients is on a mass scale now, so everyone is interested in offering better products with better ingredients. Good Foods just happens to be on the forefront of this entire movement because our vision and mission is to share the goodness."
In the Kitchen
Good Foods' SQF Level 3-certified Pleasant Prairie facility is one of the largest HPP food creation kitchens in the United States, if not the largest. Good Foods has two locations totaling 200,000 square feet and feature six HPP units with plans to open a third location. The location of the third facility is being released later this year.
"We create all our own food and don't outsource any production," Penn notes. "Many companies in our space send products out for HPP and we do all of that ourselves. We create our HPP products in an environment that is controlled from a time and temperature standpoint, which is really important for the end result and quality of the products."
Good Foods creates its delicious recipes on site in small batches with fresh ingredients. The company describes its facility and artisanal process like you would cook at home, with fresh ingredients being chopped, mixed and blended. "It's basically one big kitchen where we create vibrant dressings from fresh herbs and guacamole from fresh, hand-scooped Hass avocados," Penn says. "We are driving demand and growth of our products because people who buy them and try them say 'Wow – this is really good, like I would make at home!' And when they read the labels, they love that it's ingredients they recognize and have in their refrigerator or pantry."
Because Good Foods' products are made with real ingredients, "If you walk through our facility you will see cases and cases of fresh ingredients like spinach, kale and basil, for example," Penn describes. "The aroma walking through our produce cooler is amazing because of the fresh products coming in from our grower partners."
Real Ingredients
Penn's favorite part of the job is visiting and getting to know Good Foods' growers. "I get an understanding of what they do and how they do it, making sure it aligns with our values from a quality standpoint because everyone wants to know where their food comes from and how it was grown, and we do too," he says.
Good Foods maintains a core group of suppliers throughout the United States and in Mexico. "We are very loyal to our suppliers and have developed relationships based on quality, capabilities and core values," Penn says.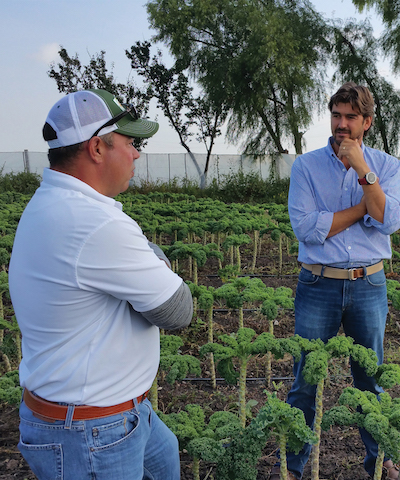 For example, Good Foods has partnered with its tomato supplier for five years. "They grow just for Good Foods with the same quality growing standards we expect," Penn says. "Every year we get together and give projections, talk about the past year's quality and our expectations for the coming year and beyond so each of our partners can be prepared to meet our needs."
The company also partners closely with avocado growers in Mexico because its guacamoles have become one of the products it is most known for and which sells the most volume. Good Foods has a team of people in Mexico who have become experts at sourcing quality avocados both on the conventional and organic side. "Mexico is the epicenter of where avocados are grown," Penn says. "They grow about 40 to 45 percent of the world's avocados and are the significant player in the growing segment."
The company is always looking for new suppliers, as well as for new products to develop. "A lot of the ingredients we use in our R&D kitchens are new ingredients for us in our system," Penn says. "We are constantly scouring the industry for new ideas and ingredients. Because we are SQF certified, that also requires us to vet suppliers both on paper and with plant visits and audits."
Local sourcing is not always an option for Good Foods because it is located in Wisconsin and ingredients such as avocados don't grow there. The company does source locally, however when it comes to dairy products. "What we really focus on is quality, consistency and sustainability, given our national footprint," Penn says.
Good Foods is on its way to becoming a zero-waste-to-landfill facility. "We are not there yet, but we are getting close," Penn notes. "We decided we had to make a better effort to find homes for things that were going into landfills. Food waste is a huge problem. We accumulate millions of pounds of avocado skins and pits a year, for example, so we turn those into fertilizers through composting."
Good People
Penn says he is most proud of the team of people Good Foods employs who drive the business. "Our people are so dedicated and so passionate about what Good Foods does and how we connect with our consumers," he adds. "Ten years later, I never imagined working with such a cohesive team focused on the job at hand, which is to deliver high-quality, delicious, nutritious and safe foods."
"In today's world, anyone interested in a career in the food industry is going to be attracted to a company that has a clear vision and a great foundation of people like Good Foods has," Penn adds. "We are growing fast, innovating new products and creating new opportunities each year with a team of people who are very passionate about what they are doing."
Once people come aboard, Penn believes there is an "infectious culture here that people are empowered to contribute to and make a difference every day."
Good Foods also prides itself on challenging its people both personally and professionally. For example, the company's managers recently participated in a training program to enhance their individual leadership skills, as well as working cross-functionally as a team to identify the areas in the business that need improvement. The managers were challenged to develop processes as a team and lead these new improvements.
"That's been fun for me to watch," Penn says. "As a young company, with the growth we've had, and as we continue to develop, implementing new processes to get better and more consistent is exciting. Our team is now introducing a new Product Development/R&D Process that we are launching here in 2018.
"It will provide more structure around the innovation piece of our business that will allow us to work more efficiently with more purpose and focus, and have better results," he continues. "It will help us identify the right opportunities up front and have more impactful product launches."
Just Getting Started
Culinary Director Stephen Babington leads a team of professionals dedicated to culinary creativity while working with the food science team to ensure the products are developed safely and in a scalable fashion. "What's extremely important with HPP is that we do all the work to make sure we validate the food safety aspects of our products that we create through challenge studies," Penn says. "It's an intense process for testing and quality, but it's the right way."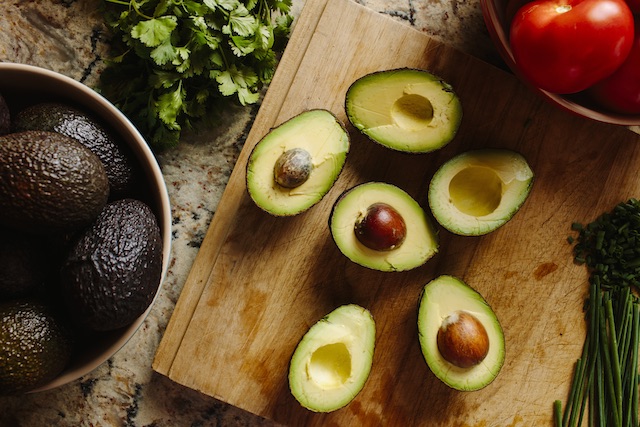 Because of Good Foods' mission and the way it goes about creating its products, Penn says the company is just getting started across many categories. "We really have become experts at all these different food categories – dressings, salads, juices, dips, guacamole, sauces. It's exciting," he adds.
Innovation happens at Good Foods every day. Babington has been with the company for eight years and leads his team to test and develop new products regularly, but whether they actually make it out the door is another thing. "The number of different sample batches Stephen has made would bring tears to the eyes of most chefs because of the arduous process to make sure culinary standards are not compromised, while also making it commercially scalable," Penn says. "We don't want to put something out there that's loaded with sugars, fats or chemicals.
"We have to create products in a nutritionally responsible way," he continues. "It's not easy to make food taste good and make it nutritionally better-for-you. That's part of the challenge and we work hard to figure out how to get these products to check off all the boxes."
Tasty Creations
Today, consumers are aligning their diets with healthier foods and the plant-based movement has become a major trend. "Good Foods' robust R&D and culinary teams are challenged with creating these concepts and what I'm seeing and tasting from our kitchens is really thrilling. We are creating really delicious products that are right on trend with the Whole30® Program and plant-based diets. That's really exciting to me personally."
The company already has some plant-based salads in test markets that are doing well. Good Foods expects to roll out more of these types of products later this year in produce departments nationwide. Plant-based salads, dressings and dips are new additions to Good Foods' offerings in produce departments and the company also plans to expand these plant-based products into the prepared food and deli departments, too.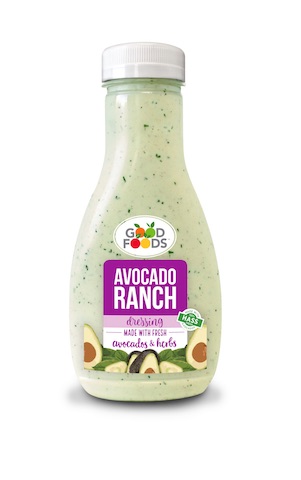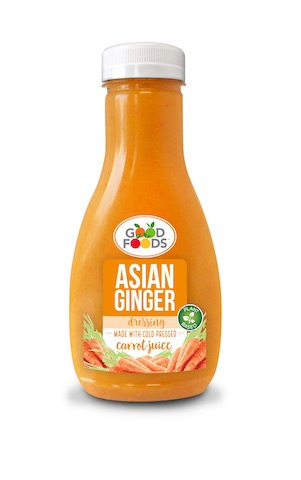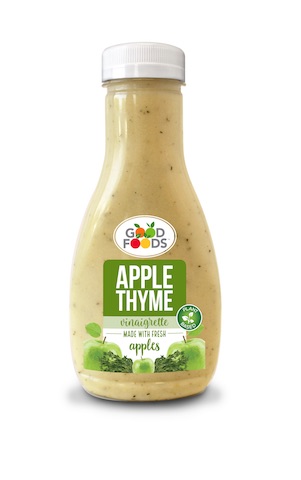 Good Foods launched salad dressings this year that Penn describes as "phenomenal and unique." "From an ingredient standpoint they are amazing," he adds. "We use fresh ingredients, fresh herbs, and HPP technology that allows us to create fresh products that have historically always required pasteurization or preservatives to commercialize. Now, we are able to put these new flavorful dressings in the marketplace and consumers can taste the difference. Our fresh dressings are like they would make at home – very fresh tasting and nutritionally superior."
Good Foods expects to quickly impact the salad dressing category similar to the explosive success its seen from its guacamoles as soon as more people try its product. "We are very excited about our salad dressings," Penn notes. "It's new to us and we see a bright future for us in this category."
Building the Brand
Looking back over the past 10 years, Penn says he is amazed to see how far the company has come to where it is today. "Where we are headed is aggressive, but it's the right mission for our company because we are doing what the consumer is asking us to do: provide them with better quality, nutritionally-dense products," he says. "We hit the sweet spot for what the consumers are looking for."
Good Foods' first few years were focused on becoming very good at producing safe, high-quality and consistent products, rather than focusing on building the brand and its messaging like most start-ups. Now that the company has become a world-class creator of good food, it will continue to build its brand in the marketplace.
"I don't think our brand is as strong as we would like it to be from a consumer recognition standpoint," Penn admits. "We are dedicated in 2018 and have aggressive plans to make Good Foods a household name that is built on those core values of high-quality, nutritious and delicious foods that are also safe because of HPP technology."
The company will begin to promote its brand's vision, mission and core values through various channels, including traditional marketing, social media and in-store demos. "One of the things we have seen is a very positive sensory response that people have when they see and taste our products. Delivering on taste and quality are our biggest assets when it comes to gaining customers and marketshare," Penn says. "When people try our products they love them and it's our job to get more people to experience the products Good Foods makes."
Remaining Best-In-Class
"When I started Good Foods, it was based on a skillset of knowing how to take products that were created with a culinary, kitchen-fresh mindset and figuring out how to make them in a safe and high-quality fashion," Penn says. "That's the part I personally have dedicated my life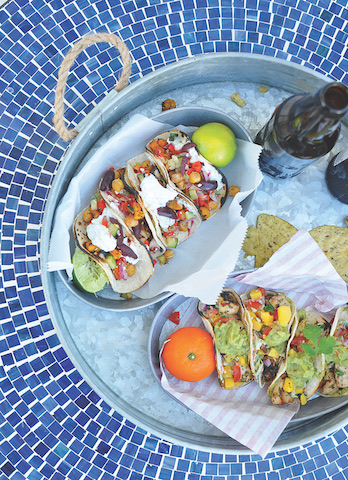 to know and understand and be an expert at."
The challenge of starting a food business from scratch is to get a solid grip on the many moving parts and pieces, and without scale it is hard to get the efficiencies needed in the facility. "It's hard to have purchasing power without volume and food safety – whether you're making 100 pounds or 1,000 pounds of product – it's paramount," Penn notes. "As we grow, it is our goal to continue creating best-in-class foods while maintaining our food safety standards and growing our brand as a household name people can trust."
As the clean label and better-for-you categories continue to dominate the food industry, Good Foods sees increased competition always being a factor, but because of its position in the marketplace the company expects to remain a leader. "I really believe if Good Foods is true to its mission and vision we will continue to grow because we are passionate about what we are doing," Penn says. "That's probably an overused phrase, but it's real here and our culture is real."
"We are in an exciting space and I am so honored to be leading this company and the activities that we are doing with this great team and making a difference in the community," Penn concludes. "We are making an impact on people's lives because we are giving them better choices. That's what Good Foods does and we will be successful because people are recognizing that."
Better-For-You Choices
Good Foods specializes in providing good food made from real ingredients that meet consumer demands for better-for-you products.
Guacamoles:
* Chunky Guacamole
* Spicy Guacamole
* Southwest Guacamole
* Pineapple Poblano Guacamole
Dips:
* Artichoke Jalapeno Dip
* Caramelized Onion Dip
* Greek Yogurt Ranch Dip
* Garden Greens Dip
* Feta Cucumber Dip * Avocado Salsa
Salads:
* Cranberry Almond Chicken Salad
* Mango Quinoa Salad
* Chickpea Quinoa Salad
* Asian Grain Salad Salad
Dressings:
* Apple Thyme
* Asian Ginger
* Classic Caesar
* Blue Cheese
* Avocado Ranch
* Beet Balsamic
Juices:
* Hard Green
* Beet Red
* Mostly Roots
* Juicy Watermelon