Graco Debuts Three New Innovative Products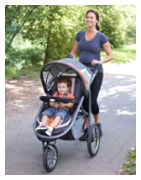 Feb. 19, 2013 – Graco, one of the most widely recognized names in baby gear, is adding three innovative new products to its trusted portfolio. The FastAction Fold Jogger Click Connect is Graco's first entry into the jogging stroller category. This year the brand also releases two striking new innovations with the Graco Modes Click Connect travel system and the first ever Glider family of swings. Each product represents thoughtful innovations inspired by consumer insights designed to enhance joy and ease for parents and their little ones.
"The introduction of Graco's first jogger and a versatile 3-in-1 stroller helps complete our already robust offering of strollers to fit every lifestyle," said Jim Poppens, Vice President of Marketing of Baby & Parenting business segment. "As the pioneer of the very first automatic baby swing back in 1955, Graco is proud to innovate the swing category once again as the first to introduce the soothing gliding motion into swings."
The FastAction Fold Jogger Click Connect combines the comfort and convenience of a traditional stroller with the performance and maneuverability of an all-terrain jogger. It's the ultimate crossover stroller and the only stroller active parents may ever need. It's a unique addition to the jogging category – it's extremely lightweight and features a one-second, single-step fold that automatically locks the stroller and makes it self-standing when folded. With a lockable front swivel wheel, the Fast Action Fold Jogger Click Connect can easily transition from strolling to jogging and is perfect as an everyday stroller.
The Graco Modes Click Connect travel system is three strollers in one – offering the versatility and value of an infant car seat carrier, an infant stroller and a toddler stroller, something that makes it unique in the category. While many travel systems function as both an infant and toddler stroller, the Graco Modes Click Connect transforms into a lightweight infant car seat carrier that offers the convenience of a carrier for the infant car seat with the portability of a stroller frame.
Inspired by a motion moms and babies know so well—the gentle back and forth motion of the much-loved nursery glider rocker—the Graco Glider family of swings aims to reinvent the swing category through the first introduction of the gliding motion into a baby swing. Glider swings soothe baby with their gentle gliding motion, which echoes the natural motion mom uses when cuddling and comforting baby in a nursery glider. Graco's Glider family of swings offers parents several options from which to choose – from a lightweight Glider Petite to the 2-in-1 Glider Elite, and several versions in between.