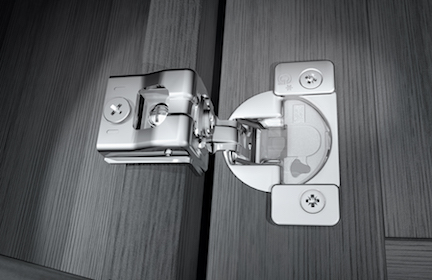 Grass America's manufacturing and engineering capabilities
– and wide range of products – make it a leader in its industry.
By Jim Harris
Grass America is a leading supplier of functional hardware to the cabinet industry for several reasons. "Our differentiations are at a number of levels including available financial resources, technical expertise, local manufacturing capabilities, superior local technical support and a full range of products that provide superior performance and adjustability, just to name a few," President Tom Kipp says. "Although many of our competitors possess some of these characteristics, few, if any, are able to boast of all of them."
The company develops, manufactures and supplies drawer slides, drawer systems, lifters, concealed door hinges and other functional hardware in cabinets. Its products are sold directly to large cabinet manufacturers (OEMs) such as American Woodmark, as well as to distributors who serve small to medium-sized manufacturers.
"Our products provide the highest amount of adjustment and adaptability available," he adds. "Our hinges have three settings to adjust soft-close damping and six-way positional adjustments, making them optimal for almost any size or weight of kitchen or bathroom cabinet door. Our Dynapro undermount slide has four-way adjustment to enable simplified installation at for the cabinet maker and on the installation site."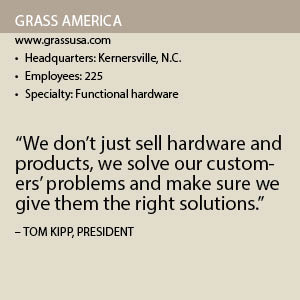 The company prides itself on its ability to supply products that meet the specific needs of its clients. "We don't just sell hardware and products, we solve our customers' problems and make sure we give them the right solutions," Kipp says. "We have had customers tell us about a specific issue they've had with cabinets, and we've gone to their site, analyzed their problem and determined a solution."
Recently, one of the company's customers encountered technical and quality issues with a finished cabinet created by a competitors' product. "Despite numerous requests, the competitor either did not respond or was not able to address the issue," Kipp says. "We were made aware of the situation by one of our suppliers and quickly offered our engineering expertise to analyze the situation.
"We quickly determined the root cause of the problem and offered a solution with our product," he adds. "Because of our rapid response to a customer in need and our technical expertise, we were able to attain additional new business from a valued customer."
Responding Quickly
Grass America also distinguishes itself from competitors by offering manufacturing and technical support in the United States. The company's manufacturing facility in Kernersville, N.C., includes metal stamping, powder coating and automated assembly lines.
"Local manufacturing enables us to react quickly to unexpected changes in customer requirements, and design changes can be made quickly on our products, as there is no long pipeline of products in the supply chain," Kipp says.
The company is ISO 9001 certified and its products are approved by the Kitchen and Cabinet Manufacturers Association (KCMA) and Builders Hardware Manufacturers Association (BHMA). Grass products are found in leading specification software programs such as MasterSpec, Microvellum and BSD.
Grass America's manufacturing operations have also earned national and local recognition. In May, the company earned the Safety and Health Achievement Recognition Program (SHARP) award for its safety procedures and performance. This was awarded by the U.S. Occupational Safety and Health Administration (OSHA).
The company has also won multiple Awards of Excellence from the city of Winston-Salem, N.C., for its wastewater treatment procedures. Water generated from Grass America's power coating line is reclaimed and cleaned before it is discharged, he adds.
Strong Support
Established in 1977, Grass America is part of the Grass Group, which was founded in 1947 by Alfred Grass, Sr. The Kernersville, N.C., manufacturing facility and distribution center is the Grass Group's sole facility in the United States; the company also operates five additional manufacturing sites and 13 distribution centers around the world.
Since 2004, Grass has been part of the Würth Group, a $15 billion world market leader in the assembly and fastening material trade industry. The Würth Group consists of more than 450 companies in more than 80 countries and has more than 75,000 employees worldwide.
"Being part of a $15 billion company ensures that the necessary funds are available for new product development and for required capital investment," Kipp says. "The Grass headquarters in Austria has product design centers that are fully staffed with engineers working on the newest technology in the market. Grass America benefits from the transfer of this knowledge and development."
A True Team
During his five years at Grass America, Kipp has seen the company transform its manufacturing operations to become more streamlined and efficient. Before joining the company, Kipp – a 30-year industry veteran – worked in various positions in companies in Europe and Mexico.
"I am proud of the culture change that has occurred in our company over the past few years. We have become a group that is more interested in the overall results of the company than the concerns of individual departments," he says. "People are willing to sacrifice for others if it is in the best interest of the company.
"We have a management team that works well together and communicates well with each other," he adds. "I am happy to say that through their leadership, these characteristics have filtered throughout the company and is certainly one of the keys to our success."