GUESS?, Inc. Announces the Winner of the GUESS Girl North American Model Search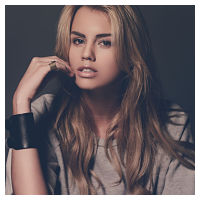 June 11, 2013 – GUESS announced the winner of its first ever GUESS Girl model search in North America. Emily "Effy" H., from Houston, Texas, has been named the next GUESS Girl, making her the face of an upcoming GUESS photo shoot, which will be featured in ELLE Magazine (US), a trip to New York City, and a $2,500 GUESS shopping spree.
The GUESS Girl model search launched on April 19th and ran through June 7th. Over 33,000 contestants, age 16+ living in the US and Canada, entered the model search by uploading three images of themselves via GUESSGirl.com or through the GUESS Facebook page. The public participated in voting to identify the Top 5 in the contest from May 24 – June 7. Over 36,000 votes were collected in two weeks, narrowing the search down to the Top 5. The winner was then chosen from the Top 5 by Paul Marciano, CEO and Creative Director at Guess? Inc.
"What caught my attention about Effy is her natural sensuality and the purity of her face. You can see she is feminine, confident and elegant. If she channels her passion for modeling, puts her heart into it and works hard at it every day, I believe she has huge potential," said Paul Marciano, CEO and Creative Director at GUESS?, Inc. "This model search has been exciting because it has given me another chance to find undiscovered talent. I still feel passionate about discovering someone completely unknown and making her a GUESS Girl. To see something in a person that no one else has seen, is a thrill for me—something I truly enjoy."