Guitar Center Celebrates The Blues With The Launch Of Guitar Center's Blues Masters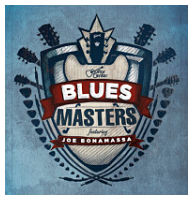 Feb. 1, 2013 – Guitar Center, the world's largest musical instrument retailer, in partnership with renowned guitarist Joe Bonamassa, celebrate the blues with the launch of Guitar Center's Blues Masters Featuring Joe Bonamassa. The new program combines Guitar Center's dedication to the support of emerging artists with their commitment to the preservation of one of America's greatest art forms, the Blues.
Guitar Center's Blues Masters, through its unique partnership with Joe Bonamassa, will not only offer ten musicians the chance to perform in Los Angeles backed by Bonamassa's band, but will also provide one undiscovered blues guitarist with career-altering opportunities for development and exposure under the mentorship of one of the biggest names in blues rock. The grand prize includes an opening slot at Joe Bonamassa's headlining show in Los Angeles this fall, $10,000 cash, gear from Gibson, Ernie Ball, Marshall Amplification and Dunlop as well as a mentor session in studio with Joe Bonamassa and producer Kevin Shirley, who has worked with the likes of Journey, Led Zeppelin, Iron Maiden and more.
"I am proud to be part of a program created to help foster the careers of emerging musicians who are so passionate about the blues," said Joe Bonamassa. "It's exciting to use my experience to help up-and-coming artists finesse their skills, all while connecting a new generation of fans and musicians with the wonder that is The Blues."