Hallmark Turns Up the Music with New Cody Simpson Greeting Cards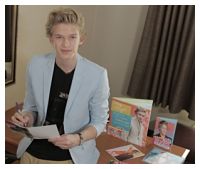 Feb. 15, 2013 – Hallmark is sharing the love today with the launch of its new Cody Simpson greeting card collection — now available in Hallmark Gold Crown stores nationwide. The collection provides millions of Cody Simpson fans everywhere a fun, new way to share messages. Exclusive Cody Simpson greeting cards, also will be available in Wal-Mart stores soon.
The cards come in a variety of formats, including 3D cards and Cards with Sound with messages and music from Cody. The cards showcase photos of the teen heart throb and incorporate messages and designs celebrating Cody's passions — the Australian Gold Coast and surfing. Some cards also include attachments, such as mini lapel pins, temporary tattoos, locker magnets or stickers.
"We are thrilled to share a new way for Cody Simpson's growing fan base to connect with each other and his music," said Hallmark Licensing Director Jenny Hofeditz. "This greeting card line focuses on making each one of Cody's fans feel as unique and special as they are to Cody."
To mark the launch of the new card line, Hallmark and teen publication J-14 are partnering to send one lucky fan to Los Angeles for a guitar lesson with Cody Simpson. Fans can check out the Cody Simpson Card Craze at J-14.com to play a digital card matching game (match the Cody Simpson greeting card image with the correct message), plus enter the sweepstakes for their chance to win. The sweepstakes launches today and runs through the end of April. Fans also can get 10 helpful tips from Cody on 'how to spot a gentleman,' a nod to the song "Gentleman" on his hit album, "Paradise."
"Cody has a very close-knit relationship with his fans," commented Sara Nemerov, SVP and Head of Global Consumer Products & Brand Licensing at Warner Music Group. "The innovative and exclusive greeting cards created by Hallmark are another way for Cody to connect, share his positive messaging and his deep love of music with them."