Hall's Warehouse Corporation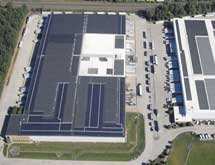 To improve its bottom line and its competitive advantage, this 3PL made environmental sustainability a corporate philosophy. The third-party logistics (3PL) industry is a competitive one. With retailers looking to lean their distribution and warehousing processes, these providers must lean up their own processes to remain attractive. Add to the mix industry pressure to prove your company is environmentally conscious, and you've got a doubly challenging environment.
So how do 3PLs compete? It takes time, money, resources, and a corporation willing to invest in all three; privately held Hall's Warehouse Corporation fits that description. Hall's standing as the only green 3PL in the industry is not an accident—the company made being green a priority starting in 2000.
"We have the largest rooftop-mounted solar installation in the state of New Jersey and one of the largest solar installations in North America," said Sales and Marketing Coordinator Wes Jayne. "Our transportation fleet was one of the first to be a Smart Way transportation partner, and we've done everything from motion activated lighting to new dock shelters to reduce our carbon footprint."
Here comes the sun
Hall's was founded in 1965 as a trucking company headquartered in South Plainfield, NJ. When a client needed refrigeration capabilities for its products, Hall's put air conditioning in the windows of a garage.
It's since expanded out and currently operates 1.7 million square feet of storage space. Out of the seven facilities Hall's operates, three are temperature controlled and can handle orders needing ambient temps, which are between 80 degrees and 65 degrees, all the way down to 18 below zero, which are ice cream grade freezers, and everything in between.
The company's distribution footprint extends from Maine to Virginia and as far out as Eastern Ohio, and it primarily services the food and pharmaceutical industries. "We like to say we handle everything from motorcycles to ice cream," said Jayne.
These wide-ranging capabilities were part of the reason Hall's decided to look into improving its environmental footprint in the first place. New Jersey is one of the most expensive and governed states to successfully run a business in. "It was due in part to these factors that we decided to take a new approach to our business," Jayne said.
In 2004, the state deregulated its energy providers, which increased electricity prices and made it cost-prohibitive for Hall's to operate its high-energy-usage temperature-controlled facilities. At that time, Hall's ownership decided to take matters into their own hands and investigated state subsidies for green technologies.
In 2007, New Jersey offered a 50% government subsidy for any companies wanting to do a solar project of the size Hall's was hoping to implement, so the company invested the other 50% of the funds needed with a goal of having a solar installation make its rates more competitive.
"The move ended up being the pinnacle for us to achieve the green 3PL," said Jayne. In 2009, Hall's installed its second solar installation, which Jayne said was the best way to help combat the rising costs of operation and reduce the energy drain its facilities had on the environment.
The smart way
Since installing the solar project, Jayne and Patrick Sahradnik, Hall's energy resource coordinator, have been working with a well-known university on a carbon footprint study. According to Jayne, Hall's is the only 3PL in the world to be involved with such a study and is also the only warehouse that can effectively maintain and monitor its operating carbon footprint.
"When a company recycles, it calls itself green, but to us, that's not being green" he said. "We've taken large and expensive risks to make sure that we are, to the best of our abilities, a truly green corporation."
Since then, Hall's has also "greened" its transportation fleet by enlisting in and following the guidelines of the EPA's Smart Way Transport program. Originally, the goal was to decrease any drag that might be on its 70-truck fleet to reduce fuel consumption. It started by retiring its oldest trucks every three to four years and replacing them with newer, more aerodynamic models.
From there, it focused on idling—one of its largest diesel fuel consumption points. It also installed bunk heaters, which are small generators that can run the heat, electronics, and AC in a truck without running the engine. "A diesel engine can burn a gallon of fuel an hour while idling, whereas the bunk heater burns a gallon of diesel every 24 hours," said Sahradnik. "Not only are we meeting the non-idling and carbon regulations, we're also saving a substantial amount of fuel."
Hall's also implemented three-minute idling technologies in its fleet so no truck can idle more than three minutes, installed perforated mud flaps, and set the speed limit on its trucks to 65 MPH. The majority of these changes came about in 2006, and since then, Hall's has shown tremendous efficiencies in diesel fuel consumption.
"Our efficiency went from five miles per gallon before Smart Way, all the way up to 6.9 miles per gallon," said Sahradnik. "This almost two-mile-per-gallon increase has helped us cut back on fuel consumption significantly."
The results from its solar installation are equally impressive. Before the installations, Hall's was consuming close to 20 MW of electricity per year. Now, the solar installation covers 3.2 MW, approximately 18% of its total consumption. "To be able to say that you can reduce that much year after year because you're not consuming it anymore is important for a number of reasons," Sahradnik said.
"There are very few industries that can touch those figures, especially in the warehousing and transportation industry," he continued. "For us, it's not just being able to be green, recycle, and reduce, it's also to be able to have a heads up on our competition."
Next generation
Indeed, these initiatives are not only helping Hall's, they're also helping the company's direct consumers. As cold storage is a highly energy demanding service, by being carbon savvy, Hall's helps its customers reduce their carbon footprint and gives them the ability to market themselves to the increasingly environmentally conscious consumer.
"We currently are one of the only 3PLs able to reduce the carbon footprint of a product that comes to our facilities," said Jayne. "But communicating that to our customers has been one of the biggest challenges we've had because a lot of our customers aren't ready to deal with the carbon initiatives and reducing their carbon footprint."
But some companies are, and these potential customers are now looking at what their supply chain is doing to manage their costs. Jayne said many potential customers are putting in multi-million-dollar projects to refine their operations and lean up their shipping channel processes, which will put them in a good light with end consumers. "That's where we can fit in, and we've made a push to get our name out about it," he said.
3PL businesses, he said, like Hall's are the dark horses behind the scenes moving the freight. Because Hall's doesn't have an end consumer, it's important to align itself with corporations who's end consumers share its corporate values. In fact, Jayne said it's the most important strategy Hall's has going forward.
Since implementing its environmental initiatives, six big-name companies have brought their business to Hall's, and other environmentally conscious companies are quickly following suit. "That's kind of the next generation in 3PL: to see these customers develop their environmental practices to suit changing consumer trends," he said.