H&M, David Beckham Back With New Super Bowl Commercial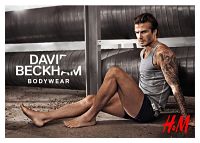 Jan. 23, 2014 – Get ready, America. H&M today unveiled details for a new Super Bowl commercial featuring soccer star/global style icon David Beckham. Billed as "a high-octane ride with tantalizing views of Beckham in never-before-seen positions," director Nicolas Winding Refn and David Beckham filmed two alternate versions of the action-packed 30-second spot. Fans will have the chance to determine which one the world will see on Super Bowl Sunday.
In the spot, David is accidentally locked out of a photo shoot on a rooftop wearing only his underwear. With no way down, he goes to great lengths to find a way back inside, performing all his own stunts in the process. Fans will see Beckham zipline across rooftops, scale buildings and navigate tricky obstacles all in his signature briefs. The commercial culminates in one of two unexpected ways – with David either "#Covered" or "#Uncovered."
Fans can preview 10-second excerpts from "Covered" and "Uncovered" and vote on on hm.com. Consumers can also preview the ads and cast their votes at various H&M stores including the new flagship store in Times Square. Voting begins on Jan. 27 and closes on Feb. 1 at midnight. The winning spot will run in the second quarter of the Super Bowl on Feb. 2, and it will be set to the song "Nobody but Me" by The Human Beinz.
"It was so exciting to work with one of my favorite directors, icolas Winding Refn, on my new campaign for H&M," says David Beckham. "Nicolas pushed me hard to create an action-packed film, which shows off this season's new heritage-inspired bodywear at its best."
"I loved working with David for his new campaign," says Nicolas Winding Refn. "He is a natural in front of the camera, and was fearless when performing his own stunts. The campaign is funny, smart and spectacular, and shows the many different sides of David's personality."
"We're thrilled to be back in the Super Bowl spotlight with a rousing ad starring David Beckham, timed perfectly with the launch of the David Beckham Bodywear spring collection," says Daniel Kulle, President H&M North America. "It's part of H&M's DNA to surprise and delight our consumers, and we're excited to connect with them on so many different levels during our Super Bowl campaign."