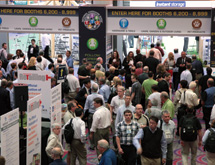 As the housing and home improvement industries continue to gain momentum, leaders from across the channels are looking for ways to grow their businesses, and the 2013 National Hardware Show will offer the ideal setting for these individuals to come together and share ideas, find exciting new products, spot emerging trends and discover dynamic best practices.
Scheduled for May 7 to 9 at the Las Vegas Convention Center (LVCC), the National Hardware Show promises to be bigger and better than ever this year with enhanced product categories, exciting educational offerings and extensive networking opportunities.
While attendees will get ample opportunity to browse the industry's biggest brands, they'll also get front-row access to new innovators with up-to-the-minute products at SkyMall, a longtime hallmark of the show. New product world, the new product launch spotlight and the inventor's spotlight areas also will highlight innovative new products and ideas.
The 2013 National Hardware Show will have exhibitors arranged into 11 separate categories. While many of these areas have been staples of the show for years, others represent emerging categories within the home improvement landscape and reportedly will cover nearly 20,000 additional square feet of exhibit space.
It's not just niche areas that represent exhibit growth at the show. Building Products will also make a return to 2013 National Hardware Show, a clear reflection of the growing strength of the nation's housing market. Other special areas also have been established at the show to highlight products that are made in the United States or are energy-efficient, both of which stretch the traditional categories.
The 2013 National Hardware Show will once again play host to the North American Retail Hardware Association (NRHA) All-Industry Conference, which will feature seminars to keep attendees informed about changing industry trends and consumer shopping habits.
The theme for this year's educational lineup revolves around today's changing consumer and the role that emerging technology plays in the future of the industry. The three-day educational program will include some of the leading authorities on multi-channel markets and will feature a special keynote address from Kathy Daly-Jennings, a retail executive from Google, who will discuss consumers' multi-screen lifestyles.
Along with Daly-Jennings, other speakers will include consumer trend authority Brian Kilcourse, who will discuss how today's retail environment is evolving to meet the needs of a more tech-savvy consumer; and Timothy Dahl, a home improvement industry blogger and former producer of remodeling and décor magazines, who will tell how to best find, engage and maintain customers online.
This year's National Hardware Show will feature a full lineup of awards programs where individuals, companies and products will be singled out for distinction and excellence will be recognized. For more information about the show, visit www.nationalhardwareshow.com.