The family-owned chain of pharmacy/retail stores has been a staple in its community since 1904, when Hartig's great-grandfather founded the company.
"We believe we have scale and that we're savvy, nimble operators," says Hartig, who joined the family business by stocking shelves when he was 14 years old. "But we're a small company that focuses on community, employee well-being and making sure people feel valued. We're proud of our communities and we try to invest in them."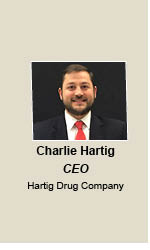 The company, which celebrated its 115th anniversary in April, provides pharmacy services not only to the general public, but to area institutions as well. Along with this pharmacy focus, Hartig Drug stores offer convenience retail items.
Expanding Footprint
When AJ Hartig opened his first store more than a century ago, he had no idea that his descendants would one day grow the company to 21 retail stores with a geographic footprint that includes many small communities in the Tri-State area of Iowa, Illinois and Wisconsin.
In addition to the 21 retail pharmacies, Hartig Drug also operates Hartig Pharmacy Services, Finley-Hartig Homecare and MedOne Healthcare Systems, all of which are located in Dubuque, Iowa.
Being a locally based company has allowed Hartig Drug to keep in touch with its roots and to be active in the communities which it serves. Its employees live, work and play in the same communities in which the company operates.
"Our manager and our pharmacist are at church together on Sunday," Hartig says. "And my dad and I visit our stores on a regular basis to ask people what we can do better."
Sourcing Locally
Like all companies, Hartig Drug faces challenges. Aside from dealing with the common woes of healthcare providers – like shrinking reimbursement rates from health insurers and the government – Hartig Drug is battling the Amazon Effect.
Having increased its e-commerce to dramatic heights, Amazon has disrupted the retail market, both online and at brick and mortar locations.
"We feel the sales changing in volume and scope," Hartig admits. "That's why we're focusing on carrying products that are local and that Amazon cannot buy or fulfill. We have about 40 local vendors that carry items that you can't normally purchase from Amazon."
For example, Hartig Drug partners with companies like Dubuque, Iowa-based Betty Jane Candies, which is known for its assortment of homemade chocolate and candies, and Potosi, Wis.-based Potosi Brewing Company – a brewery known for fine craft beers. "And we want bring local vendors into our stores to create a unique experience for the customers," Hartig adds.
To further combat the Amazon Effect, Hartig Drug offers same day delivery. "We deliver for free the same day and add other items into your basket for free," Hartig adds. "We provide better service and offer it for free. The next piece is the E-COM solution, that's on the horizon."
Competitive Compensation
Since Hartig Drug places a high value on employee well-being and satisfaction, it is reinvesting into other compensation structures to stay competitive in the market.
"Employment continues to be one of our most challenging day-to-day concerns," Hartig says. "We're looking into a different compensation structure, benefits packages and focusing on training and cultural activities. Some of our dollars and resources are going into creating a better work environment for our employees."
To better understand what its employees want, Hartig Drug is conducting a company survey. In addition, the company will be hosting a variety of contests between its locations that will reward the winners based on performance.
As America's second oldest continuously operated family drug chain, Hartig is proud of its 100-plus years of service and its rural roots. "Smaller town America is very different from larger urban centers," Hartig adds.
The company says it cherishes the faith and trust patients and customers have placed in its brand and the way the Hartig name has become synonymous with value, caring associates and a wide selection of quality merchandise.