Harvest Time Bread Company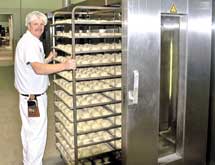 At Harvest Time Bread Company, it's all about offering the best of both worlds. The company has strategically positioned itself as the bakery that is large enough to handle almost any order but nimble enough to provide a higher level of customized service. Although it has a legacy of more than 25 years behind it, Harvest Time's present incarnation started taking shape in 2005. The company makes high-quality bakery products for retailers and foodservice companies across the country from its facilities in Woodbridge, NJ and Mount Airy, NC.
Some of the most significant recent changes for Harvest Time have come from the top. Louis Pereira, who also runs another bakery with the same ownership, became president and CEO in the last few months while Connie Holston was promoted to VP of sales.
"I have worked on the retail, broker, and foodservice sides of the bakery business for many years, so it is very familiar to me. Frank created a great reputation for us in the market, and I am making sure to get out and meet with everyone at the broker, customer, and distributor level so they continue to be comfortable with us," she said. "From there, we will build on those relationships with new products, customization, and taking advantage of our flexibility to provide what the competition can't."
As for Pereira, although he is new to his role, he isn't completely new to the company. He worked for Harvest Time as the CFO when its Woodbridge, NJ facility was built, and he has about a quarter century of experience in baking. As president and CEO, Pereira intends to take advantage of what he sees as a deep core of product flexibility.
"We can meet many customer needs, whether they need rolls, bread, artisan bread, or anything from two and a half ounces to three or four pounds. That size and R&D flexibility, thanks to our resources in New Jersey and North Carolina, gives Harvest Time unique abilities and the opportunity to be more competitive," he said. "Our strong product line and flexible bakery allows us to aggressively go after the market."
Feeling refreshed
Clearly, product development has been one of the company's most important concerns. As it serves retail, foodservice, and private label customers, it is critical that it has just the right product mix to suit customer needs. Last year, Harvest Time's focus was on new products made with specialty-fermented doughs. More than 15% of its fourth quarter sales came from products introduced in 2010.
That is an impressive line refresh, much of which is due to the fermented doughs. The dough's contribute to its saloio and ciabatta breads, and Harvest Time is always looking to come up with shapes and sizes that appeal to its customers.
"The customers may have a specific look they feel differentiates them, and we can provide that. That is where we see innovation now," said Holston.
But there is more than one side to the product line equation. It isn't just about new products; it is about fine-tuning the product offering to be sure its products resonate with customers. The company has been reviewing its product line, looking for things that haven't been getting the appropriate volume. Last year, the company decided to trim some products that weren't meeting expectations.
For example, refreshing the line meant discontinuing its organic products. Harvest Time had high hopes for those products initially, but it wasn't seeing the growth it expected. By discontinuing the organic line and other low-volume products, it leaves room in the bakery to create new product winners down the road.
Rebranding and expansion
To coincide with its product line developments, Harvest Time has also been rebranding to reflect its focus on flexibility, fresh ideas, and a fresh approach to bakery performance. It phased out the old company logo last year and rolled out a new website and new messaging at trade shows. In essence, the marketing campaign is meant to reflect the company's commitment to helping customers be more competitive by providing them with the right products at the right time.
Perhaps the most significant development for Harvest Time over the last year was its announcement concerning plant expansion at the Mount Airy facility. Last March, the company announced it would invest $4.5 million to expand bakery operations in the Southeast. That money funded the company's purchase of its 70,000-square-foot bakery, which it previously leased, as well as land around the plant for expansion room. The capital is also going to fund new equipment and workers, coming on top of a previous $1.5 million installation of new equipment at Mount Airy and Woodbridge. The upgrade to the Mount Airy plant should allow Harvest Time to improve its ability to serve national accounts.
From a sales perspective, Harvest Time is challenged with accurately assessing the market to determine the economic realities of the retail and foodservice spaces. Holston said 2010 saw people open up their wallets and head out to restaurants a bit more, but it is yet to be determined if that was a short-term phenomenon. Anticipating market conditions play a big role in how many products the company will look to make and the base of business it will choose to pursue.
"In 2011, our focus is to continue investing and expanding our North Carolina facility and our presence in the Southeast, and we will continue to be flexible and work with clients to develop the products they see as key elements of their business," said Pereira. "Last year we demonstrated that we would be aggressive in helping our customers meet their needs. Our strength is making good products with a great culture. Everyone in the bakery, from the top down, is focused on making the best products. If you can provide that high quality product and service level, everything else falls into place."