Hasbro Makes the Holidays Brighter through Global Day of Joy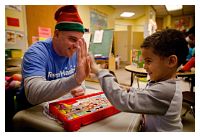 Dec. 9, 2013 – Last Friday, global branded play company Hasbro, Inc. helped spread joy to thousands of underserved children in 35 countries through its first-ever Global Day of Joy. The initiative empowered Hasbro's 5,000 employees worldwide to become holiday "elves" and to immerse themselves in community service projects designed to bring joy over the holidays to children in need.
From its global headquarters in Rhode Island to its offices across Latin America, Europe and Asia Pacific – employees wearing Team Hasbro shirts in 17 different languages fanned out in their respective communities to make a difference through the power of group volunteerism.
"Hasbro's commitment to helping children where we live and work began with our founders more than 90 years ago and continues with our inaugural Global Day of Joy," said Brian Goldner, president and CEO, Hasbro, Inc. "With the help of our many charitable partners, this initiative provided our talented team of employees with a glimpse into the incredible impact that can be made for children in need across the globe when we work together."
Armed with toys, games, paintbrushes and more, Team Hasbro employees volunteered with more than 100 charitable organizations worldwide, many of which the company works closely with during the year through its philanthropic programs.
Examples of the different types of service projects that took place on Hasbro's Global Day of Joy include:
A special celebration for children in Colombia who have received life changing cleft palate procedures from Operation Smile, featuring a contest that teamed Hasbro employees with the children to "create" their greatest smile using Play-Doh
Working with SOS Children's Villages in five countries to transform outdated play areas, host special Game Day events and deliver toys and games to the orphaned children who live there, including those in Russia, Peru and Austria
Assembly & packaging of more than 136,000 meals that were delivered to 25 food pantries and schools across Rhode Island in partnership with Outreach Inc., a U.S. based hunger relief organization
The delivery of tens of thousands of toys and games to charitable organizations across the globe