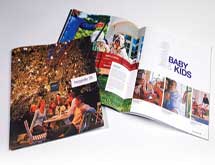 The people behind this home living e-com retailer understand that an accurate company name is the key to building a strong company brand. In 2009, seven years after it was founded as Hammocks.com, the company now known as Hayneedle decided to rename and rebrand to make its service offering clear. Ash ElDifrawi, chief marketing officer at Hayneedle, said the name represents the benefit to consumers of shopping on the site, which is finding exactly what they were looking for to decorate their homes.
And with a collection of more than 250 specialty stores, each dedicated to a specific product category like patio and garden furniture, indoor furniture and accents, baby gear and kids furniture, pet essentials, sports, and games, consumers needed to know how much Hayneedle had to offer.
"With the previous name, consumers weren't getting the message that when they bought from one store, they also had an opportunity to fill out their home with products from our other stores," said ElDifrawi. "Part of the strategy was bringing them all together under one umbrella. The umbrella was Hayneedle."
Consumer feedback also pointed to new retail opportunities in the indoor and outdoor living categories. "We heard that as consumers shop at traditional physical retailers, the selection was limited. They weren't finding the items they really wanted," said ElDifrawi.
The intended message with the name Hayneedle is that consumers will discover that perfect item, akin to finding a needle in a haystack. "Hayneedle is about finding the best variety of products for your home and outdoor living," said Jason Goldberger, chief merchandising officer.
Depth and breadth
Hayneedle.com's collection of stores boasts more than 250,000 SKUs. To say this is a tremendous quantity is an understatement, so one of the key tenets of the rebranding strategy was to ensure consumers recognized the specialty nature of the stores while helping them see the entire offering across all the stores.
"Customers can complete their entire house and outdoor living space with products from our site," said ElDifrawi. "The rebranding also exposes consumers to the great depth of product in each category, as well as the breadth of selection for different areas of their home."
From a marketing perspective, the rebranding enveloped the niche sites under one umbrella rather than positioning them as separate entities. As a result, more customers cross-buy across product categories, and with the increased awareness of the convenience of Hayneedle, customer satisfaction scores have improved.
"Many consumers feel more comfortable and confident shopping online with a company that has a broad assortment than buying from multiple niche stores," ElDifrawi said.
The company then launched a marketing campaign to talk to customers about what Hayneedle.com is and what it offers. Hayneedle augmented its usual mix of search engine, comparison-shopping engine, and e-mail marketing with traditional media such as radio, TV, PR events, and sponsorships.
For the first time in its history, the company took its message directly to customers beyond the Internet environment another way to illustrate the strength of the Hayneedle brand.
Top of mind
To make its rebranding a success, Hayneedle made a number of operational and technological upgrades. On the technological side, the approach was separated into two tiers.
The first tier was an internal investment: developing a homogenized site experience. "All of the sites were separate in the past," said Goldberger. "We invested to develop a site experience that matched the Hayneedle brand from every angle."
Next was streamlining the checkout process, which proved to be the most difficult piece of the technology puzzle. Today, Hayneedle's universal shopping cart makes it possible for consumers to shop at the more than 250 stores under the company's umbrella and only checkout once. And although every store page is different, each was developed keeping the Hayneedle brand top of mind, creating a more uniform experience.
The second tier included back-end changes. As Hayneedle.com became a branded site, it was important to develop an industry-leading customer experience so that customers not only had an easy time finding great products but also found the whole experience so seamless and positive that they would want to come back for their next home goods purchase.
From a customer service perspective, Hayneedle implemented a Manhattan warehouse management system and opened a new fulfillment center in Monroe, Ohio. More than half of the company's business now comes from products Hayneedle inventories and ships directly to the customer, enabling greater control over the delivery timing and experience. "That's quite a change from where we were and is a significant advantage from where our competitors are because they rely primarily on drop-ship," said Goldberger. Hayneedle opened a new call center in Omaha, which was launched with a state-of-the-art phone switch and scheduling software from Aspect, a Massachusetts-based developer of unified communications solutions. All customer care representatives are Hayneedle employees and receive extensive product training to ensure excellent service.
Altogether, the changes of the past year have positioned Hayneedle well among the rest of the e-commerce competition. "No one else offers the variety of product categories and the depth within those product categories all on one site," said Goldberger.
"Product discovery is much easier and cleaner than it was, and our checkout is terrific. We see the combination of those three things as the foundation of our success."
Keeping up
Perhaps the greatest measure of Hayneedle's success is its ability to keep up with its customers' demands. As an e-com business, these demands go beyond having a varied product assortment; they also include the needs of a sophisticated online shopper.
"Most online shoppers are experienced these days," said Goldberger. "They have no understanding or patience for delays or problems in delivery. They want to know that if they have a problem, you'll take care of it."
That's where Hayneedle's customer care center does its job. Because the center is based at Hayneedle's headquarters, customers know they won't get the runaround. A centralized warehouse offers the same guarantee. Spending money to support its promise of customer satisfaction and a one-of-a-kind shopping experience helped Hayneedle build its brand.
And as retail becomes more about the experience, building a known and loved brand becomes less about telling customers what you are or yelling very loudly, said ElDifrawi. "It's about talking about what the brand delivers from a customer experience perspective," he said.
"Once your customers have experienced it, they'll talk about it; they'll be your champions. And that is critical today as consumers rely more and more on word of mouth and reviews through social media."
So although the world of retail has turned almost ethereal as it moves online, success still comes from the same simple tenets: build a loved brand by providing superb customer experience with your products and your people.