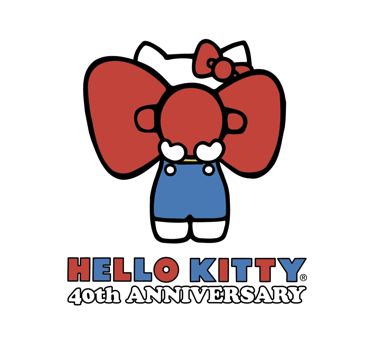 June 3rd, 2014 – Hello Kitty is kicking off a year of festivities to celebrate her 40th Anniversary. In honor of this occasion, parent company Sanrio Inc. will present a world premiere Hello Kitty fan convention in partnership with Target, a first-of-its-kind museum exhibition, unique collaborations and limited edition commemorative products. Hello Kitty will celebrate her anniversary throughout the year and continue to spread the message of friendship through the global 'Share a Hug with Hello Kitty' campaign.
"Since her introduction 40 years ago, Hello Kitty has always been about providing happiness, friendship and fun to the world," said Janet Hsu, President and COO of Sanrio, Inc. "We commemorate this 40th Anniversary with milestone events, experiences, and special products to connect with and thank fans & celebrate the enduring appeal of Hello Kitty."
Among the festivities are:
• Hello Kitty Con 2014 – The Fan Convention: The first ever Hello Kitty fan convention in the world, Hello Kitty Con 2014 will be presented in conjunction with Target and designed for enthusiasts from around the world to come together to celebrate all things Hello Kitty. It will will coincide with Hello Kitty's official birthday on November 1st, taking place at The Geffen Contemporary at MOCA in Little Tokyo, Downtown Los Angeles, from October 30th – November 2nd.
•Hello Kitty Museum Exhibition: The Japanese American National Museum (JANM) in Los Angeles will host the first exhibition of its kind in the world in honor of Hello Kitty, opening October 11th and on view through April 26, 2015. 'Hello! Exploring the Supercute World of Hello Kitty' will celebrate Hello Kitty's brand legacy and her influence on art and culture. Christine Yano, author of Pink Globalization: Hello Kitty's Trek Across the Pacific will curate the retrospective component of the exhibition. Jamie Rivadeneira, founder and owner of pop culture-inspired boutique JapanLA, will curate the art component. The exhibition will be on view during the four days of Hello Kitty Con 2014 in October/November.

• 40th Anniversary Collaborations & Products: Hello Kitty's 40th Anniversary celebration will include a variety of product releases. Collaborations, unique licensed products and limited edition 40th Anniversary collectibles will launch throughout the year, with a selection of exclusives and vintage products available to fans attending Hello Kitty Con 2014. Sephora will create a special, signature collection for Hello Kitty's 40th Anniversary that will launch this year and also be a part of the exclusive offering at Hello Kitty Con 2014. Other partnerships will include a diverse list of brands ranging from Mikimoto, Minnetonka and Chan Luu to national sports powerhouses Major League Baseball (MLB) and National Football League (NFL). The lineup will also include new product launches from popular collaborators Vans, New Era, Swarovski, McDonald's, tokidoki and many more.
• Share a Hug with Hello Kitty! Campaign: Hello Kitty will continue appearing at special events across the globe, giving hugs to her fans, and spreading the message of friendship. At every appearance, the hugs will be tallied and added to the Global Hug Report, available at http://www.sanrio.com/global-hug-report.