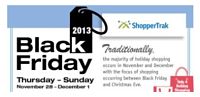 December 3, 2013 – There has been a lot of analysis and news flying around since Black Friday, Small Business Saturday and Cyber Monday 2013 have come and gone. Here is just a bit of the news that has been floating around out there.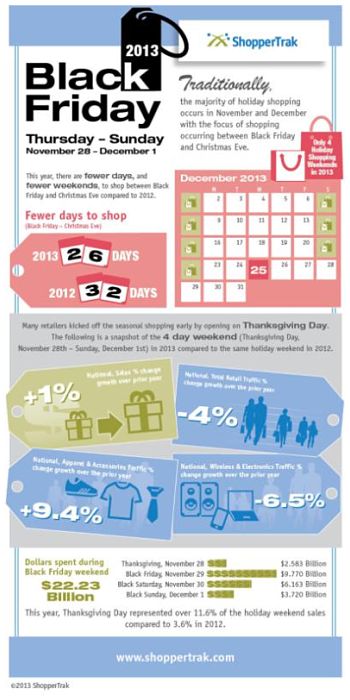 ShopperTrak (check out the inforgraphic at right) says retail sales were up while store shopper traffic was down during "Black Weekend." ShopperTrak, estimates that, when compared to "Black Weekend" last year, brick-and-mortar retail sales increased 1.0 percent as shoppers spent an estimated total of $22.2 billion across the four days. Retail shopper traffic decreased by 4.0 percent, to an estimated 1.8 billion store visits. Total in-store shopper traffic increased by 9.4 percent in the apparel sector, while traffic in the electronics sector decreased by 6.5 percent for that same time period.
Catalog Spree said tablet shopping dramatically increased during "Sofa Sunday." The company reported the results of its Sofa Sunday Shopper Insight Report, which showed an increase in shopping on Sofa Sunday, with users viewing nearly 1.3 million catalog pages – a 74 percent increase from 2012.
According to the latest cloud-based analytics findings from IBM, U.S. shoppers made Cyber Monday the biggest online shopping day in history with a 20.6 percent increase in online sales. Mobile sales led the way, exceeding 17 percent of total online sales, an increase of 55.4 percent year-over-year. Cyber Monday also capped the highest five-day online sales period on record – from Thanksgiving Day through Cyber Monday – which grew 16.5 percent over the same period in 2012.
Wayfair.com reported record Cyber Monday sales that surpassed $9 million, a 50 percent increase in year over year growth. The company saw $25 million in sales over the long holiday weekend from Thanksgiving Day through Cyber Monday, a 56 percent increase over last year. The company sold one item every 1.3 seconds on Cyber Monday. Mobile sales made up 30 percent of orders throughout the Thanksgiving weekend for the home furnishings retailer.
Walmart also announced that Cyber Monday 2013 was the biggest online sales day in its history. The five-day period from Thanksgiving to Cyber Monday is the highest five-day stretch in online sales for the retailer to date, and Walmart.com processed more than one billion page views during that period.