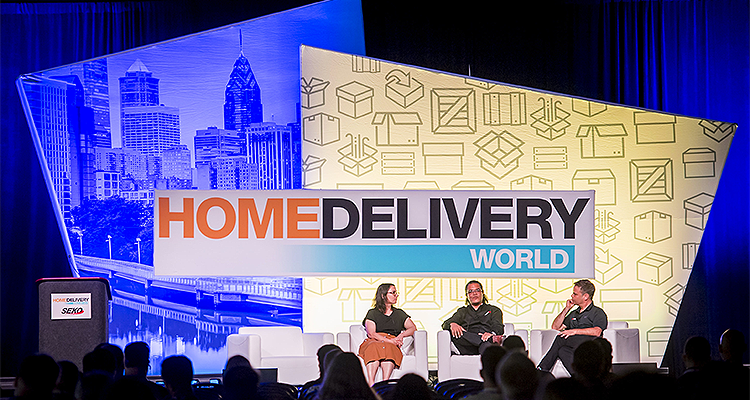 Home Delivery World 2023 is the event for retail logistics
Every day, retailers, manufacturers and grocers face challenges around shipping, logistics, delivery services, warehousing, and autonomous technologies throughout the last mile. For the past 11 years, industry leaders across North America have come together at Home Delivery World seeking answers to these issues.
A complete exhibition and conference, Home Delivery World highlights and discusses the most up-to-date topics, showcases the latest innovations and brings together the movers and shakers from the sector. The most important event on the calendar, attendees, speakers, and sponsors can participate in a Conference and visit the Exhibition, both of which are packed with inspiration, ideas and innovation.
Conference
Over 250 retail logistics professionals will be hitting the Home Delivery World stage, delivering an agenda that focuses on today's hottest topics. From parcel, heavy goods and big & bulky, to fleets, intralogistics and EVs/AVs, each track has been carefully molded to supply visitors with the best source of information. Further discussions will cover areas as diverse as grocery, drones, real estate and returns. Tech is covered via digital supply chain, while cross border and spend management issues are also included.
Headline speakers include Dan Westdijk, Head of Sales & Category Strategy, Unilever; Keelin Evans, VP Sustainability, Macys; Tanja Dysli, Chief Supply Chain Officer, IKEA Group; and Andrew Petrisin, Supply Chain Advisor at the US Department of Transportation.
Exhibition
A main attraction for visitors is the exhibition floor, which features more than 350 companies and 20+ content categories. The free expo has full access to keynote sessions, and it also showcases multiple manned and unmanned delivery modes, giving attendees a snapshot into the future of last mile delivery.
Finally, visitors benefit from high quality networking opportunities at the Show. Adding further value to participating in all the activities at Home Delivery World 2023, networking sessions and a networking app are available, meaning that visitors are sure to say hello to the people who matter.
Welcoming more than 5000 attendees, 250 speakers, 350 exhibitors and 150 sessions, Home Delivery World 2023 is packed with content – can you afford to miss it?
www.terrapinn.com/conference/home-delivery-world/index.stm
14-15 June 2023
Pennsylvania Convention Center
Philadelphia, USA
Home Delivery World USA is organized by Terrapin.