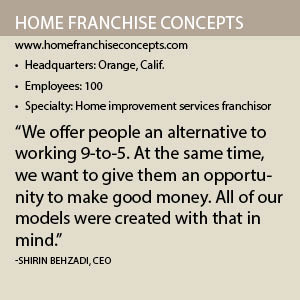 Entrepreneurs wishing to open one of its three franchise concepts must have between $100,000 to $150,000 in liquid assets, depending on the concept. Net worth needs to be about the same.
The initial start up fee is $84,950 for Budget Blinds, $74,950 for Tailored Living and $57,450 for Concrete Craft. Home Franchise Concepts charges a flat royalty fee of $300 per month for the first six months and then $700 per month for the following six months. The fees, which then start to vary by concept, keep increasing every six months but cap out between $1,500 and $2,000 per month.
Home Franchise Concepts also collects a monthly advertising fee that ranges from $750 to $1,000. "Entry into one of our franchises requires low capital," Behzadi says. "So we appeal to people in all walks of life."
Tools for Success
Home Franchise Concepts, which is celebrating its 25th anniversary this year, has enjoyed strong franchise territory growth with a very small closing rate. "Our turnover rate is extremely low," Behzadi says. "We have created systems that allow our franchisees to be successful."
Promising "best-in-class" support and training, the company offers a wide variety of tools to its franchisees. Everyone participates in a two-week training program at the company's offices in Orange, Calif. Topics range from set up, management and sales to marketing and product knowledge. After that, each franchisee is assigned a coach for at least three months. Coaches remain available for the life of the business. In addition, each concept offers its franchisee weekly motivational calls and a variety of webinars.
To further educate franchisees, the company is planning to roll out a new extended learning program this year. It will offer franchises a variety of courses and access to video training modules and other forms of training media.
Home Franchise Concepts supports its franchisees with national level marketing efforts to drive brand awareness and customer growth and loyalty. It also helps them develop effective marketing tools and training to help drive strong lead generation at the local level. "We use our advertising dollars to help elevate our brands and generate leads for our franchisees," Behzadi says. "And we support them on their local advertising."
The Concepts
Budget Blinds, the company's oldest concept, is a custom window coverings franchise that offers a shop-at-home service for window coverings and home décor accessories. That includes shutters, rugs, drapes and shades.
It is the most popular concept for the company with about 850 franchisees that operate in more than 10,000 cities in North America. "By the end of this year, our franchisees will have installed 25 million window coverings," Behzadi says.
Home Franchise Concept's second concept, launched in 2007, is Tailored Living. It focuses on home organization and garage storage systems.
Franchise Times named Tailored Living a Zor Award winner, calling the concept one of its "10 top picks" for best franchises to buy in 2017. The concept won in the "fixer upper" category.
The award applauds Tailored Living for setting itself apart from competitors by showing strong franchise territory growth, particularly in 2014 and 2015 when it had 60 total openings.
The newest concept, Concrete Craft, is still young but picking up speed. It helps homeowners and businesses create one-of-a-kind floors and enhance a variety of walls and surfaces. This includes stamped, stained or resurfaced concrete for patios, driveways, walkways, pool decks, basements, walls and fireplaces. Interior and exterior flooring – stained or stamped – is another top-selling product.
Empowering Veterans
Home Franchise Concepts has been involved with veteran's causes for many years. It offers a number of entrepreneurial opportunities and community service programs to support veterans.
In an effort to empower veterans reentering civilian life, Home Franchise Concepts launched a new initiative this year. On Veteran's Day, it will award one of its franchise concepts to a select veteran in the United States or Canada. The company will pay all upfront costs for the franchisee in addition to making a $50,000 contribution. Franchisees are being asked to nominate a veteran from their community who they consider to be a potential fit for one of the company's concepts.
"We've always been very big on veteran initiatives," Behzadi says. "Helping our veterans transition into the civilian workforce as a business owner is truly an honor and a privilege. Our first step is to provide significant financial incentives to empower veterans to take the next step as an entrepreneur. And, we stay with them, offering business support, ongoing training and the tools they will need to be successful."
In 2014, Budget Blinds partnered with "Homes for Our Troops," an organization that helps severely injured veterans and their families. Budget Blinds promised to provide window coverings in 40 veterans' homes over the course of a three-year partnership. It donated roughly $1 million in cash, products and services.
Home Franchise Concepts' efforts to benefit veterans have been recognized by the military. Budget Blinds and Tailored Living were named in the "Top 38 Best For Vets Franchises" by Military Times magazine from 2014 to 2016. It is the third time Budget Blinds was named and the second time for Tailored Living.