Second-generation pharmacists and brothers Tim and Fred Grice, Jr., each purchased their own independent pharmacy because they enjoyed helping people in their community. What they would come to realize was that in order to compete in the future, they would need to build more critical mass to have more buying power with vendors, but also wanted to maintain the importance of patient-driven, community pharmacy.
In 1996, the Grice brothers founded HomeTown Pharmacy to achieve its mission of providing the highest level of service and quality products to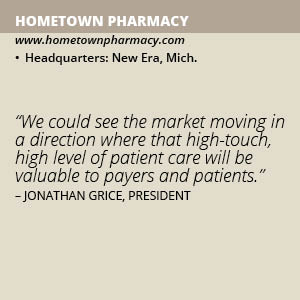 its customers, communities and coworkers. Today, HomeTown Pharmacy operates 39 pharmacies throughout Michigan, Indiana and Ohio, as well as five long-term-care pharmacies, one durable medical equipment center, one specialty pharmacy, two infusion pharmacies and four compounding labs.
The company has been expanding mainly through acquisitions of existing pharmacies that are looking for those economies of scale or for a company that can relieve them of the healthcare industry's ever-increasing administrative load.
Specialty Care
Every HomeTown Pharmacy location provides high-cost, specialty medications that usually are available only through mail order because they are so specialized. These intensive therapies require special instruction for dispensing and clinical monitoring afterwards. They include oncology drugs for cancer, biologic injectable and oral drugs for autoimmune disorders.
To provide these medications, HomeTown Pharmacy has a dedicated team in its home office to assist the stores by working with prescribers and insurers to secure benefits for the patients. This allows patients to pick up their medication locally and still receive the specialty services that aren't usually able to be provided at a retail pharmacy. "Our specialty model is unique," says Vice President Jim Grice, son and nephew of the founders. "It's a different breed of specialty pharmacy than what has been traditionally in the marketplace. Our central site provides the back-end services that enables our retail pharmacies to provide specialty pharmacy care in the communities they serve."
HomeTown Pharmacy's specialty division has grown to nearly 5 percent of the company's total revenue. Total long-term-care revenue is approximately 30 to 33 percent of the company's total revenue, and the rest is retail sales.
In late 2017, HomeTown Pharmacy expanded its specialty care division when it acquired Advanced Care Infusion. Rebranded as HomeTown Infusion Services, the company's infusion nurses provide patients of any age and their families with the support they need to feel comfortable with IV therapy at home. "HomeTown Infusion comes in after a patient is discharged from the hospital or is still healthy enough to be at home after leaving a care facility, but they need medication through IV infusion," Jonathan Grice explains. "They can receive that infusion in their home rather than going to an infusion center to receive it."
HomeTown Infusion Services therapies include implanted pump, comprehensive nutritional, rheumatology, immunoglobulin, neurology, gastroenterology, pain management, anti-infective and more. The company offers 24/7/365 availability of a dedicated care team consisting of clinical pharmacists and infusion nurses.
Grice says he sees home infusion as a growth segment just in the little more than one year's time the company has offered this service. "With new therapies coming out and a desire by payers to see patients cared for outside the health system, those two things tell us it is a market that will be in increasing demand," Grice says.
Moving forward, HomeTown Pharmacy will continue to look for ways to expand its offerings and add more locations. "Growth is still our focus," Grice says. "We continue to find new ways to deliver value and grow our number of locations and patients we take care of."