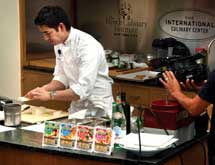 This subsidiary of one of Japan's largest food manufacturers is on a mission to increase sales and help Americans eat healthier. Shigeru Natake is on a mission to get Americans to eat more tofu. The president of House Foods America, which recently expanded its tofu producing capabilities to the East Coast, sees an opportunity to increase this nation's intake of the healthy Asian staple.
"Our corporate philosophy is to bring greater joy to families through food," he said. The company was founded in Tokyo in 1913 and expanded to the West Coast of the US in the early 1980s. House Foods opened an East Coast tofu production facility in New Jersey in 2006.
Tofu has long been a popular food staple in many Asian countries. Tofu, also known as bean curd, is a soft white food made by coagulating soy milk and pressing the resulting curds into blocks.
In Japan, tofu consumption averages 25 pieces per person per year. In the US, that number is closer to one piece per person per year. Natake said that in the US, most tofu is consumed by families of Asian descent. As his company continues to grow, he said a major focus will be on selling the benefits of tofu to Americans.
"We want to bring some more ideas to American people about what tofu is and how it can be used," said Natake. A big part of House Foods' marketing push focuses on providing new ideas for flavorful recipes that use tofu as a main ingredient.
Tofu is incredibly versatile, he said. Crumbled firm or extra firm tofu can be substituted for meat in pasta sauces, chili, tacos, wraps, meatloaf, and hamburgers. Pureed soft tofu can make creamy dressings, such as ranch dressing and mayonnaise. It is also a good substitute for eggs, milk, sour cream, and heavy cream. Firm tofu can be substituted for ricotta, cottage, or cream cheese, and soft tofu works well in many dessert recipes, such as cheesecake, pies, and pudding as a replacement for milk, cheese, cream, or eggs.
International growth
House Foods America is a wholly-owned subsidiary of House Foods Japan. With annual sales of over $2 billion, House Foods Japan is one of the biggest food manufacturers in Japan. "From the time we opened the California plant in 1997 until we opened the New Jersey one in 2006, we tripled our amount of sales," Natake said. "As you can imagine, the capacity in our California plant was maxed out, which is why we opened the new one."
Today, House Foods America produces 55 million pieces of tofu per year, but Natake said he hopes the company can increase that number. "Our dream is to have a package of tofu in the home of every American family," he said.
Even with the growth and large production capacity, there are some challenges the company will try to address in the coming years. "One of the biggest challenges is that the tofu market has been saturated without any significant growth in the past few years," Natake said. "We know how important the Asian market is, and we will continue to pursue that, but we also have to pursue the American market."
The company has increased its push into the American market by forging relationships with chefs to develop new recipes and by increasing advertising in large markets like New York City. "We're also doing a lot of new product development," said Natake. "We want to make our products tastier, and we do have some new products in development."
More than just tofu
The company's product line includes a lot more than just packaged tofu. Tofu Shirataki is a pasta alternative made from blending the root of the konnyaku, a member of the yam family, and tofu. Tofu Shirataki comes in a variety of shapes, including spaghetti, fettuccine, and angel hair. The noodles are low carb, low calorie, and sugar and gluten free.
House Foods also offers a large line of curry sauces and spices. Its Kokumaro Curry was named the favorite curry sauce by readers of Bridge USA, a Japanese community magazine. Kokumaro Curry was first introduced in the US in 2004. "With our 23-person sales team covering Japanese, Korean and Chinese markets, we actively continued with in-store demos to introduce the taste of Kokumaro Curry to customers," Natake said. "We have proven that we know how to do curry right, and we will continue to provide our customers with delicious Japanese-style curry sauce mixes."
Curry is one of Japan's most popular dishes. Japanese curry, made from curry sauce, and a wide variety of vegetables and meat, is served as curry rice, curry udon (thick noodles) and curry-pan (bread). The curry rice is the most popular version. The basic vegetables used in the dish are onions, carrots, and potatoes. Various curry dishes can contain chicken, pork, beef, and seafood.
The main reason the taste of curry is so full bodied is because of the wide variety of spices used in this unique dish, according to Natake. Spices, with their aroma, color, pungency, and taste, are used to bring out the flavor of other ingredients. Spices used in curry include cardamom, turmeric, cumin, black pepper, red pepper, cinnamon, nutmeg, bay leaf, and fenugreek.
Natake said the company has created original curries rich in flavor by blending more than 30 spices carefully selected from around the world. The curry mixes come in five levels of spiciness to suit the tastes of a broad range of customers. Along with the mixes, House Foods offers a variety of spices selected from more than 60 countries around the world made with fresh ingredients.
The company will continue to push an aggressive sales plan for all of its products. "We're investing a lot in marketing and sales to grow the company," Natake said.