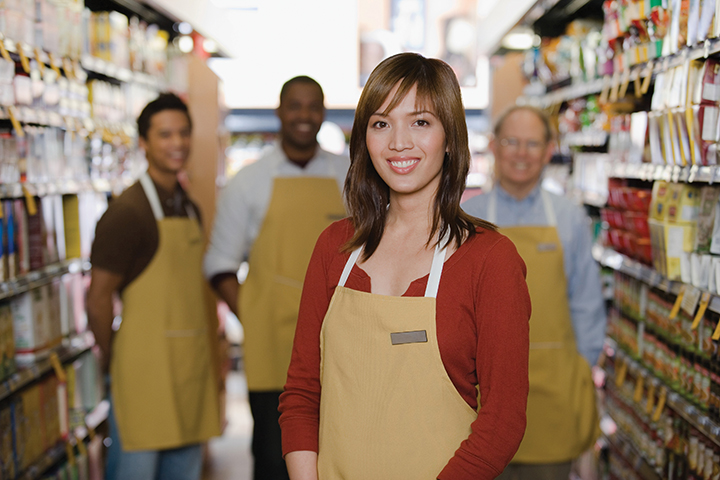 Here are several ways analytics can help solve the retail industry's most pressing workforce challenges. By Ian Cook
Retailers with the right employees see the highest average purchase value, the best customer satisfaction, and the most repeat store visits. However, as employment numbers and consumer spending continue to improve, human resources issues are now seen as one of the top threats to business outcomes. So how can you recruit, develop, and engage the right retail staff in a sustainable way?
HR departments are turning to the business intelligence that their counterparts in other departments have been taking advantage of for years. At the crossroads of the workforce and the business is where HR can have its greatest impact; this is where in-depth knowledge of people dynamics is invaluable in making talent decisions that directly affect the top and bottom line.
Proper workforce analytics should go beyond metrics, and focus on connecting employee data to business data so you can see how workforce programs impact results store by store. This allows HR leaders to, for instance, discover whether improvements in employee engagement increase profit, increases in hourly pay lead to higher sales per square foot, or more training hours boost in-store conversion rates.
Here are several ways analytics helps solve the retail industry's most pressing workforce challenges:
Recruit the Right Team
Attracting talent is difficult in any industry, but when hiring top quality talent is necessary to customer satisfaction and retention, the effectiveness of the recruiting funnel becomes a major focus. When it comes to recruitment, most talent acquisition teams focus on time-to-fill quotas and cost-of-hire numbers, but these numbers tell you nothing about the quality of a hire.
This is where data-driven HR becomes essential. Without the ability to quickly dig deep into all parts of your hiring funnel and track new hires across the employee life cycle, it's impossible to go back and tell which lead sources are most effective, which new-hire attributes correlate to the best performance and retention, and how diverse talent develops and flows through your organization. A scientific approach will ensure that you are only recruiting and hiring talent that will drive the success of your retail organization.
Retain the Best Workforce
The retail workforce is a unique mix of part-time staff, full-time employees, contract workers in the distribution channel, and more in between, which makes it difficult to determine what retention strategies will deliver the best return on investment and create the best work environment.
It can be tempting to copy the latest HR fad in order to keep talent, but it's important to remember that retention programs work best when they are targeted to the specific needs of each employee group.
Too often we decide HR strategies based on gut-feel and hallway conversations. An analytical mindset will enable you to drill down into key business and customer-facing units, geographies, and/or roles to uncover drivers and trends for turnover. Furthermore, predictive analytics enables you to determine what attributes make employees more likely to leave, or who is likely to succeed long-term, so you can take proactive steps to keep and develop the right talent.
Manage Your Workforce Costs
Keeping an eye on company profitability has not traditionally been HR's forte, yet without a strong workforce on the sales floor, revenue suffers.
A people strategy platform can quickly pull workforce, financial, and other business systems together to create a complete, accurate picture of headcount and the cost of your retail workforce, regardless of the source of labor, so you can track and reduce costs most effectively.
Dive into analytics to get insight into what workforce factors drive absence, overtime, and turnover so you can build programs to decrease their impact on revenue and profit.
Improve Mergers and Acquisitions Outcomes
According to PwC's 20th annual survey of CEO's, retail CEOs cited new M&A as a leading way to move the business ahead. When two organizations come together, it's virtually certain that their HR management systems will be different and incompatible.
This unavoidable fact triggers a cascade of critical problems that—if left unsolved—can quickly eat up the improved margins that investors expect of the combined company.
The right analytics technology investment seamlessly brings together data from the combined workforces, which makes it easy and effective to create workforce integration plans. With these insights, you can drill down to important people parameters, get a full projection of headcount costs, compare and contrast differing workforce policies and programs, proactively monitor integration KPIs, and more.
Impact the Bottom Line
If your retail organization hasn't done so already, invest resources into a top-notch HR analytics team and people strategy platform your top priority this year. With talent shortages looming and the global business environment shifting at high speed, companies can no longer afford to make intuition-based decisions about their workforce. Analytics enables you to confidently double down on your strengths, and eliminate the areas where you're weakest, so you can meet every talent need of your retail organization.
Ian Cook is the head of workforce solutions at Visier.