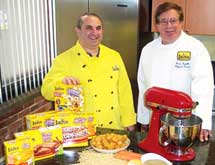 This creator and manufacturer of healthy foods makes it fun for kids to eat healthy without leaving taste behind. Eight years later, Ian's has made a name for itself as an innovator of quality convenience foods that use only the finest natural and organic ingredients. The company is doing so well that it has increased its top line figures, plus 20%, already this year. Terence Dalton, general manager and COO, said this kind of growth comes from Ian's successfully differentiating itself with its product offering.
"Consumer demand has increased over the past decade for all-natural and organic foods, and in the past few years, we've worked diligently to create innovative products and put a natural and organic stamp on popular kid favorites," he said.
As the number of Americans suffering from food allergies increases, Ian's has evolved, bringing its innovative ideas and food solutions to those with special dietary needs. Today, the company produces a variety of allergen-free foods that only a short time ago would have been off-limits for many of these consumers.
"Whether it's our all-natural and organic chicken nuggets, fish sticks, French bread pizza, or our wheat-free and gluten-free chocolate chip cookie buttons, we pay attention to and deliver what our consumers want and need," Dalton said.
Change in focus
Headquartered in Lawrence, Mass., Ian's first breakthrough product was its chicken pot pie. Initially, the company focused on meeting the needs of families, but when it launched its chicken nuggets and fish sticks, the response was so overwhelming that the company had to rethink its focus.
"We asked ourselves what the difference was between having these items and not," said Jeff Canner, senior vice president of marketing. "As we dove down into it, we found a huge white space category-wide for organic, all-natural items geared toward children with and without food allergies."
As there was no one else in the market addressing these needs, Ian's changed its focus slightly and became a kid-focused company. To inspire kids to want to take a taste of an Ian's product without alienating the parent buying it, the company's packaging sports lively colors and Andy the Otter, its iconic cartoon character.
But kids aren't enticed by packaging alone anymore. To ensure it wasn't losing its audience members once they went home, Ian's revamped its Web site. Like the product packaging, the site is now also kid-friendly.
"Kids don't even need to be able to read to have fun on our site," said Canner. "They know it's for them in the same way they know the products are for them. At the same time, parents see the educational pieces of what the site is teaching them and are comfortable supporting the purchase of healthy foods."
Online accomplishment
Since launching its revamped Web site earlier this year, traffic to Ian's Web site has increased. As a result, the company continues to expand its online content.
It strengthened its partnership with Glutenfree.com, a leader in gluten-free e-commerce. It also launched a new site, ImaSuperfitKid.com, as part of a kid-friendly loyalty program.
The I'm a Super Fit Kid campaign evolved from Ian's tagline "Healthier food for healthier kids." When thinking about how to inspire kids to live healthier lifestyles, the idea of a loyalty program built around gaining points from the purchase of an Ian's product, which can be redeemed for active prizes like balls and jump ropes, seemed perfect.
As time went on, the company felt there was more to do. "We evolved the program, so now we will reward kids for signing up for their local soccer team or taking ballet lessons," said Canner. "They also get rewarded for getting good grades, reading books, and sending us their art projects."
There are currently 20,000 members in the loyalty program—an impressive accomplishment for any manufacturer. "Our traffic has picked up, more people are spending time on the site because it's fun and engaging, and we've been successful in venturing into e-commerce," said Canner. "From every possible angle, we've had success."
Leaps and bounds
Ian's took a different kind of leap last year when it acquired Healthy Handfuls, an organic cookie/cracker company. Acquisitions had never been a part of the company's history, but the brand and the company aligned with the mission and vision of Ian's enough that not partnering would've been a mistake.
"We're both in the cookie/cracker, organic, and on-the-go categories, and our merchandise is conventional," said Dalton. "Our focus on aligning ourselves to grow our top line business coupled with the penetration of customers that they currently had and the partnerships they have already forged were critical marks of acquiring the brand."
As with any business or consumer relationship, Ian's will maintain an ethically sound focus as it continues to grow from the acquisition, working with Healthy Handfuls on a day-to-day basis to understand the company's objectives and strategies.
With all of this success, the greatest challenge for the company moving forward also happens to be its most exciting possibility. "Our biggest challenge is to continually identify the needs of our consumers and the changing environment," said Dalton. "Bringing economical and tasty food choices to our consumers is a challenge, but we continue to stay a step ahead of our competition by expanding the breadth of our offering and our organization."