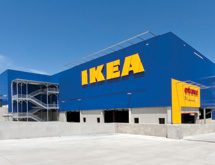 Self-help is not a way of saving labor in IKEA's style of warehouse stores. The concept of customers helping themselves to their merchandise reflects the retailer's southern Swedish roots of team effort in order to reduce the costs, self-reliance and reduction of unnecessary frills.
The global home furnishings retailer founded by 87-year-old Ingvar Kamprad has united disparate cultures worldwide with one cleanly designed aesthetic for furniture. This aesthetic also is applied to the multitude of other accessories that the company produces for itself or under exclusive arrangements with other companies that it may own. The only brand sold by IKEA is IKEA.
Expanding worldwide, IKEA has opened 38 stores in the United States. The thirty-ninth is scheduled to open in the summer of 2014 in Miami-Dade County, Fla., and the fortieth in fall 2014 in Merriam, Kan. Renowned for their awe-inspiring scale, the newest IKEA stores average from 350,000 to 450,000 square feet, although some of the older stores are smaller.
IKEA has five distribution centers in the United States, several of which are up to 1.8 million square feet in size, U.S. Public Affairs Manager Joseph Roth reports. "Since we display and inventory everything onsite at a store, the distribution centers need to be large enough to ensure appropriate goods flow to the stores," he says. "The full product offering is roughly about 10,000 items, and the goal is to have everything available for the customer to take home."
The goal is for each store to carry every one of those 10,000 items, Roth maintains. "That's why the stores are so big," he points out. "The distribution centers receive the goods from the suppliers – whether here in North America or from Asia or Europe – and then have regular rotations in which they are distributed from the distribution centers straight to the stores based on the combination of what the stores need and what they should be selling."
Each store receives approximately seven truckloads of merchandise daily. "Every day after hours the stores are restocked, because only the first two shelves of the self-serve furniture area are customer-accessible," Roth explains. "So the rest is up in the air or at a higher level of racking. In the interest of safety, we do not allow forklifts on the floor during business hours."
When locating a new store, IKEA seeks out trade areas that have a population base of 2 million people within 30 to 40 miles of a store location. "Unfortunately, there are some metro areas where there will never be an IKEA store," Roth concedes. "Our stores are rather large, and we need a large population to support them."
Finding a prime retail location within those areas can be quite a challenge for a store with a large footprint. "In a perfect world, we prefer to build a store that is at grade and typically requires 20 to 30 acres of land," Roth prescribes. "We purchase our land – we do not lease it – and we build our own buildings."
The iconic colors of blue and yellow are used on all the stores because they are the colors of Sweden. "While we do not have much flexibility with regard to the store design, we can have flexibility with regard to the parking configuration, depending on the characteristics and constraints of a site," Roth notes. "In certain markets where we find a great site, we are able to elevate the store above the parking, so it is essentially on stilts."
Store Construction
IKEA has a property retail expansion department that includes real estate, construction facilities management and commercial planning. GreenbergFarrow is the U.S. architect. The company hires construction management companies to build the stores.
"The stores follow a set design," Roth states. "They're all very similar. GreenbergFarrow takes the plans from Sweden and applies them to local codes." The construction materials and techniques may vary somewhat based on location and climate.
"If it's an at-grade store in a warmer climate, we usually will do concrete tilt-up," Roth says. "If it's an at-grade store in a colder climate, we use steel. Then we have composite panels we install to basically form the shell of the building. If we are elevating above the parking, we typically use precast concrete for the parking structure and then do steel on top of that for the actual store."
IKEA's iconic blue and yellow exterior colors are painted on concrete tilt-up structures or the steel panels used on a store's exterior are custom-manufactured in those colors.
Energy Efficiency
IKEA is committed to energy efficiency in its facilities and the products it sells. "Every iteration of the store gets more and more modernized, between the HVAC styles, the lighting systems, the security system – everything is much more energy-efficient," Roth declares. "That goes to having skylights in the warehouse area to allow for light and heat. We have water-conserving toilets and sinks in the rest rooms, and some stores have solar water heating."
Recently, IKEA has been focused on installing roof-mounted solar panels. In June, IKEA achieved its goal of completing solar installations atop nearly 90 percent of its U.S. buildings (39 out of 44 locations) with a generation goal of nearly 38 megawatts. IKEA owns and operates each of its photovoltaic energy systems rather than leasing them through a solar lease or a power purchase agreement. Globally, the company has allocated $1.8 billion to invest in renewable energy through 2015.
At the company's Centennial, Colo., store – which was built two years ago and uses geothermal heating and cooling – the state's largest single-use rooftop array is being expanded as more panels are being installed, with completion set for fall. The 83,700-square-foot solar addition will consist of a 623-kilowatt system, built with 2,492 panels, which will produce the equivalent of 180 homes' annual electric needs.
By 2016, IKEA intends to shift to energy-efficient LED lighting in its stores and sell only those bulbs to customers. The chain's environmental firsts were phasing out plastic shopping bags and incandescent light bulbs. Electric vehicle charging stations are located at nine stores in the western U.S. and more are on their way. The company diverts 70 percent of its waste from landfills and has LEED-certified buildings in each region of the United States.
Reflowing Stores
IKEA also is in the process of redesigning the marketplace areas of its stores where accessories, cookware, lighting, bedding, picture frames and plants are located. "We literally have scraped the floor, redesigned the flow and remerchandised all the racking," Roth says. "I believe by the end of summer, we will have completely done 30 of 38 stores to show that we are constantly renewing and refreshing the display."
IKEA stores in the United States also now offer a service to pull merchandise from any department for customers who do not want – or do not have time – to load up their carts. "We actually will pick your products for you and deliver them home," Roth explains. "So for $99, you hand over your shopping list at the checkout and leave." Purchases can be delivered by the next day or sometimes even the same day.
Technology is being updated at the stores, which because of their substantial construction sometime block customers' cell phone signals. Repeaters are being installed so customers can use cell phones inside to confer with people elsewhere on purchases or e-mail them photos of merchandise. Online fulfillment at customers' local stores also is being explored.
Self-reliant Culture
Efficiency and self-reliance are part of the culture of southern Sweden, a rural, industrious area where Kamprad founded IKEA in 1943. "Our founder early in his days when he went to furniture stores was impressed by the high design but appalled at the high prices," Roth relates. He created IKEA to bring customers high design at affordable prices. "We call him founder and senior adviser," Roth says. "When he speaks, we listen."
Self-reliance allows IKEA – which is owned by a holding company – to control its own destiny. "We self-finance everything," Roth maintains. "We remain a privately-held company, so we don't need to rely on shareholders or the stock market to supply an influx of capital. What we generate, we put back into the company. Ingvar always has maintained that profit gives us resources."
Roth says IKEA has very low employee turnover compared to other retailers and offers employees competitive compensation and generous benefits.
Further expansion is planned in the United States. The company is targeting approximately one or two new stores annually in the United States. "That is a pace that is fairly well-controlled and managed while allowing us to focus on maintaining a positive shopping experience at stores that already are open," Roth concludes.