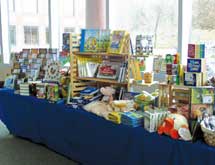 This family owned book display marketing company is finding success by meeting the needs of its stakeholders. Earl Kaplan started Books are Fun in his two-bedroom house in Fairfield, Iowa in 1990. The company started out small, but by 1999, the book display marketer had grown tremendously and was displaying, selling, and marketing books, gifts, and educational products to corporations, schools, universities, early learning centers, hospitals, government offices, and nonprofit organizations across the US and Canada.
Nine years after its founding, Books are Fun was sold to Reader's Digest by Kaplan, but, five years later, his two sons, Ben and Steve, begged him to get back into the business. When his non-compete from the sale ended, Earl started Imagine Nation Books.
This December, the business came full circle when Imagine Nation Books did an asset purchase agreement with Reader's Digest for Books are Fun's inventory, intellectual property, and rights to sign up sales representatives. Ben, Imagine Nation Books' executive director, said the integration of Books are Fun's assets has been something of a challenge.
"Books are Fun had a sizeable chunk of inventory, so we've been sorting through the product to figure out which items to sell through our normal channels of distribution and which require new channels to liquidate."
Growing business
Imagine Nation Books has two primary divisions. The school display division comprises a network of 270 sales representatives servicing approximately 60,000 US schools. According to Ben, reps visit the schools once every six weeks, going into a teachers' lounge to set up a display of between 25 and 30 books, gifts, and other consumer merchandise and leaving behind one copy of each item for about a week.
The reps leave behind an order form that Ben said "is similar to a Girl Scout cookie order form," and, over the course of a week, teachers can come and check out the products and place their orders. "Teachers and school administrators are our end consumers in this division," Ben said. "We sell them items they can buy for themselves, for their husbands, or for their children and grandchildren, as well as educational items for their classrooms."
The other line of business is Imagine Nation Books' corporate fair division. Through this division, the company's network of independent sales representatives set up corporate book fairs in hospitals and corporate offices. In a similar vein to its school display division, the company tailors its products to the book fair's specific corporate audience.
"Each rep will tailor the product offerings at a particular event," said Ben. "Generally, we buy whatever sold well when we tested the market, and it's a broader selection of around 300 products on display at each event." Since bringing Books are Fun back into the fold, Imagine Nation Books has grown its business-display and day-care divisions in an effort to liquidate the new inventory.
Sizzle value
One of Imagine Nation Books' greatest strengths is its ability to find products that Earl said have a sizzle value. "We want our products to be a lot of fun, interesting to our customers, and have a good value," he said.
To keep the cost of its products low, the company buys in large quantities directly from publishers on a non-returnable basis. If it can't find a product in the market, the company will develop a product.
In recent years, Imagine Nation Books has focused on getting back to basics to innovate the book fair industry from a product perspective. Ben said he's found great success in working closer with the company's experienced (and creative) purchasing and product development team.
"This is a product-driven business, and the better we do at putting value on the table for the customer, the better off we are as a business," he said. "Our proprietary products have differentiated us and set us apart from our competition. They're a testament to our buying and creative departments and our vendors."
Imagine Nation Books' suppliers have also helped guide the company to success by evolving to meet the needs of the company's unique business model and designing products that can weather being brought in and out of schools and offices. But none of the company's success would have been possible without the dedication and innovation inherent to its sales force.
Each sales representative is an independent business owner that receives the products on consignment. Imagine Nation Books supports its representatives on the front end and the back end, setting up and providing sales interface, customer support, and market direction. The company's operating system, Mas 500, acts as a CRM program, enabling reps to track any trends with particular clients and order and record their sales electronically.
"We identify the line-ups, and the sales reps order product from us," Ben said. "We're basically a full-service rep support company."
Simple family business
Although Imagine Nation Books is best known for its proprietary products and spot-on marketing testing capabilities, both Earl and Ben want the Kaplan family business to be known for what it offers to its stakeholders.
"We find fun and exciting products that are interesting to our customers," Earl said. "We offer them at a very good value, about half of what you would find them for at a regular retail store, and this helps us support our sales force."
The main goal of the company is to promote literacy, Ben said, but that goal can only be achieved with strong business practices. A perfect example is the company's Partners in Reading program. Through the program, the more a school purchases, the bigger the reward, and the bigger the impact Imagine Nation Books has on bringing value and excitement to teachers and students.
"We want to bring great product at great prices to our customers," said Ben. "But we also want to provide a great moneymaking opportunity for entrepreneurs across the US. Overall, we're a small, simple family business that rules compassionately and really cares about its people."