The performance leader
Founded in Worcester, MA, in 1939, Imperial Distributors (Imperial) was the brainchild of one Frank Sleeper, who came upon the inspiration for the company during his time selling assembled first aid kits door-to-door. Using a garage as his first makeshift warehouse, Frank's role as a pioneer of grocery non-foods really began to take shape in the early 1940s when Imperial began to introduce patent medicines and beauty care products into grocery stores to sell on their respective racks.
Around the same time, the company – then trading as Imperial Drug Co. – opened its first proper warehouse, and within the next decade its trucks were delivering to its first supermarket customer, Grand View Market, on Stafford Street in Worcester, MA. Other supermarkets and discount store customers soon partnered with Imperial, leading to the need to build and open a new facility in Auburn, MA. This increase in capacity allowed the company to add general merchandise to its ever-broadening assortment of product offerings.
In 1964, Frank's son Michael Sleeper took his first steps into the family business, and by 1973 he had ascended to the position of Chief Executive Officer (CEO), taking over the day-to-day
running of Imperial. Under Michael, the company significantly increased its non-food offerings across a number of categories, and began to supply its first chain supermarket customers. Fast forward to the 2000s, and the dawn of the new millennium brought with it an electronic ordering system that would enhance accuracy and productivity. It also saw Imperial double its customer base to 2000 retail locations, with no fewer than 20,000 SKUs.
More recently, the 2010's saw the company adopt state-of-the-art voice-pick technology in order to further improve its levels of efficiency and customer service. In the meantime, Imperial would continue to expand its reach, providing support to more than 3500 retail stores and it ventured further into the Mid-West and South of the United States. Continuing to fulfil its enduring mission statement of being a 'Performance Leader', in 2017, Imperial celebrated its move into a brand new 300,000-square-foot distribution facility in its home city of Worcester, MA. Here the company utilizes voice-pick technology and zone routing for optimizing efficiency and capacity of retail-friendly totes, organized for easy and efficient pack-out at retail stores.
"Today, Imperial supplies approximately 27,000 SKUs of health, beauty and wellness, general merchandise, and seasonal products to supermarkets across 28 states, as well as college bookstores and online retailers across 48 states," explains President and CEO Michael Sleeper. "Our dedicated team, category expertise and product knowledge, and depth of product assortment across health, beauty, wellness, general merchandise and seasonal helps to set the company apart from its competition."
In addition to product distribution, retailers outsource assortment and promotional planning, planogram development and in-store service of non-food categories to Imperial. Imperial doesn't commoditize, but rather customizes based on its customer's needs. Imperial has experienced strong growth for over 80 years and has solid, long-standing relationships with both retail customers and suppliers.
"Imperial has a dedicated management and sales team that engage with customers and build retailer sales at every level," Michael states. "As specialists in non-foods, our in-store sales and service representatives and merchandising experts build the trust of store directors and personnel, acting as an extension of the retailer team to grow sales at store level. Imperial's Account Managers and Category Managers support customers' buying teams to innovate and maximize opportunities through on-trend assortments, promotional planning, and category expertise. At the same time, on an executive level, the Imperial team partners with customers to develop and execute on strategy for growing retailers' health, beauty, wellness, general merchandise and seasonal categories."
Enhanced offering
A family-owned, operated and orientated business, team members of the organization frequently refer to what is affectionately known as the 'Imperial family'. "Collaborative problem-solving in this environment and team member development are core ingredients to Imperial's company culture," Michael points out, before going on to also highlight some of the vital work that the company carries out in support of local communities.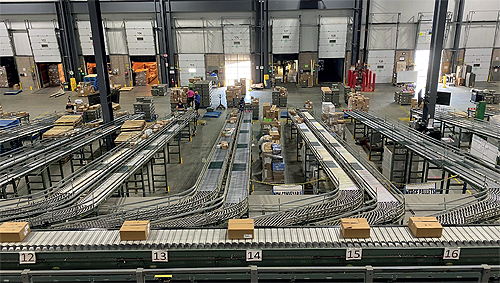 "High engagement in the community is also a key component of Imperial's culture," he adds. "For example, we have been supporting the United Way of Central Massachusetts for decades, and we run an annual golf tournament and corporate campaign to support the organization's Community Impact fund. Imperial team members across all levels of the organization contribute to this campaign and participate in a variety of community volunteer opportunities throughout the year. Naomi Sleeper – our Vice President of Continuous Improvement and Strategic Initiatives – is currently Chair of the United Way Board and serves on several other community boards, including the Reliant Foundation, the Worcester Education Collaborative (WEC) and the New England Food Foundation."
For his part, Michael has also served on several Boards in the community, including Mass Food Association (MFA), Food Marketing Institute (FMI), Worcester Research Bureau and Assumption University, COMjust to name a few. In 2015, Michael also received the Isaiah Thomas Award, granted to a central Massachusetts resident who has made outstanding contributions to society, especially over a long period of time.
Turning the topic of conversation to how the company – and indeed the wider supply chain world – has fared during the last 12 months or so, Naomi quite rightly notes how disruptions in the supply chain – from manufacturing shortages to transportation delays – have had an impact on product availability, particularly in categories that experienced sharp, unexpected spikes in demand during the Covid-19 pandemic. "In spite of such challenges," she says, "Imperial's Procurement and Category Management teams have remained incredibly focused on alternative product solutions for customers wherever necessary."
In recent months, Imperial has also looked to further enhance its offering and ability to diversify in a rapid-changing environment by developing direct-to-consumer shipping capabilities in order to support retail customers' B2C e-commerce business with an 'endless aisle' breadth of assortment to make available to shoppers. "This past year," Naomi continues, "Imperial has also moved seasonal events online through virtual seasonal shows. We continue to develop B2B online purchase and engagement opportunities for customers to support product discovery, category innovation and sales inspiration."
As we look ahead to the second half of 2021, Imperial is looking forward to partnering with retail customers to support their growing omni-channel business across categories. This includes supporting operations and logistics, as well as product COMinformation and insights to maximize sales opportunities, and support their shoppers' flexible purchasing experience.
"In regards to the future," Naomi concludes, "Imperial will continue to support retail customers – whether they be predominantly bricks and mortar or digital businesses – in our rapidly changing industry through a combination of products, merchandising, category expertise, and value-added services. Whatever the years ahead may bring with them, you can be assured that Imperial will remain committed to continuous growth, quality and innovation, which it will use to serve its business partners to the best of its ability."