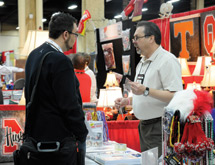 The only show of its kind to target its markets, the eighth annual Sports Licensing and Tailgate Show, Jan. 16 to 18 in the South Hall of the Las Vegas Convention Center, will have a number of new features. This year's show floor will have a new look, including The Fashion Zone – where exhibitors can showcase their latest apparel and accessories – and The Tailgate Zone, which is reserved for exhibitors with non-licensed tailgating merchandise.
An area will be dedicated to licensees of the 2014 World Cup. Attendees will be able to stop at the show's online lounge on the show floor to check email or charge electronic devices. They also will be able to visit the sports lounge to take a break, grab a bite and play some video games.
Other show highlights will include the Rising Star Retailer Awards, which recognize top retailers from five regions across the United States and Canada that have been nominated by their peers and industry colleagues. The License to Buy program is back again this year and offers incentives for buyers to place orders at the show. A cocktail party on opening night will give exhibitors and attendees a chance to network and make new connections.
The Sports Licensing and Tailgate Show is designed for brand owners, licensors, licensees and retailers interested in sports licensed products. It is home to more than 300 exhibits and thousands of retailers. Exhibitors hold the licenses for professional, collegiate and all other types of sports teams and represent all product categories.
More than 2,500 buyers attend from all over the United States and Canada. All types of retailers come to the show: sporting goods stores, college book stores, department stores, specialty shops, online retailers, sporting venues and concessionaires.
More than 50 exhibitors are new to the show, and many returning exhibitors have expanded their footprints. New exhibitors include AMSCAN, Bridgestone Golf, Cool Gear International Inc., Junk Food Clothing, Mighty Wallets, Top Dog Collectibles Inc. and World Trade Jewelers. The Sports Licensing and Tailgate Show was recently acquired by Emerald Expositions, which also produces Outdoor Retailer, ASD, Interbike and the Imprinted Sportswear Shows, among others. For more information or to register, visit www.showproco.com.