King Features Syndicate/Popeye
With thousands of comics, a feature film and more than 600 episodes of cartoon content, the iconic sailor is one of the world's most recognizable characters with millions of fans around the globe.
"Popeye is a unique character that people both aspire to be and relate to," says Carla Silva, VP and global head of licensing at King Features, a unit of Hearst. "He's a tough guy who fights for the underdog, he's true to himself and doesn't try to be anything else. His attributes are unchanging, which makes him ageless and continuously relevant, no matter what generation fans belong to or where in the world they live."
Building New Content
In honor of the rugged sailor's 90th birthday, King Features revived "Popeye's Cartoon Club" which pays homage to the original comic strip by inviting top cartoonists from around the world, such as Erica Henderson, Liniers, Stan Sakai, and Roger Langridge, to be part of the anniversary celebration by creating original Popeye comic strips in their own unique styles.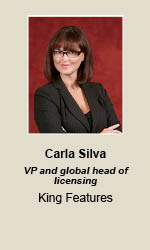 Fresh content rolls out weekly on the newly relaunched ComicsKingdom.com. "This new content is intended to build engagement with long-time fans and grab the attention of new ones, growing Popeye's fanbase and introducing beloved comic artists to fans who love Popeye," Silva says. "The initiative has reignited conversations around Popeye among his fans base and has been a particular success within the cartooning community – cartoonists are lining up to be part of the opportunity and view participation as an honor."
In addition, King Features launched Popeye's Island Adventures, a new series on the Popeye and Friends Official YouTube Channel that hopes to introduce Popeye to a new audience. Developed with children in mind, Popeye's Island Adventures introduces the spinach-loving sailor man to the younger generation by combining the original squash and stretch animation style with a fresh update on the original characters and storyline.
For example, the new Popeye has a youthful appearance and more eco-friendly position – growing spinach on the roof of his dieselpunk-style houseboat and collecting rain water in barrels. Olive Oyl, the original damsel in distress, is now a shining example of feministic ideals. She is a strong, independent and resourceful woman who is at the center of every adventure.
Olive Oyl, who will be celebrating her 100th birthday this year, was one of the first starts of the Thimble Theater cartoon strip when it was created in 1919. Popeye entered the strip 10 years later. "His appearance was intended to be temporary," Silva says. "But he was such a it with fans, Segar made him a permanent fixture in the strip and eventually its headliner."
Popeye's Island Adventures complements the sailor man's growing online presence – he already has close to 10 million followers on Facebook. Popeye, one of King Features' original animated characters, is the first of its brands to be reintroduced through short form video content created specifically for the YouTube audience.
"For over 100 years, King Features has been entertaining the world with iconic characters and their stories," Silva says. "Over time, those stories transitioned into product and Popeye was one of the first animated characters on TV whose popularity inspired demand for products tied to the entertainment."
Popeye is taking the lead with development of new entertainment, merchandising and e-commerce to serve a new generation of fans.
New Partnerships
King Features is one of the nation's largest diversified media, information and services companies and is a member of Hearst Entertainment and Syndication Group, which includes cable network partnerships, television programming activities and newspaper syndication and merchandise licensing operations.
It is an experienced organization in licensing and entertainment and represents some of the most recognizable global brands. Aside from Popeye, they represent Betty Boop, who will be turning 90 next year. "King Features along with brand owner Fleischer Studios are planning a glamorous celebration for the fashion icon including special collaborations with well-known names in fashion supported by custom content from influencers and extensive press coverage," Silva says.
King Features other brands include Cuphead, FlashGordon, The Phantom, Hagar the Horrible, Prince Valiant and Mandrake the Magician. The company recently launched new print on-demand shops for many of its brands including the first-ever shop for Popeye, which customers can reach by clicking the "shop" tab on Popeye.com.
"The new site presents the opportunity to respond more quickly to consumers wants and needs, tailoring the product offering and designs to fit trends," Silva says. In addition, the company implemented new tools to facilitate a direct customer relationship in tandem with its new ComicsKingdom.com, the online home for its comic strip brands.
"We will apply any learnings from the data to products that we offer in an effort to better serve our fans and help them to discover new comics, products and brands," Silva adds.
To introduce Popeye to a new generation of fans, King Features has been aligning with a variety of fashion partners in the past few years. "This has enabled us to grow our fan base and these partners provide exposure and establish the brand's relevancy among young, fashion savvy consumers," Silva says. "Global collaborations are a powerful marketing tool to reach new customer segments, increase the product experience and strengthen customer loyalty."
The company is also focused on targeting fresh, untapped product categories for the brand that resonate in the digital age, such as interactive apparel using AR technology, which was just released by its new partner deKryptic. King Features is unveiling merchandise from more than a dozen new global partners to elevate Popeye in the retail market in the coming months.
"Popeye has evolved from a well-known character in print and on the silver screen into a fashion icon," Silva says. In recent years, King Features has seen a lot of success for the brand in the streetwear category through partnerships with brands that include Supreme, Joyrich, Iceberg and A Bathing Ape.
The company has also an established partnership with Fun World, one of the three largest Halloween costume creators and suppliers in the world. This year, King Features has also collaborated with the popular streetwear brand HUF and has upcoming anniversary collections with Scotch & Soda, Stradivarius (Inditex Group), GU (UNIQLO's sister brand) and Zara.
"We expect the celebration of Popeye's 90th and Olive Oyl's 100th anniversaries in 2019 to generate a lot of excitement and interest around the brands," Silva says. "And we continuously seek new partners across multiple categories around the world."
In order to expand its licensing program, King Features is focusing on new content, ecommerce, location-based entertainment and creating quality digital and physical product offerings to introduce Popeye to a new generation of fans. It has also launched Popeye's Barbershop & Shave Company, a special 90th Anniversary line of men's grooming products in multiple territories and is releasing limited edition Popeye art pieces from pop art talent including Mr. Brainwash, Jerkface and Super A.
————————————————————————————————————————————————————–
SIGNIFICANT DATES IN POPEYE'S LIFE
Jan. 17, 1929 – Popeye first appears in the daily King Features comic strip Thimble Theatre. Aug. 27, 1929 – Olive Oyl mistakes Popeye for her boyfriend and kisses him on the cheek for the first time – igniting their tumultuous love affair.
1930s – The spinach industry credits Popeye with increasing spinach consumption in the United States by 33 percent.
July 14, 1933 – Popeye makes his silver screen debut in the Betty Boop cartoon entitled "Popeye the Sailor", produced by Fleischer Studios and distributed by Paramount Pictures, which leads to the launch of his own cartoon series later that year.
February 1948 – Dell Comics publishes Popeye's first comic book series, written by Bud Sagendorf.
1960 – Popeye makes his television debut when King Features Syndicate produces a series of cartoon adventures entitled "Popeye the Sailor."
1980 – Robin Williams stars as Popeye in the live-action film from Paramount Pictures.
1999 – Popeye white-water raft ride launches at Universal Studios' Islands of Adventure theme park in Orlando, Fla.
Jan. 17, 2004 – Popeye celebrates his 75th anniversary as the first brand to turn the Empire State Building green.
Dec. 8, 2009 – Popeye is featured as the Google Doodle in honor of his creator Elzie Crisler Segar's birthday.
Jan. 17, 2019 – Popeye celebrates 90 years with the launch of Popeye's Cartoon Club.